Late fall mystery ranges in setting from Scotland, Sweden, and Suffolk, England, to Evanovich's New Jersey, with plots from gritty to cozy holiday.
Top Picks
Bruen, Ken. A Galway Epiphany: A Jack Taylor Novel. Mysterious: Grove/Atlantic. Nov. 2020. 256p. ISBN 9780802157034. $24. MYSTERY
He's left raucous Galway behind for a quiet life in the countryside, but Jack Taylor still finds trouble when he is hit by a truck and ends up in a coma. Two children who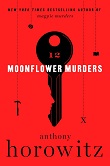 apparently helped him are regarded as saints, but finding them is another thing, and freshly awakened Jack is up against an order of nasty nuns seeking the children for their own ends. From the multi-award-winning, two-time Edgar finalist Bruen.
Evanovich, Janet. Fortune and Glory. Atria. Nov. 2020. 320p. ISBN 9781982154837. $28.99. CD. MYSTERY
Hard to believe, but this is the 27th book in the cheeky Stephanie Plum series, and though plot details aren't yet available, expect the New Jersey bounty hunter to return with Lulu, Grandma Mazur, and the rest of the gang. With a million-copy first printing.
Horowitz, Anthony. Moonflower Murders. Harper. Nov. 2020. 400p. ISBN 9780062955456. $28.99. lrg. prnt. CD. MYSTERY
Managing a small hotel on a Greek island, retired publisher Susan Ryeland is getting restless when her new guests announce that their daughter Cecily was married in a Suffolk coast hotel where a notorious murder took place—on the same day as the wedding. Susan's late author Alan Conway based a mystery on the murder, and Cecily, who read the book and is convinced that the wrong person was convicted of the real-life crime, is now missing. Obviously, Susan leaps to investigate. Bringing back characters from the New York Times best-selling Magpie Murders; with a 200,000-copy first printing.
More Key Mystery
Brown, Rita Mae. Out of Hounds. Ballantine. Nov. 2020. 304p. ISBN 9780593130063. $28. MYSTERY
Chow, Jennifer J. Mimi Lee Reads Between the Lines. Berkley. Nov. 2020. 336p.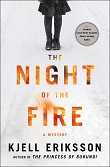 ISBN 9781984805010. pap. $16. MYSTERY
Ellis, Bella. The Diabolical Bones. Berkley. Nov. 2020. 304p. ISBN 9780593099155. $26. Downloadable. MYSTERY
Eriksson, Kjell. The Night of the Fire. Minotaur: St. Martin's. Nov. 2020. 288p. ISBN 9781250766144. $27.99. MYSTERY
Fletcher, Jessica & Jon Land. Murder, She Wrote: Murder in Season. Berkley. Nov. 2020. 320p. ISBN 9781984804365. $26. MYSTERY
Gentill, Sulari. A House Divided. Poisoned Pen: Sourcebooks. Nov. 2020. 384p. ISBN 9781464214585. pap. $12.99. MYSTERY
Haddam, Jane. One of Our Own: A Gregor Demarkian Novel. Minotaur: St. Martin's. Nov. 2020. 272p. ISBN 9781250770493. $27.99. MYSTERY
McPherson, Catriona. The Turning Tide. Quercus: Hachette. Nov. 2020. 304p. ISBN 9781473682382. $26.99. MYSTERY
March, Nev. Murder in Old Bombay. Minotaur: St. Martin's. Nov. 2020. 384p. ISBN 9781250269546. $26.99. MYSTERY
In Out of Hounds, Brown's latest "Sister Jane Arnold" mystery, the good sister deals with local tensions—and murder—when town newbies threaten her crowd's foxhunting ways. In Chow's Mimi Lee Reads Between the Lines, second in the "Sassy Cat Mysteries," Mimi Lee must rely on her debonair talking cat, Marshmallow, when her sister is accused of murdering a teaching colleague. In Ellis's The Diabolical Bones, which follows up the film-optioned The Vanished Bride, Anne, Emily, and Charlotte Brontë find their writing interrupted by a new case: bones have been found bricked up in a chimney at moldering Scar Top House. Eriksson's The Night of the Fire brings back popular Swedish police inspector Ann Lindell, who's retired to the country but not for long—someone has set fire to the old schoolhouse, now housing asylum seekers, and three people are dead (35,000-copy first printing). Fletcher/Land's Murder, She Wrote: Murder in Season joins the holiday mystery lineup as Jessica Fletcher acknowledges that despite her work on the annual Christmas pageant, she can't ignore two sets of bones (one old, one new) found on her property. Sulari Gentill follows up her LJ-starred, Ned Kelly Award–winning After She Wrote Him with A House Divided, set in 1931 Sydney, Australia, and starring gentleman bohemian Rowland Sinclair, who insinuates himself into a high-stepping (and sometimes conservative) crowd to discover who murdered his beloved Uncle Rowly. Ready to retire, former FBI agent and police consultant Gregor Demarkian takes on his last case in Haddam's One of Our Own, trying to figure out how elderly Marta Warkowski ended up in a coma—and in a big plastic garbage bag—and why her dead super is locked in her apartment (30,000-copy first printing). With The Turning Tide, McPherson, whose Dandy Gilver mysteries have received CWA Ellis Peters Historical Dagger and Historical Macavity Award nominations, gives Dandy the task of figuring out why the local ferrywoman seems to have gone mad—and whether she has committed murder, as she claims. Finally, March's Murder in Old Bombay, winner of the Minotaur Books/Mystery Writers of America First Crime Novel Award, captures Capt. Jim Agnihotri's efforts to find out what really happened when two Parsee women plunge from the university tower in 1892 Bombay (30,000-copy first printing).