Armstrong on how we misuse sacred texts, former North Dakota senator Dorgan on addressing the needs of Native American youth, Louv on what connecting with animals means to us, Pinckney with a wide-ranging essay collection, and a new Joy of Cooking for the 2020s. Plus the beloved Berg with a stand-alone grounded in Truluv territory.
Armstrong, Karen. The Lost Art of Scripture: Rescuing the Sacred Texts. Knopf. Nov. 2019. 608p. ISBN 9780451494863. $35; ebk. ISBN 9780451494870. CD/downloadable. RELIGION
Highly regarded and sometimes embattled for her studies on religion (e.g., The Case for God), Armstrong examines the meaning of sacred texts in a world where the Quran has been used to justify terrorism, the Torah to deny Palestinians the right to live in Israel, and the Bible to condemn homosexuality and contraception. She argues that the narrow reading of sacred texts to bolster certain beliefs is a recent phenomenon missing what the texts were meant for: a way to connect with the divine and approach the world more compassionately. With a 75,000-copy first printing.
Berg, Elizabeth. The Confession Club. Random. Nov. 2019. 304p. ISBN 9781984855176. $26; ebk. ISBN 9781984855183. LITERARY/WOMEN'S
Though this new novel from the New York Times best-selling Berg revisits Mason, MO, the setting of The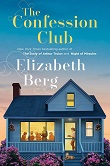 Story of Arthur Truluv and Night of Miracles, and features some of the same characters, it is a stand-alone grounded in a supper club held by a group of best friends. Initially, they got together for homemade dinners, but after one woman uses the occasion to unburden herself, the friends launch a "confession club"—a chance to reveal secrets, worries, and mistakes. When Iris Winters joins, she shares about a man who against odds has captured her attention, while newcomer Maddy Harris reports that she has returned home because she faced a problem she just couldn't lick. Rumor has it that the pages fairly glisten with descriptions of sweet-to-eat treats.
Dorgan, Byron L. The Girl in the Photograph: The True Story of a Native American Child, Lost and Found in America. Thomas Dunne: St. Martin's. Nov. 2019. 208p. ISBN 9781250173645. $27.99; ebk. ISBN 9781250173652. NATIVE AMERICAN STUDIES
In 1990, after spotting the headline "Foster home children beaten―and nobody's helping" in the Bismarck Tribune, then senator Byron Dorgan of North Dakota traveled to the Standing Rock Indian Reservation, home of the little girl in the wrenching photograph accompanying the news story. He befriended five-year-old Tamara and her grandfather, but Tamara soon disappeared, and it took Dorgan decades to find her. Here he tells the story of Tamara and, more largely, that of Native American children, whose challenged lives include disproportionately high suicide and mortality rates. Dorgan's nonprofit Center for Native American Youth at the Aspen Institute aims to give Native youth hope and a voice; we anticipate hearing more of those voices.
Louv, Richard. Our Wild Calling: How Connecting with Animals Can Transform Our Lives—and Save Theirs. Algonquin. Nov. 2019. 320p. ISBN 9781616205607. $27.95. NATURE/ANIMALS
Audubon Medal winner Louv here probes human-animal coexistence, showing how much our relationship with animals helps us (among many good reasons to save them). Talking with wildlife experts, researchers, psychologists, theologians, and indigenous healers, he shows us how people and animals communicate in

ways both old and new. Dogs are used to teach children ethical behavior, for instance, and animal-assisted therapy is the newest frontier in mental health. From the author of the New York Times best-selling Last Child in the Woods; with a 50,000-copy first printing.
Pinckney, Darryl. Busted in New York and Other Essays. Farrar. Nov. 2019. 400p. ISBN 9780374117443. $28; ebk. ISBN 9780374717148. LITERATURE/ESSAYS
Winner of the Vursell Award for Distinguished Prose from the American Academy of Arts and Letters and the author of nonfiction, fiction (e.g., the Los Angeles Times Book Prize–winning High Cotton), and collaborative theater works with Robert Wilson, Pinckney is instantly recognizable for his sharply reasoned pieces in the New York Review of Books. Here he collects essays that contextualize our recent racial history, with subjects ranging from 18th-century Guadeloupian composer Joseph Bologne and Booker T. Washington, to the Harlem Renaissance, Louis Farrakhan, and the African American experience in Russia, to the Black Panther Party, Barack Obama's presidential campaign, and Barry Jenkins's Moonlight. In other words, reading riches; with a foreword by Zadie Smith.
Rombauer, Irma S. & others. Joy of Cooking. Scribner. Nov. 2019. 1152p. ISBN 9781501169717. $40. COOKING
Having gone through multiple revisions since its appearance in 1931, the book Julia Child calls the "fundamental resource for any American cook" is getting a fresh update. Included here are 600 new recipes; a large selection of vegan, vegetarian, and gluten-free recipes; weight measures for scrupulous bakers; "Streamlined Cooking" advice for saving time, work, and money in the kitchen; a look at new ingredients and cooking techniques; up-to-the-minute nutrition and food-safety information; and new illustrations, along with chapter-opening papercuts that recall the original book. Among the numerous authors listed is John Becker, great-grandson of Irma Rombauer. With a 750,000-copy first printing.