In February nonfiction, Ehrenreich collects her foresightful essays, O'Brady re-creates his solo stalk across Antarctica, and Barnes assesses the French Belle Époque through the life of Dr. Samuel Pozzi. In fiction, Mosley brings back Leonid McGill, Offill introduces us to doubt-struck librarian Lizzie, Phillips has the only Muslim in 1601 England scouting out Elizabeth's successor, and McCann imagines a Palestinian and an Israeli father united in grief.
Barnes, Julian. The Man in the Red Coat. Knopf. Feb. 2020. 272p. ISBN 9780525658771. $25.95; ebk. ISBN 9780525658788. BIOGRAPHY/HISTORY
In summer 1885, three Frenchmen arrived together in London, among them Samuel Pozzi, a surgeon and man of science important enough to get himself painted by John Singer Sargent (Dr. Pozzi at Home, in which Pozzi is swathed in a long red dressing gown). Man Booker Prize–winning Barnes uses Pozzi's life and particularly his London trip to give us a tour of Belle Époque France and its relationship to Britain, with peeks at Henry James, Sarah Bernhardt, Oscar Wilde, Marcel Proust, and James Whistler (among others) along the way.
Ehrenreich, Barbara. Had I Known: Collected Essays. Twelve. Feb. 2020. 352p. ISBN 9781455543670. $28; ebk. ISBN 9781455543687. lib. ebk. ISBN 9781478970965. Downloadable. SOCIAL SCIENCE
Perhaps best known for the New York Times best-selling Nickel and Dimed, Ehrenreich here collects articles and excerpts illustrating the social concerns she has targeted in her long-ranging career as a "veteran muckraker" (The New Yorker). It's all here, from her award-winning "Welcome to Cancerland" to work done for Nickel and Dimed and Natural Causes to reviews and features in venues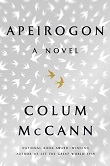 like the New York Times Book Review, the Atlantic Monthly, and Harper's.
McCann, Colum. Apeirogon. Random. Feb. 2020. 448p. ISBN 9781400069606. $28; ebk. ISBN 9780679604600. lrg. prnt. CD. LITERARY
In this latest from the National Book Award–winning and New York Times best-selling McCann, the lives of Palestinian Bassam Aramin and Israeli Rami Elhanan do not initially touch. But then Bassam's daughter Abir is killed by a rubber bullet even as Rami's daughter Smadar falls victim to a suicide bombing, and after learning of each other's grief, the two fathers reach across borders to work for peace. In geometry, an apeirogon is an imaginary polygon with a countably infinite number of sides, but literature has a way of showing us what's possible.
Mosley, Walter. Trouble Is What I Do. Mulholland: Little, Brown. Feb. 2020. 176p. ISBN 9780316491136. $24; ebk. ISBN 9780316491143. lib. ebk. ISBN 9780316494335. CD/downloadable. MYSTERY
Private eye Leonid McGill is only too happy to accede to the request of 92-year-old Mississippi bluesman Phillip "Catfish" Worry that he deliver a letter revealing the black lineage of an heiress and her corrupt, power-wielding father. But when he learns that Catfish has been targeted by a hitman, McGill rushes to find the heiress on her wedding night and avoid bloodshed. Next in a beloved series; with a 25,000-copy first printing.
O'Brady, Colin. The Impossible First. Scribner. Feb. 2020. 288p. ISBN 9781982133115. $28; ebk. ISBN 9781982133139. CD. MEMOIR/ADVENTURE
A multiple-record-holding endurance athlete, O'Brady recently became the first person to cross the 932-mile landmass of Antarctica solo, unsupported, and under strictly human power. That he was competing against British polar adventurer Capt. Louis Rudd to achieve this goal is one thing; that he was doing so after being told that he might not walk again following a terrible accident in his early twenties is quite another. With a 250,000-copy first printing and a seven-city tour to Boston, Denver, New York, Portland (OR), San Francisco, Seattle, and Washington, DC , though not likely solo, unsupported, and strictly human powered.
Offill, Jenny. Weather. Knopf. Feb. 2020. 208p. ISBN 9780385351102. $23.95; ebk. ISBN 9780385351119. LITERARY
Following the New York Times best-booked Dept. of Speculation and Last Things, a finalist for the Los Angeles Times First Book Award,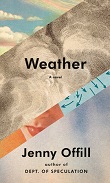 Offill introduces us to Lizzie Benson, a librarian (though not by the traditional route) who's barely able to spend time with her husband and son as she fusses over her devout mother and addict brother. An old mentor wants Lizzie to help her answer mail she's been receiving in response to her podcast Hell and High Water, and eventually Lizzie must look to the larger world and recognize that she can't save everyone—though she keeps trying.
Phillips, Arthur. The King at the Edge of the World. Random. Feb. 2020. 288p. ISBN 9780812995480. $27; ebk. ISBN 9780812995497.
Phillips never writes the same book twice. After three New York Times Notable Books—Prague, winner of the Los Angeles Times/Art Seidenbaum Award for First Fiction; The Song Is You; and The Tragedy of Arthur—as well as LJ's highly recommended Angelica and The Egyptologist, he takes us to 1601 England. Queen Elizabeth is dying, and King James VI of Scotland looks to be the most likely heir, but some of Elizabeth's advisers doubt his commitment to Protestantism. Among them is Geoffrey Belloc, who enlists the help of Mahmoud Ezzedine, a Muslim physician left behind when representatives of the Ottoman Empire last came calling. Working undercover to assess James's beliefs, Mahmoud is hoping he'll win a way back to his family.