Key history and biography for October.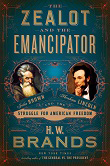 Brands, H.W. The Zealot and the Emancipator: John Brown, Abraham Lincoln, and the Struggle for American Freedom. Doubleday. Oct. 2020. 448p. ISBN 9780385544009. $30. lrg. prnt. Downloadable. HISTORY
Two-time Pulitzer Prize finalist Brands examines John Brown and Abraham Lincoln to highlight two different approaches that can be taken to a looming moral quandary, with Brown taking the radical path and Lincoln turning to politics as a more moderate approach. Though that turned violent, too.
Gabler, Neal. Catching the Wind: Edward Kennedy and the Liberal Hour; 1932–1974. Crown. Oct. 2020. 832p. ISBN 9780307405449. $38. Downloadable. BIOGRAPHY
Los Angeles Times Book Prize winner Gabler's biography of Ted Kennedy is certainly big, and not just because of page count. This is actually the first of two volumes, and it aims to investigate not only Kennedy's life and legislative strengths (along with the inevitable shortcomings) but his career as emblematic of liberalism and the downswing of liberal ideals.
Meacham, Jon, ed. In the Hands of the People: Thomas Jefferson and the Art of Citizenship. Random. Oct. 2020. 128p. ISBN 9780593229316. $22. Downloadable. HISTORY
A project of the Thomas Jefferson Foundation at Monticello, this compendium of Jefferson's thoughts on the responsibilities of government to the people and people to the government was compiled by No. 1 New York Times best-selling author Meachem and includes comments from individuals like Colin Powell, Madeline Albright, Frederick Douglass, and several U.S. presidents.
Sisson, Frank & Robert L. Wise. I Marched with Patton: A Firsthand Account of World War II Alongside One of the U.S. Army's Greatest Generals. Morrow. Oct. 2020. 320p. ISBN 9780063019478. $28.99. MEMOIR/MILITARY
Joining the commemorative commentary on the 75th anniversary of Gen. George Patton's death, still robust 94-year-old Sisson recalls his World War II service under Patton as a soldier with the American Third Army. He nearly died crossing the Rhine and was among the first soldiers to liberate Dachau. With a 150,000-copy first printing.
Smith, Carl. Chicago's Great Fire: The Destruction and Resurrection of an Iconic American City. Atlantic Monthly. Oct. 2020. 352p. ISBN 9780802148100. $26. HISTORY
In October 1871, Chicago mostly vanished in flames as 300 people were killed and one in every resident was left homeless in America's biggest urban fire ever. Smith, a prize-winning emeritus professor at Northwestern, gets us ready for the tragedy's 150th anniversary.