Key titles on our world today.
Click here for additional new Prepub Alert columns
Chafkin, Max. The Contrarian: Peter Thiel and Silicon Valley's Pursuit of Power. Penguin Pr. Sept. 2021. 400p. ISBN 9781984878533. $28. Downloadable.
Cobb, Jelani & David Remnick, eds. The Matter of Black Lives: Writing from The New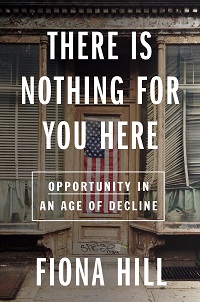 Yorker. Ecco. Sept. 2021. 464p. ISBN 9780063017597. $35.
Hill, Fiona. There Is Nothing for You Here: Opportunity in an Age of Decline. Houghton Harcourt. Sept. 2021. 320p. ISBN 9780358574316. $30.
Pinker, Steven. Rationality: What It Is, Why It Seems Scarce, Why It Matters. Viking. Sept. 2021. 400p. ISBN 9780525561996. $32. CD/downloadable.
Srinivasan, Amia. The Right to Sex: Feminism in the Twenty-First Century. Farrar. Sept. 2021. 304p. ISBN 9780374248529. $28.
Streep, Abe. Brothers on Three: A True Story of Family, Resistance, and Hope on a Reservation in Montana. Celadon: Macmillan. Sept. 2021. 336p. ISBN 9781250210685. $28.99.
Features editor and a tech reporter at Bloomberg Businessweek, Chafkin tells the story of The Contrarian, that is, billionaire venture capitalist and entrepreneur Peter Thiel, who has significantly influenced the course of Silicon Valley. Columbia history/journalism professor Cobb and New Yorker editor Remnick illuminate The Matter of Black Lives in pieces collected from the magazine, starting with Rebecca West's account of a lynching trial and James Baldwin's "Letter from a Region in My Mind" and moving on to embrace works by Toni Morrison, Ta-Nehisi Coates, Zadie Smith, Hilton Als, Jamaica Kincaid, and Henry Louis Gates Jr., among others (100,000-copy first printing). Having left behind her hometown in England's declining coal-mining region when her father declared There's Nothing for You Here, Brookings senior fellow Hill—now an American citizen and a former member of the National Security Council—draws on her extensive national intelligence work in Russia to warn that America's rocky situation today mirrors circumstances that led to Russia's socioeconomic decline (100,000-copy first printing). Rejecting the view that humans are irredeemably off-the-wall in their thinking (we have elucidated the laws of nature, for instance), two-time Pulitzer Prize finalist Pinker argues in Rationality that we don't avail ourselves of logic in many everyday situations because we don't really need to. But we can learn how to think more logically, even as we recognize that some rational acts (he cites self-interest) can lead to damaging irrationality for society. Oxford professor Srinivasan's The Right to Sex talks about talking about sex in the #MeToo era, stating, for instance, that we need to deepen the prevailing concept of consent into something more nuanced (50,000-copy first printing). Award-winning journalist Streep's Brothers on Three revisit the players, families, and community that celebrated when the Arlee Warriors brought home the high school basketball state championship title to the Flathead Indian Reservation in Montana (75,000-copy first printing).