December is usually a thin month for publishers, at least in terms of numbers, so this week's Prepub showing is smaller than usual. In terms of quality, though, these picks remain tops: a stunning debut from Coville set in a Novia Scotia town settled by former slaves, Man Booker Prize winner Kenneally's fictional linke between prehistoric and contemporary Australia, and fan-favorite Williams's follow-up to The Wicked City.
Colvin, Jeffrey. Africaville. Amistad. Dec. 2019. 384p. ISBN 9780062913722. $25.99; ebk. ISBN 9780062913739. LITERAY/HISTORICAL
The story of three contentious generations unfolds in a small town in Nova Scotia settled by former slaves, moving from the Great Depression to Sixties social protest to the economic floundering of the 1980s as Kath Ella, her life shaped by hardship and the continuing prejudice against those with dark skin, sees beloved son Omar/Etienne turn his back on their Canadian town, with grandson Warner drifting further away. But they, too, remained shaped by Africaville in a story that investigates issues of race, identity, and home. Lots of in-house excitement for this debut novel by a graduate of the U.S. Naval Academy, Harvard University, and Columbia University's MFA program; with a 25,000-copy first printing.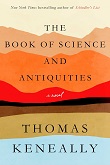 Keneally, Thomas. The Book of Science and Antiquities. Atria. Dec. 2019. 304p. ISBN 9781982121037. $28; ebk. ISBN 9781982121051. LITERARY
The author of the New York Times best-selling The Daughters of Mars and the Man Booker Prize–winning Schindler's List returns with a novel that bridges prehistoric and modern Australia and thus the evolution of the human race. Prominent documentary filmmaker Shelby Apple is urgently planning to reimagine the full story of the Learned Man, whose remains are thought to be the link between Africa and ancient Australia. His exploration takes us back 40,000 years as the Learned Man abides with his people, thinking of the greater good and revealing the kind of introspection and whole-heartedness that characterizes Apple himself.
Williams, Beatriz. The Wicked Redhead: A Wicked City Novel. Morrow. Dec. 2019. 384p. ISBN 9780062660312. $26.99; pap. Morrow Paperbacks. ISBN 9780062660329. $16.99; ebk. ISBN 9780062660336. HISTORICAL
In Williams's The Wicked City, recently divorced Ella Gilbert moves into a Greenwich Village apartment building that once housed a notorious speakeasy and discovers the story of red-haired, fast-talking flapper Geneva "Gin" Kelly, originally from Appalachia. Their intertwined stories continue here, as Ella seeks to pull further away from her ex (while finding love with Hector, the musician upstairs) and Gin is separated from the Prohibition agent with whom she has fallen in love. With a 50,000-copy paperback and 25,000-copy hardcover first printing.