Smart December fiction reading starts out with Smiley and a remarkable horse in Paris, then expands to include under-your-skin stories from Emma Glass, Neel Patel, and others.
Glass, Emma. Rest and Be Thankful. Bloomsbury. Dec. 2020. 160p. ISBN 9781526601070. $18. LITERARY
A nurse at Evelina London Children's Hospital, Glass follows up Dylan Thomas Prize long-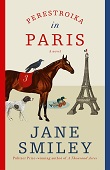 listee Peach with the timely if sometimes eerie tale of a pediatric nurse suffering burnout. For her, life seems shiftingly uncertain, and a mysterious figure dances at the edge of her vision. With a 30,000-copy first printing.
Maltman, Thomas. The Land. Soho. Oct. 2020. 336p. ISBN 9781641292207. $26. LITERARY/NOIR
The Alex Award–winning Maltman (Night Birds) surfaces every six or seven years with titles that earn superlatives. Here he offers a literary-noir crossover featuring a dropout/programmer/caretaker named Lucien Swenson, recovering from a car accident in the last months of the 20th century, whose search for a former lover leads him to a white supremacist church and strange encounters with wolves, angry ravens, and a shadowy woman.
Patel, Neel. Tell Me How To Be. Flatiron: Macmillan. Dec. 2020. 288p. ISBN 9781250184979. $26.99. LITERARY
In this follow-up to the NPR best-booked If You See Me, Don't Say Hi, Los Angeles–based songwriter Akash leaves Los Angeles (and the boyfriend he keeps secret from his family) and returns home to Illinois when his widowed mother sells the family home. He plans to pack his things, mourn his father, and mend family ties, but he didn't anticipate meeting his first romantic interest and falling in love again. With a 35,000-copy first printing.
Smiley, Jane. Perestroika in Paris. Knopf. Dec. 2020. 288p. ISBN 9780525520351. $26.95. LITERARY
The heroine of Pulitzer Prize winner Smiley's new charmer is a high-spirited filly who wanders from her stall at the racetrack and makes her way to the heart of glorious Paris, befriending a venturesome German Shepherd, a gaggle of ornery birds, and a boy named Etienne who lives in the ivy-clad seclusion of his great-grandmother's home. But how long can a horse named Paras (short for Perestroika) remain at liberty in the big city? Sounds irresistible.
Vilas, Manuel. Ordesa. Riverhead. Dec. 2020. 304p. tr. from Spanish by Andrea Rosenberg. ISBN 9780593084045. $28. Downloadable. LITERARY
By Spanish author Vilas, this No. 1 internationally best-selling autobiographical novel features a schoolteacher who has returned to his hometown in the Pyrenees to reassess his life. Retired, divorced, and mourning his deceased parents, he looks honestly at loss and the meaning of life now defined mostly by memory.