From Iraqis challenging ISIS to a new means of protecting workers to people with disabilities having their say: issues to address post-inauguration.
Catapano, Peter & Rosemarie Garland-Thomson, eds. About Us: Essays from the Disability Series of the New York Times. Liveright: Norton. Feb. 2021. 304p. ISBN 9781631498589. pap. $18.95. SOCIAL SCIENCE
"Nothing About Us Without Us" is the cri de coeur of the disability civil rights movement, and this anthology is definitely "about us." Drawn on the groundbreaking New York Times series, with Times award-winning opinion editor Catapano and Emory English/bioethics professor Garland-Thomson as curators , it offers firsthand, heart-close accounts of what it's like to live with a disability. An important book with the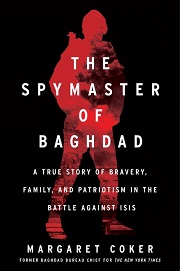 growth of disability awareness (and university courses).
Coker, Margaret. The Spymaster of Baghdad: A True Story of Bravery, Family, and Patriotism in the Battle Against ISIS. Dey Street: HarperCollins. Feb. 2021. 320p. ISBN 9780062947420. $28.99. lrg. prnt. POLITICAL SCIENCE/TERRORISM
A former New York Times bureau chief in Baghdad, Coker shows how a group of ordinary Iraqis with little relevant training came together as a covert intelligence unit called the Falcons and successfully infiltrated ISIS, breaking its power. The story is told from the perspective of two brothers, college dropout Harith Sudani and his dynamic younger brother Munaf, and their eponymous commander. With a 75,000-copy first printing.
Fenton, Justin. We Own This City: A True Story of Crime, Cops, and Corruption in an American City. Random. Feb. 2021. 352p. ISBN 9780593133668. $28. Downloadable. POLITICS
A member of the Pulitzer Prize finalist team from the Baltimore Sun that covered the riots following Freddie Gray's death, Fenton reveals that with Baltimore foundering under the weight of drug abuse and violent crime at the time, the police department assigned Sgt. Wayne Jenkins and his elite Gun Trace Task Force to intervene on the streets. What unfolded instead was what the New York Times called "one of the most startling police corruption scandals in a generation"—these brutal money skimmers really did think they owned the city.
Horowitz, Sara. Mutualism: A New Social Contract for the New Economy. Feb. 2021. 224p. ISBN 9780593133521. $28. Downloadable. MANAGEMENT
Founder of the Freelancers Union and former board chair of the New York Federal Reserve, MacArthur fellow/labor activist Horowitz looks at how labor is changing; by 2030, most workers won't be traditional employees but gig workers, low-wage service personnel, and white-collar freelancers. Where's their safety net? Horowitz highlights mutualist endeavors from our past, like food coops and the suffragette and civil rights movement, as the model of collaborative cooperation on which workers' well-being can rest.
Jentleson, Adam. Kill Switch: The Rise of the Modern Senate and the Crippling of American Democracy. Liveright: Norton. Feb. 2020. 272p. ISBN 9781631497773. $26.95. GOVERNMENT
Public affairs director at Democracy Forward and a former deputy chief of staff to Senator Harry Reid, Jentleson argues that the real problem with the Senate is not that it's dominated by conservative white males out of step with the larger American public. The real problem: since the 1950s, the Senate has become increasingly hierarchical, with both parties responsible and Republicans now taking advantage of the situation.
Pang, Amelia. Made in China: A Prisoner, an SOS Letter, and the Hidden Cost of America's Cheap Goods. Algonquin. Feb. 2021. 288p. ISBN 9781616209179. $27.95. BUSINESS
Investigative journalist Pang uses her Los Angeles Press Club–honored skills to show that many of the cheap products America gets from China are made in labor camps. The story starts with a prisoner's handwritten plea for help, written in broken English and found by an Oregon woman in a package of Halloween decorations, and continues with Pang's interviewing the prisoner—an engineer jailed for joining forbidden meditation practices. A warning to American consumers to rethink their purchases.
Roberts, David. The Bears Ears: A Human History of America's Most Endangered Wilderness. Norton. Feb. 2021. 352p. ISBN 9781324004813. $27.95. ENVIRONMENTAL
Created by President Obama in 2016, the Bears Ears National Monument in southeastern Utah encompasses gorgeous wilderness and more archaeological sites than any other part of the United States. Now, with the help of President Trump, it's being undermined by oil and gas drilling, unrestricted grazing, and a troupe of speedy jeeps and ATV. Noted adventure writer Roberts visits Bear Ears and the controversy surrounding it.
Unger, Craig. American Kompromat. Dutton. Feb. 2021. NAp. ISBN 9780593182536. $NA. POLITICS
Author of the New York Times best sellers House of Trump, House of Putin and House of Bush, House of Saud, Unger shows how the most powerful people in the world use kompromat—Russian for compromising information—to further their political goals. Think Donald Trump and Jeffrey Epstein, Russian and Israelis—and ask how they get this information.