This month's mysteries travel from Victorian London and early 1900s Britain near Stonehenge to New York, Dallas, and an off-the-grid Canadian town to Iceland and the waters off Brittany.
Armstrong, Kelley. Alone in the Wild. Minotaur: St. Martin's. Feb. 2020. 368p. ISBN 9781250254283. $27.99; ebk. ISBN 9781250254290. CD. MYSTERY
In off-the-grid Rockton, a town deep in the Canadian wilderness where a mix of criminals and victims are hiding from their past, Det. Casey Duncan is out camping with her beloved Sheriff Eric Dalton when they discover a grisly scene: a murdered woman buried deep in the snow with a crying baby in her arms. Now the entire town, which doesn't allow in those under 18, must figure out how to care for the babe. Fifth in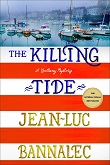 the popular series.
Bannalec, Jean-Luc. The Killing Tide: A Mystery. Minotaur: St. Martin's. Feb. 2020. 320p. ISBN 9781250173386. $26.99; ebk. ISBN 9781250173393. MYSTERY
Bannalec's internationally best-selling series is one great way to visit Brittany. But in his latest case, Commissaire Dupin must solve a difficult case by traveling offshore to remote Île de Sein in the choppy Atlantic, a dramatically beautiful island once reputedly the abode of witches and now home to dolphin researchers, smugglers, and more rabbits than people. It's still worth a trip!
Finch, Charles. The Last Passenger: A Prequel to the Charles Lenox Series. Minotaur: St. Martin's. Feb. 2020. 304p. ISBN 9781250312204. $27.99; ebk. ISBN 9781250312228. CD. MYSTERY
In this wrap-up to Finch's prequel trilogy to his best-selling Victorian-era mysteries, novice detective Charles Lenox is stumped. A handsome young man has been found dead in a first-class car at Paddington Station, lacking luggage, identification, and any signs of violence. But Charles just knows this is not a natural death.
Kent, Kathleen. The Burn. Mulholland: Little, Brown. Feb. 2020. 352p. ISBN 9780316450584. $27; ebk. ISBN 9780316450553. lib. ebk. ISBN 9780316450591. CD/downloadable. MYSTERY
Alas for Dallas narcotics detective Betty Rhyzyk. Not only is she having trouble readjusting to life after a brutal run-in with an apocalyptic cult, but her informants are being knocked off, her partner is getting hooked on prescription painkillers (having suffered injuries while rescuing her), and her wife is feeling left out. And it gets worse: now Betty must face down a local drug cartel and a bunch of corrupt cops. From the author of the Edgar Award–nominated The Dime.
Patterson, James & James O. Born. Blindside. Little, Brown. Feb. 2020. 400p. ISBN 9780316420334. $28; ebk. ISBN 9780316529563. lib. ebk. ISBN 9780316529570. CD/downloadable. MYSTERY
The daughter of New York's mayor is missing, and Det. Michael Bennett's son is in jail. So they agree to trade help, with Michael investigating a homicide victim tied to both the computer-smart daughter and an ambitious hacking operation. The string of nasty murders that follows eventually affects national security, complicating matters by bringing in the NYPD, the FBI, and global crime. With a 450,000-copy first printing.
Sigurdardottir, Yrsa. The Absolution: A Thriller. Minotaur: St. Martin's. Feb. 2020. 400p. ISBN 9781250136305. $28.99; ebk. ISBN 9781250136312. MYSTERY
When a teenager spotted on a Snapchat video pleading for forgiveness is later found dead, her body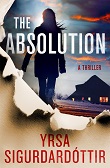 marked with a No. 2, Det. Huldar calls on child psychologist Freyja to talk to the victim's friends. Then another body is found, marked with a No. 3, and Huldar must ask, Where is No. 1? And when does the killing end? Third in the hot new series from the Queen of Icelandic crime fiction.
Thomas, Russ. Firewatching. Putnam. Feb. 2020. 320p. ISBN 9780525542025. $26; ebk. ISBN 9780525542049. MYSTERY
Finally, Det. Sgt. Adam Tyler, sole member of South Yorkshire's Cold Case Review Unit, has a juicy case to solve. The skeleton of high-flying financier Gerald Cartwright, who vanished six years previously, has been found bricked up in his palatial home. The bad news: Adam's chief suspect is the victim's son, with whom he just had a one-night stand. A buzzy debut from Britisher Thomas.
Todd, Charles. A Divided Loyalty. Morrow. Feb. 2020. 336p. ISBN 9780062905536. $27.99; ebk. ISBN 9780062905550. lrg. prnt. MYSTERY
A stranger is found dead by a towering stone figure in Avesbury, a town built within a prehistoric stone circle, and the scant clues regarding her murder have all run cold. Even Scotland Yard's Chief Inspector Brian Leslie is stumped. So Chief Inspector Jameson sends along Ian Rutledge—hoping, suspects Rutledge, that he will fail ignominiously—and what he finally finds calls into question his loyalty to the Yard. With a 100,000-copy first printing.