From "dangerous agitator" to Pulitzer Prize honoree.
Duster, Michelle. Ida B. the Queen: The Extraordinary Life and Legacy of Ida B. Wells. One Signal: Atria. Jan. 2021. 304p. ISBN 9781982129811. $27. BIOGRAPHY
A founder of the NAACP, Wells was famed as a pioneering journalist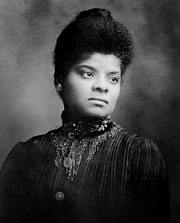 and antilynching crusader and for refusing to give up her seat on a ladies' train car in 1884 Memphis. (She was forcibly evicted.) The FBI dubbed her "a dangerous negro agitator," but some balance of justice came in 2020 when she was awarded a 2020 Pulitzer Prize Special Citation—a long time coming for a woman born enslaved in 1862 Mississippi. Wells's great-granddaughter and herself a writer, professor, and advocate for racial and gender equality, Duster offers an inspiring biography. With a 125,000-copy first printing.