A valuable resource that uses research to help parents and babies get the shut-eye they desperately need; counselors and social workers may find these case studies and suggestions especially helpful; with many titles geared toward reading aloud to babies, toddlers, and preschoolers, this helpful work will be ideal for school libraries
Axelrod, Sofia. How Babies Sleep: The Gentle, Science-Based Method To Help Your Baby Sleep Through the Night. Atria. May 2020. 256p. ISBN 9781982112578. pap. $16.99. CHILD REARING
Sleep researcher and coach Axelrod's first book is a scientific tome on the oft-tackled topic of helping your baby sleep through the night. As a parent, Axelrod experienced the effects of sleep deprivation firsthand, which further motivated her research. Time of day of light exposure, light intensity, and light wavelength and color are aspects that can be controlled throughout the day by the average parent to regulate sleep rhythms, according to Axelrod. Using the right type of night light, using blackout shades, and creating a strong contrast between day and nighttime routines are a few ideas explored in this book on gentle sleep training based on science. The author also considers challenging issues such as regulating sleep when you must travel across time zones, what to do about weekends and vacations, dealing with sickness and the changes that brings in the sleep cycle, and how to manage changes in daytime napping. VERDICT This is a valuable resource that uses research to help parents and babies get the shut-eye they desperately need.

Beckman, Christine M. & Melissa Mazmanian. Dreams of the Overworked: Living, Working, and Parenting in the Digital Age. Stanford Univ. Jun. 2020. 312p. ISBN 9781503602557. $28. CHILD REARING
Working harder, living more anxious lives, busy, and frenzied is how Beckman (public policy, Univ. of Southern California) describes parents and all Americans these days. In Part 1, Beckman and Mazmanian (organization and management, Univ. of California, Irvine) lay bare the myths and impossible ideals that hold us back: the call to be the ideal worker and perfect parent, to have the ultimate body, and other false hopes. Technology creates the expectation of being constantly available and accessible, intensifying the impossible expectations and creating further discouragement. Encouragingly though, Beckman and Mazmanian believe we are succeeding beyond our own expectations. Scaffolding and social support are more crucial than ever in a technology-driven society and are explored in the final section. The authors use the examples of nine real-life families to illustrate the varying yet similar struggles faced by parents across the country in the digital age. Though the work would have benefited from more variety of perspective—all of those profiled work for the same hotel management firm—few would argue the role perfectionistic expectations play in parenting today. VERDICT Counselors and social workers may find these case studies and suggestions especially helpful as they attempt to help their clients navigate this brave new world of technology and the stresses it creates on parents.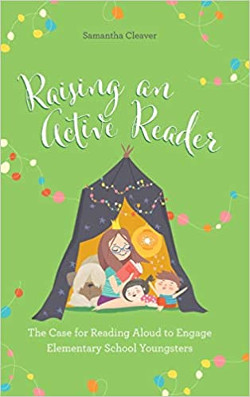 Cleaver, Samantha. Raising an Active Reader: The Case for Reading Aloud to Engage Elementary School Youngsters. Rowman & Littlefield. May 2020. 200p. ISBN 9781475849288. $31. CHILD REARING
Cleaver (Read with Me) asserts that many parents stop reading aloud to their kids when the children start reading on their own. However, the elementary years prove one of the most beneficial times for reading aloud since vocabulary and comprehension skills are developed through Active Reading and reading aloud. The ABCs of active reading (ask questions, build vocabulary, and make connections) are here applied to these crucial years in skill development. To engage learners there are lists of questions for before, during, and after reading. In addition, the author shares how to practice active reading skills in various genres: nonfiction, fiction, first chapter books, and picture books. A special section explores how to help struggling readers by using such techniques as modeling how to visualize, using wordless picture books, keeping realistic goals, and celebrating strengths. The appendixes contain book lists organized by category and answers to frequently asked questions. VERDICT This book will prove a valuable resource for parents, teachers, and librarians on the vital topic of reading aloud. With many titles geared toward reading aloud to babies, toddlers, and preschoolers, this helpful work will be ideal for school libraries.
Cristall, Jonathan. What They Don't Teach Teens: Life Safety Skills for Teens and the Adults Who Care for Them. Quill Driver. Sept. 2020. 320p. ISBN 9781610353588. pap. $19.95. CHILD REARING
A veteran prosecutor and youth safety counselor, Cristall is uniquely qualified to write a book about keeping teens out of trouble. Cristall starts with the assertion that teens need to find safe people to help them no matter what situation they face, and gives advice to parents on how they can fulfill this role in their adolescent's life. The crucial legal topics are personal safety, dealing with police, sexual assault and consent, harassment, sextortion, teen dating violence, digital footprint and citizenship, data privacy, cyberbullying, and smartphone cameras. The end of each chapter contains a space for students to journal takeaways, bullet-list summaries, and take a "What Would You Do If It Happened to You?" quiz. VERDICT Easy to read and comprehensive on topics of safety, Cristall's volume is an informative read for teens and their parents, but may also prove to be a helpful text for a high-school level health class.

Howerton, Kristen. Rage Against the Minivan: Learning to Parent Without Perfection. Convergent. Jun. 2020. 224p. ISBN 9781984825162. $26.00. CHILD REARING
Family therapist Howerton guides parents struggling with perfectionism to do less, not more. Baptized by fire with four kids in as many years, the author has dealt with infertility, adoption, and divorce and is also a parent of children of several different races. Howerton's sage humor will resonate with a variety of readers of all types. Whether ruining her daughter's lunch by putting a yellow straw in a pink cup, discussing the travails and joys of adopting her son Kembe from Haiti, or poking fun at unrealistic ideals of parenting culture, Howerton is both hilarious and relatable. VERDICT Howerton's parenting manifesto is a laugh-out-loud funny read many moms may find themselves nodding along with.

Koziol, Jill & Liz Tenety with Diana Spalding. The Motherly Guide to Becoming Mama: Redefining the Pregnancy, Birth, and Postpartum Journey. Sounds True. Apr. 2020. 576p. ISBN 9781683643555. pap. $21.99. CHILD REARING
Koziol and Tenety are cofounders of Motherly, an online community for parents. Here they pair with Spalding, certified nurse midwife, pediatric nurse and mother of three, to create a comprehensive guide to the pregnancy, birth, and postpartum times. With sections from trying to conceive to the fourth trimester, there is no topic untouched. The pregnancy section covers a guide to each week's possible symptoms and guidance is provided on everything from gardening during pregnancy to special needs for LGBTQIA families and individuals, eating, sleeping, exercise...be assured the authors have left nothing left unexplored. This work focuses on self-care for mama as well as care for baby. Holistic in content, this will appeal to a growing segment of new parents who are looking for researched information about all the struggles and joys of pregnancy and new motherhood. VERDICT With consideration of every step along the whole journey of motherhood, body, mind, emotions, lifestyle, schedule, spirituality, and worldview, this will prove a must-read ­
for many.

McClanahan, Aja. How a Mother Should Talk About Money with Her Daughter: A Step-by-Step Guide to Budgeting, Saving, Investing, and Other Important Lessons. Skyhorse. Mar. 2020. 216p. ISBN 9781621537427. $24.99. CHILD REARING
McClanahan (Manage Your Money To Become Debt Free) wrote this volume to start conversations about serious money issues that concern women. Women are behind men in crucial indicators such as net worth, saving balances, and financial literacy. ­McClanahan believes the reason is that women are afraid to talk about money, though women also face lower starting salaries and a persistent wage gap. Many parents may feel inadequate in their own money skills, yet want to help their children develop good habits around saving, spending, investing and more. Money management is a part of self-care, argues McClanahan, who here discusses such topics as how to pick the best college for both current financial state and future job prospects and how young people can discuss financial goals with a future life partner. VERDICT Readers will be inspired by McClanahan's own story and will here gain ideas for discussing the oft-taboo topic of money with their daughters.

Nayani, Farzana. Raising Multiracial Children: Tools for Nurturing Identity in a Racialized World. North Atlantic. Mar. 2020. 288p. ISBN 9781623174491. pap. $15.95. CHILD REARING
Parent, teacher educator, and community activist Nayani wrote her first book to address the needs of those parenting children who identify as more than one race. The author focuses on creating a sense of belonging while encouraging multicultural identity development. Nayani begins by giving readers a foundational understanding of race, breaking down the history behind our views on the topic. She defines orientations around race including denial, polarization, minimization, acceptance, adaptation and the pitfalls and growth opportunities in each. Assessing comfort level, finding comfort in uncomfortable situations, being vulnerable, and addressing strong emotions are steps in the preparation process before discussing these issues with children. She advocates a newer model, Conscious Cultivation of Identity, which incorporates contact, communication, consciousness, connection, and community. This text also addresses topics such as microaggressions, intersectionality, and privilege. VERDICT Teachers, day-care workers, parents, and counselors may find grains of wisdom in not only exploring race with children but in fostering personal growth in themselves.

Shugarman, Harriet. How To Talk to Your Kids About Climate Change: Turning Angst into Action. New Society. May 2020. 192p. ISBN 9780865719361. pap. $17.99. CHILD REARING
Global warming is a topic on many lips today, and the thought of a climate crisis may cause fear in many children. How do we discuss these crucial topics in a way that's informational but without reinforcing anxieties? What can we do to help our children live their best future in a catastrophic world? Shugarman (executive director, Climate Mama) believes it is crucial to tell our children the truth. Grief and fear are normal in both ourselves and our children, but we must motivate ourselves to action and here she provides suggestions to do just that, advocating leading by example and supporting activism. Many parents may feel they lack the knowledge to speak in a scientific and informed way, and this book provides the facts parents need to have these conversations as well as tips for conversing with children on this crucial topic. VERDICT A helpful tome on a crucial topic filled with scientific facts, this volume will be useful to both parents and teachers.

Tornio, Stacy. The Ultimate Book of Scavenger Hunts: 42 Outdoor Adventures To Conquer with Your Family. Rowman & Littlefield. Jun. 2020. 232p. ISBN 9781493051533. pap. $22.95. CHILD REARING
Just in time for summer and the numerous outdoor opportunities, Tornio (The Ooutdoor Adventure Book), provides great ideas for getting your kids to enjoy and learn about nature. Heading to the zoo, aquarium or farm? Included are fun checklists with pictures that can increase the educational and fun value of your trip. Want to learn more about your neighborhood? Tornio includes scavenger hunts for your local farmer's market, park, nature trail, and body of water. Heading on a trip? Beach, nature center, state park, and mountain hunts are included. Ideas for hiking and camping are also included. Themed scavenger hunts by season, time of day, and color are also included. VERDICT Colorful and perfect for summer (or all year long), this book offers ideas for great ways to keep the learning going and have fun as a family.
---
Richmond, VA–based freelance writer Julia M. Reffner has reviewed books and DVDs for a variety of genres for LJ. She has judged several book awards and is a member of the American Christian Fiction Writers (ACFW) and Word Weavers