Light reads, deep discussion-starters perfect for (virtual) book clubs, a novel that imagines what would have happened if Hillary Rodham never married Bill Clinton, and Joe Biden's senior advisor with an of-the-moment deep dive into 2020 Democratic politics.
Light reads, deep discussion-starters perfect for (virtual) book clubs, a novel that imagines what would have happened if Hillary Rodham never married Bill Clinton, and Joe Biden's senior advisor with an of-the-moment deep dive into 2020 Democratic politics.
LIGHT & BREEZY READS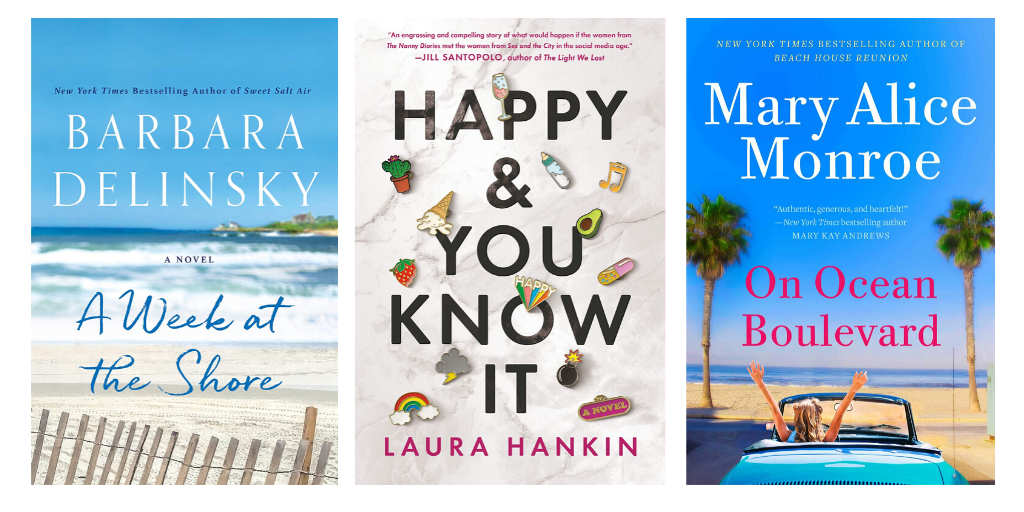 A Week at the Shore by Barbara Delinsky
Mallory unravels a 20-year-old mystery while spending the summer in her hometown in this powerful page-turner.
Happy and You Know It by Laura Hankin
Claire learns a lot about "how the other half lives" while working with wealthy moms and their kids in a playgroup.
On Ocean Boulevard by Mary Alice Monroe
The latest entry in the long-running series following the ups and downs of the Rutledge family, this time starring Linnea, who returns home to South Carolina's barrier islands where she works at the local aquarium, meets a handsome visitor, and gets involved with the "turtle ladies."
Rodham by Curtis Sittenfeld
The author of Eligible and Prep imagines what would have happened if Hillary never met Bill.
The New Girl by Harriet Walker
When Margot, an editor at a top fashion magazine, goes on maternity leave, a sparkling ingénue takes the spotlight.
STRONG PROSE & DISCUSSION-WORTHY THEMES
The Motion of the Body Through Space by Lionel Shriver
The controversial author of We Need to Talk About Kevin takes on toxic workplaces, political correctness, and aging.
Keep Saying Their Names by Simon Stranger
A fictionalized story about the notorious Henry Oliver Rinnan, a Norwegian stooge for the Nazis who tortured and killed his fellow citizens.
Latitudes of Longing by Shubhangi Swarup
A "multigenerational epic intertwined with spellbinding myths…. linked across borders and barriers, from sinking islands to glacial mountaintops."
MYSTERY & SUSPENSE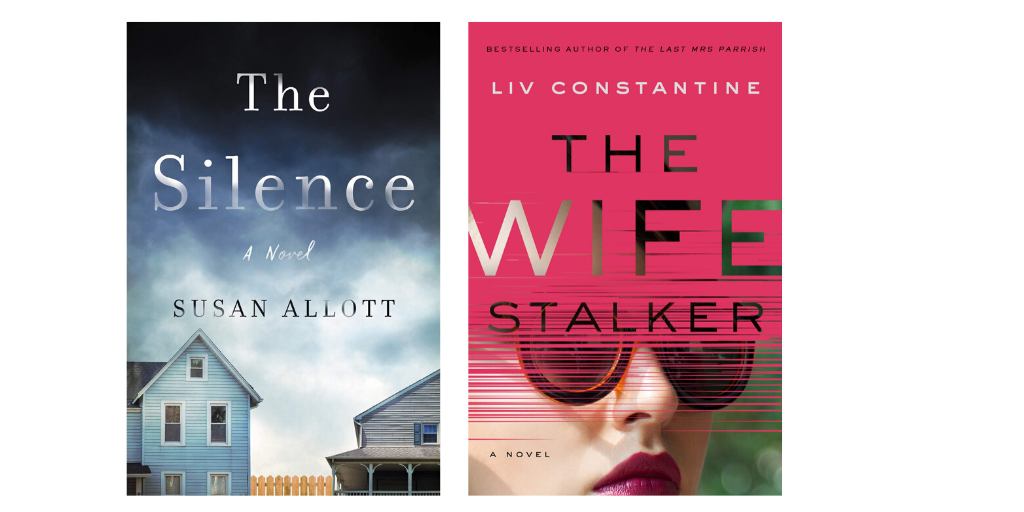 The Silence by Susan Allott
In 1997, Isla returns home to Australia when her father is the last person to have seen a woman who's gone missing. In 1967, Mandy is dissatisfied with her life and longs to keep up with the Greens next door. The two stories collide in this debut mystery.
The Wife Stalker by Liv Constantine
Two women—the former wife and the new mistress—recount their sides of a twisted love triangle in this psychological thriller from the author of The Last Mrs. Parrish.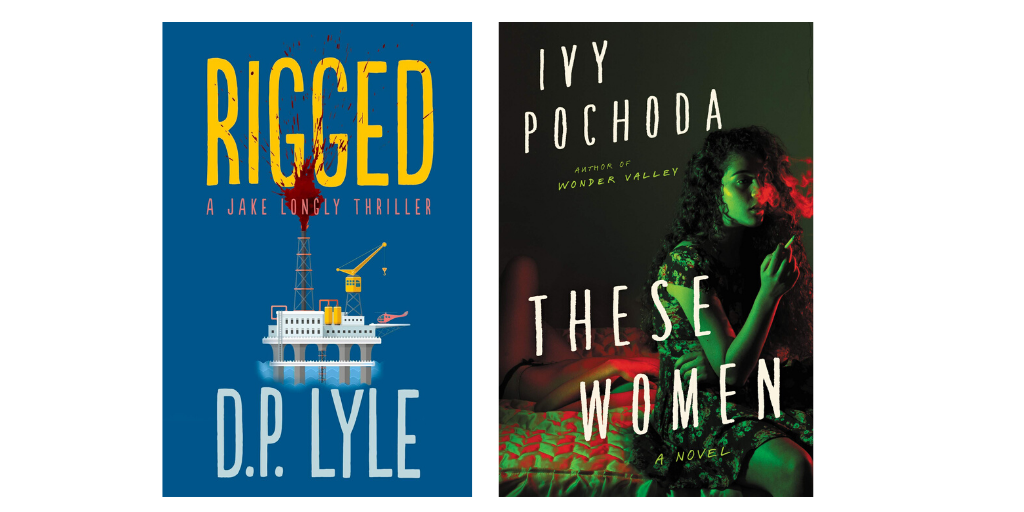 Rigged by D.P. Lyle
In this follow-up to Sunshine State, Tommy Jeffers investigates the murder of his first love and her boyfriend in this smart and darkly funny mystery.
These Women by Ivy Pochoda
Five different women in Los Angeles, all of whom live at the margins of society and are routinely ignored and dismissed, are connected to one man. When one of the women is brutally murdered, a brilliant vice cop investigates.
ROMANCE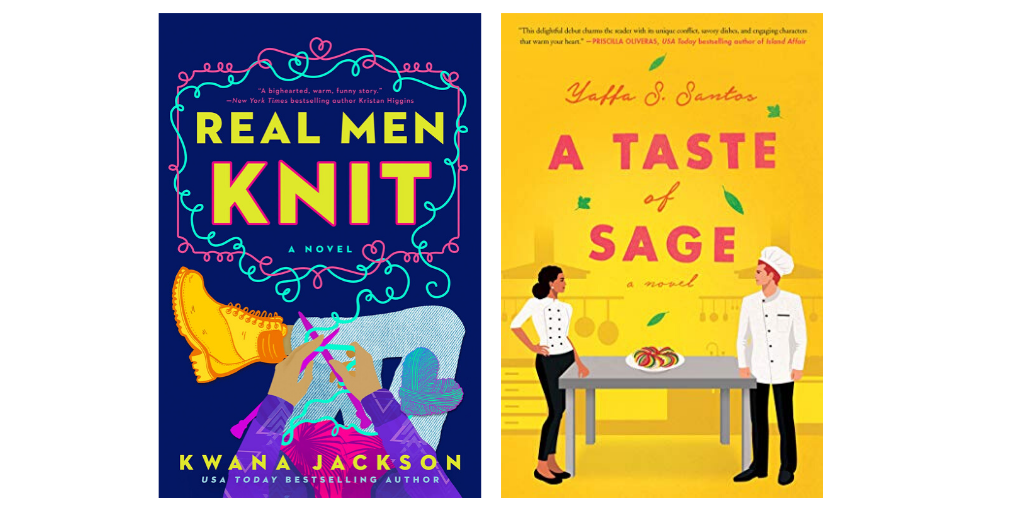 Real Men Knit by Kwana Jackson
When his mom passes away, Jesse is determined to keep her Harlem shop, Strong Knits, up and running. He gets help from longtime friend, Kerry. Thrown together to save the business, their attraction is undeniable.
A Taste of Sage by Yaffa S. Santos
A Dominican chef with synesthesia finds love in a French kitchen.
BIOGRAPHY & MEMOIR
The Price of Peace: Money, Democracy, and the Life of John Maynard Keynes by Zachary D. Carter
An explanation of Keynesian economics and a comprehensive portrait of British economist John Maynard Keynes.
ARTS & HUMANITIES
The Equivalents: A Story of Art, Female Friendship, and Liberation in the 1960s by Maggie Doherty
A history of the group of women who called themselves the "Equivalents"—poets Anne Sexton and Maxine Kumin, writer Tillie Olson, painter Barbara Swan, and sculptor Marianna Pineda—who were accepted into the first Radcliffe Institute for Independent Study.
Modern Family: The Untold Oral History of One of Television's Groundbreaking Sitcoms by Marc Freeman
A behind-the-scenes history of the popular TV show.
Brown Album: Essays on Exile and Identity by Porochista Khakpour
The latest collection of personal essays from the author of Sick: A Memoir. Themes include immigration, illness, whiteness, and the writer's life.
SOCIAL SCIENCES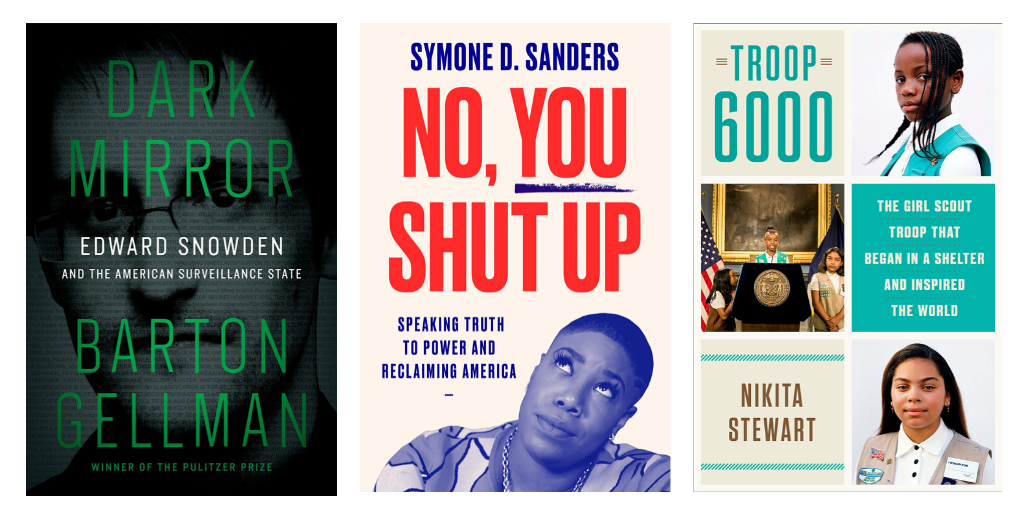 Dark Mirror: Edward Snowden and the American Surveillance State by Barton Gellman
A Pulitzer Prize and Emmy Award-winning journalist describes his experience being among the first to report Edward Snowden's 2013 massive leak of NSA programs and methods and the far-reaching impact of U.S. domestic surveillance.
No, You Shut Up: Speaking Truth to Power and Reclaiming America by Symone D. Sanders
The senior adviser for Joe Biden's 2020 presidential campaign shares her secrets to political success.
Troop 6000: The Girl Scout Troop That Began in a Shelter and Inspired the World by Nikita Stewart
When circumstances left her and her children homeless, Burgess's idea to start a scout troop for girls in their shelter in Queens, NY, had effects she never could have imagined.
One Mighty and Irresistible Tide: The Epic Struggle over American Immigration, 1924-1965 by Jia Lynn Yang
A clear, well-crafted historical overview of U.S. immigration and the people who shaped it.