Seven new and forthcoming horror books—including three starred reviews—recommended by LJ's resident horror expert.
Seven new and forthcoming horror books—including three starred reviews—recommended by LJ's resident horror expert.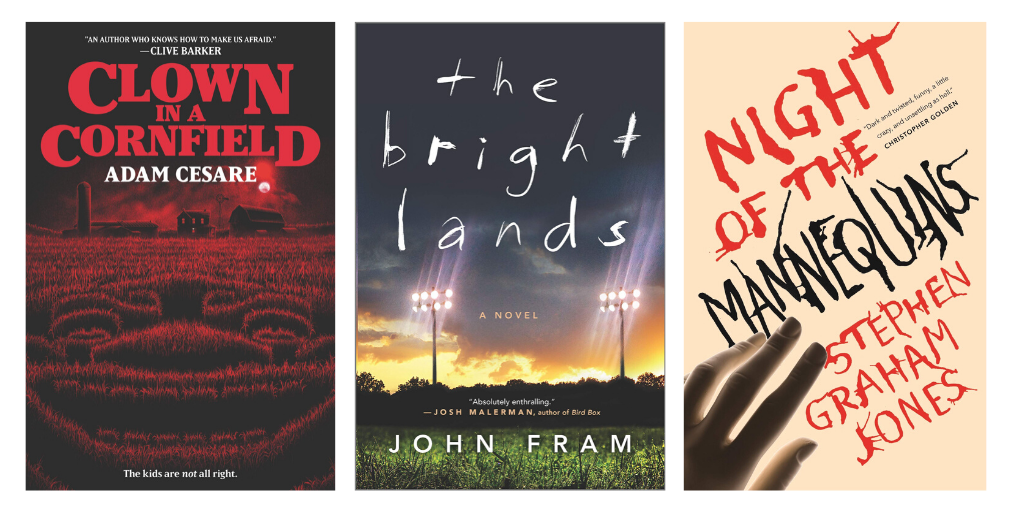 Cesare, Adam. Clown in a Cornfield. HarperTeen. Aug. 2020. 352p. ISBN 9780062854599. $17.99. HORROR
Quinn and her father leave behind bad memories in Philadelphia to start anew in Kettle Springs, MO, where the town mascot is a creepy clown logo from a long-shuttered factory. There is a strange tension between the teens and the adults of Kettle Springs, and the conflict between the old and new ways is reaching a breaking point. A homicidal maniac, dressed as Frendo the Clown, uses a community celebration as cover to end this conflict by taking out the "troublesome teens," with their cell phone videos and disrespectful attitudes, one youngster at a time. Cesare's (Mercy House) latest is a slasher story filled with compelling characters—including those readers will root for and those they cannot wait to see meet a bloody demise. The immersive atmosphere, nail-biting action sequences, and satisfying social commentary results in a thoughtful, campy, and just-plain-fun read for horror fans, especially those who crave a retro feel but still want a story set firmly in the present. VERDICT While this title is marketed to teens, adult readers familiar with the classic horror slasher movies of the 1980s and 1990s should find it appeals. For more modern genre gems, see Stephen Graham Jones's The Last Final Girl or Gretchen McNeil's Ten.
Fram, John. The Bright Lands. Hanover Square: Harlequin. Jul. 2020. 480p. ISBN 9781335836625. $27.99. HORROR
DEBUT The residents of Bentley, TX, love nothing more than football. When star quarterback Dylan contacts his older brother, Joel, who fled the small, conservative town years ago, their unsettling conversation worries Joel, who immediately hops on a flight home. Shortly after Joel's arrival, Dylan goes missing, and it's quickly apparent that something sinister is afoot—and has been for quite some time. With clever nods in style and tone to the work of legendary horror author Bentley Little, Fram delivers a satisfying supernatural mystery in which the town itself is at the heart of the evil. The points of view bounce among multiple well-developed characters, all harboring their own destructive secrets. The sense of dread builds, enveloping the town, its characters, and readers in a terror denser than the "Friday night lights" can penetrate. VERDICT Fram refers to himself as "Stephen Queen," and while this should certainly be embraced as a "gay Stephen King" read-alike, it is also a confident and thought-provoking tale that explores complex family dynamics, sexuality, religion, and coming-of-age anxieties within a solid horror frame. A great choice for fans of Victor LaValle or Ania Ahlborn.

Graham Jones, Stephen. Night of the Mannequins. Tor.com. Sept. 2020. 144p. ISBN 9781250752079. pap. $11.99. HORROR
A teenage prank involving a mannequin turns deadly when the inanimate figure comes to life and goes on a killing spree. Thankfully, teenager Sawyer has a plan: In order to prevent more murders, he must kill each of his friends involved in the joke. This is an unsettling tale told entirely through Sawyer's unreliable narration, in a stream of consciousness confession as he plans and executes each murder, constantly looking over his shoulder for signs of the real monster. Readers will be simultaneously drawn to and repulsed by Sawyer, and entertained by the pervasive dark sense of humor. Award-winning author Graham Jones (The Only Good Indians) creates a suspenseful, fast-paced novella that keeps readers hooked. ­VERDICT A hotter voice in horror would be hard to find these days, and Graham Jones does not disappoint, delivering another masterpiece. Give to fans of slasher or serial killer tales, and those who enjoyed James Tynion's graphic novel series "Something Is Killing the Children" or Oyinkan ­Braithwaite's My Sister the ­Serial Killer.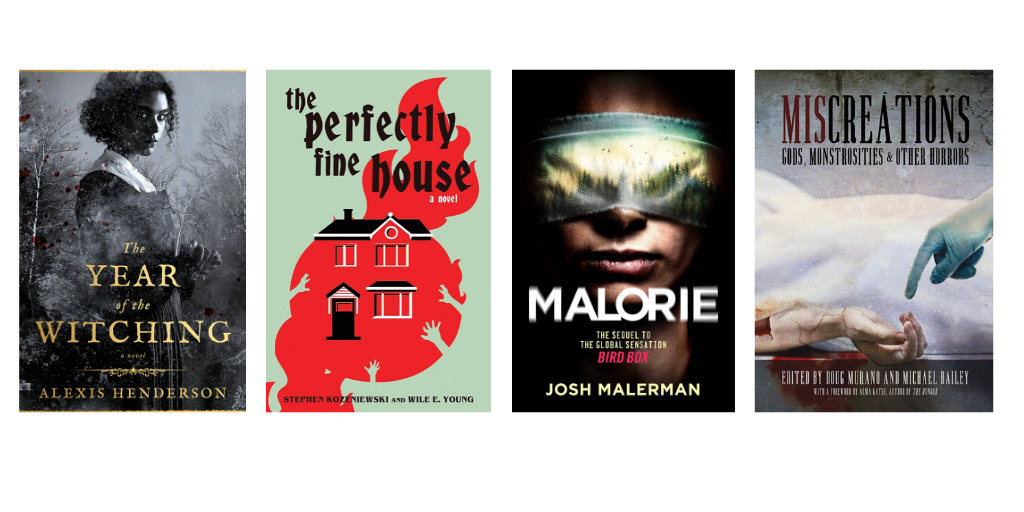 Henderson, Alexis. The Year of the Witching. Ace: Berkley. Jul. 2020. 368p. ISBN 9780593099605. $26. HORROR
DEBUT In Bethel, the Prophet's word is law; everyone submits to his strict rules and no one has seen the outside world. Immanuelle, an aberration and outsider living within the community, had a mother who fell in love with a man of a different race then disappeared into the forbidden woods. She returned to give Immanuelle birth before she died. Now on the cusp of adulthood, Immanuelle is drawn into the Darkwood herself, where she meets the spirits of the witches the Prophet violently preaches against. They give her a diary, written by her late mother, which opens Immanuelle's eyes to a wider world. This dystopian tale is filled with witchcraft, family secrets, and folk horror elements that address themes of racial and sexual inequality head on. Immanuelle's coming of age will keep readers glued to the page, wondering if she has the strength and power to save her community from itself. VERDICT An exciting debut with the potential to appeal to a wide range of readers and fans of titles as varied as Jennie Melamed's Gather the Daughters, Naomi Novik's Uprooted, and Scott Hawkins's The Library at Mount Char. It also joins a recent trend of witch-themed titles like the short story anthology Hex Life, edited by Christopher Golden and Rachel Autumn Deering.
Kozeniewski, Stephen & Wile E. Young. The Perfectly Fine House. Grindhouse. Mar. 2020. 230p. ISBN 9781941918630 . pap. $14.95. HORROR
Imagine a world where ghosts not only exist but live in tandem with the living. Donna runs a profitable (but stressful) businesses based on the ghost economy: Her incorporeal clients can buy a living volunteer to experience physical pleasures for a short time. After she suffers a panic attack, her dead twin brother finds Donna the perfect weekend getaway, a home that is so off the grid it isn't even haunted. But there's something strange about this seemingly idyllic place. There, the siblings unknowingly unleash an unstoppable force, one that could consume the world as they have always known it, removing every ghost forever. ­Drawing readers in with a gimmicky premise, ­Kozeniewski (The Hematophages) and Young (The Magpie Coffin) deliver a thought-provoking tale set in an expertly crafted world, featuring a suspenseful mystery populated with fully realized characters. Both a fun and serious contemplation of how the world as we know it can change in the blink of an eye. VERDICT Great for readers who love haunted house stories with detailed worldbuilding, such as Tananarive Due's The Good House, and for fans of dark, speculative tales that employ unique twists on established tropes, such as Ben H. Winters's pre­apocalyptic trilogy, "The Last Policeman."
Malerman, Josh. Malorie. Del Rey: Ballantine. Jul. 2020. 320p. ISBN 9780593156858. $28. HORROR
This anticipated sequel is set 12 years after the terrifying and disorienting events in Bird Box, a world in which sight can mean certain death. Malorie's ironclad rule for her children to "live by the blindfold" has not changed. But now that they are teens, they begin to question Malorie's worldview and her authority. When a visitor offers seemingly impossible news about the survival of loved ones and of places where a much freer life is possible, even Malorie is willing to risk another blind journey. Though her children do not remember the old world, they might know more about how to survive than Malorie dares to imagine. Told from all three characters' points of view, the narrative is filled with dread and taut action. Malerman also explores questions about how to process hope for a better life when survival itself still feels so tenuous. VERDICT Having read Bird Box will help, but essential worldbuilding is seamlessly interwoven in a narrative paired with enlightening flashbacks into Malorie's childhood, making this a solid stand-alone. Malerman will no doubt add to his legions of fans with this title ripe for readers of any genre seeking an intensely thrilling ride.

Miscreations: Gods, Monstrosities & Other Horrors. Written Backwards. Feb. 2020. 342p. ed. by Doug Murano & Michael Bailey. ISBN 9781732724464. $29.95; pap. ISBN 9781732724471. $16.95. HORROR
Humans have long been fascinated by monsters. As author Alma Katsu comments in this stellar anthology's introduction, "We are inseparable, twined together like ivy." And it is that complicated entanglement, ruled by emotions such as curiosity, revenge, and, of course, fear, that gets explored through 19 original stories and four poems in this collection. Josh Malerman reframes a werewolf story with an addict's lens, while Nadia Bulkin considers how "monsters" are a matter of perspective, and Victor LaValle provides a haunting tale of the monstrocities we hide from each other and ourselves. Bram Stoker Award–winning editors Murano (Behold! Oddities, Curiosities and Undefinable Wonders) and Bailey (Where Nightmares Come From) bring together a diverse array of authors writing at the top of their game. VERDICT Featuring well-known horror writers, as well as some need-to-know new voices, while also representing a wide range of the genre, from slight shivers to outright terror, this small press anthology is one most libraries should own. Hand to fans of Ellen Datlow's Best Horror of the Year.
---
Becky Spratford is a readers' advisory (RA) specialist in northern Illinois and the author of The Readers' Advisory Guide to Horror (2d ed., ALA). She runs the popular blogs raforall.blogspot.com and raforallhorror.blogspot.com. Readers can connect with her on Twitter @RAforAll.