LJ's resident horror expert reviews the scariest novels destined to haunt shelves this spring.
Eight of the scariest novels destined to haunt shelves this spring. Be sure to also check out the
Q&A with author Daniel Kraus
on how he "collaborated" with the late, great George A. Romero to complete
The Living Dead
.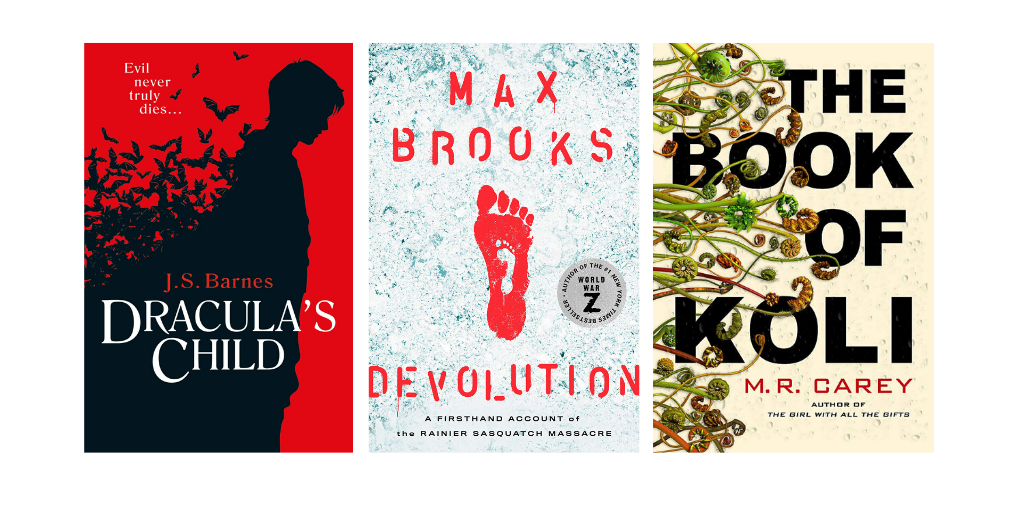 Barnes, J.S. Dracula's Child. Titan. May 2020. 576p. ISBN 9781789093391. pap. $14.95. HORROR
What happened after Jonathan and Mina Harker defeated Dracula in Bram Stoker's seminal vampire novel? Barnes (The Somnambulist, The Domino Men) ponders this question within an intriguing narrative framework: papers released by the Harker's son, Quincey, on the eve of World ­War I. Following the epistolary format of the original, this novel is told through "found" journals, clippings, and letters written by the parties involved when a dark and troubling series of events unfold during Quincey's 13th year. It becomes clear that the vampire everyone thought was killed was merely held at bay. His return comes at a steep price for the Harker family and the world. Fans of vampire fiction will enjoy the compelling, fast-paced plot, and atmosphere of increasing dread. VERDICT This novel is nestled perfectly within the popular pantheon of stories that use the frame and style of Stoker's classic to create original and entertaining stories that add to the lure and enjoyment of the source material. Hand to readers who liked Steven Hopstaken and Melissa Prusi's Stoker's Wilde or Lauren ­Owen's The Quick.

Brooks, Max.
Devolution: A Firsthand ­Account of the Rainier Sasquatch Massacre.
Del Rey: Ballantine. May 2020. 304p. ISBN 9781984826787. $28. HORROR
Brooks, back with his first novel since his seminal World War Z, employs a similar style here, but the scope—and resulting terror—is significantly more concentrated and immediate. The narrative is framed as an investigation by Brooks into what transpired in the isolated, high-end, high-tech fictional "eco-community" of Greenloop, WA, after Mount Rainier suddenly erupted. The brother of a woman whose journal was found after the disastrous events reaches out to narrator Brooks, asking him to look into the journal's claims of the residents' demise at the hands of a hungry Sasquatch clan. Piecing together the journal with interviews, transcripts, newspaper clippings, and historical documents, Brooks crafts a terrifying tale that reads like a "true" crime novel. Set in the very near future, with stellar worldbuilding, a claustrophobic atmosphere, an inclusive and fascinating cast of characters, and plenty of bloody action, this inventive story will keep readers' heart rates high. VERDICT Brooks's creative and well-executed conceit will have readers searching Wikipedia to look up names and events, even the parts they know are not based on reality. An obvious choice for Bigfoot fans, also suggest this to readers who enjoyed Alma Katsu's The Hunger and those who appreciate nonfiction survival stories such as Hampton Sides's In the Kingdom of Ice.
Carey, M.R.
The Book of Koli.
Orbit: Hachette. (Rampart Trilogy, Bk. 1). Apr. 2020. 416p. ISBN
9780316477536
. pap. $13.74. HORROR
Teenage Koli lives in a small village surrounded by high walls that separate the people from a postapocalyptic world in which the flora, fauna, and "shunned men" are violent and deadly. When Koli is forced by the village elders into the world outside, he embarks on a dangerous quest to uncover the truth about what caused this nightmarish hellscape. Strong worldbuilding dominates the measured pace of the novel's first half; the latter half features brisk adventure and a pulse-pounding race toward a cliffhanger ending. Koli narrates this work of sf horror in a peculiar dialect; while readers may find it initially awkward, the language reflects the extreme isolation experienced by the villagers. Told with the same stellar storytelling chops that have rightfully earned Carey (The Girl with All the Gifts) fans across the globe, this is a menacing, thought-provoking tale that asks readers to consider how the past informs the present and how technology affects the natural world—sometimes with dangerous consequences. VERDICT This first installment in a planned trilogy is a disorienting look at a dystopian future that is firmly rooted in the concerns and issues of our current moment. Likely to appeal to fans of Jeff Vandermeer's novels and Carrie Vaughn's
"Bannerless" trilogy.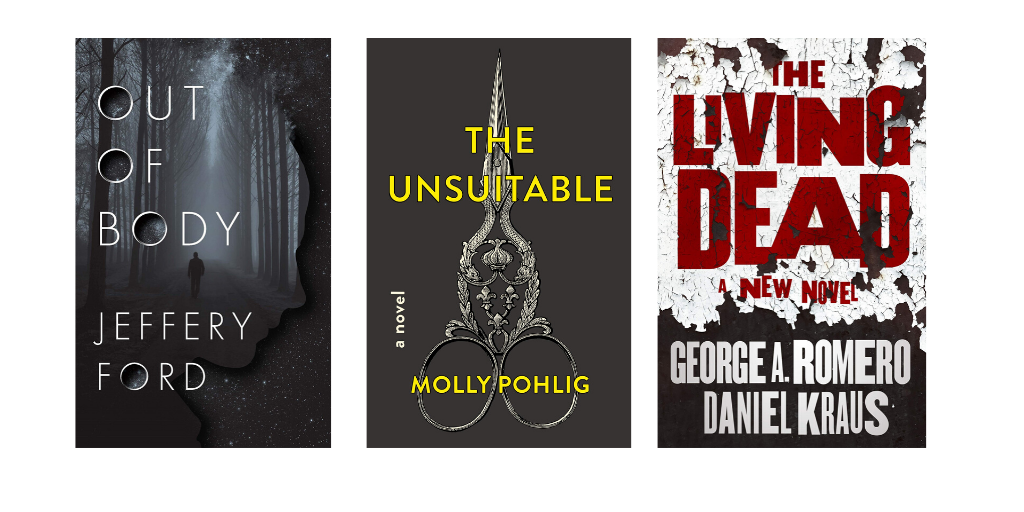 Ford, Jeffrey. Out of Body. Tor.com. May 2020. 176p. ISBN 9781250250155. pap. $14.99. HORROR
Small-town librarian Owen is a man of routine, until the day his regular morning stop at the local store is interrupted by a violent robbery, an event that leaves one person dead and Owen with PTSD in the form of sleep paralysis, during which he leaves his body behind and travels to the world of "the sleepers." As Owen is taught the rules of this night world by a new friend, he is both tempted and repulsed by the dark allure of voyeurism; his nocturnal adventures reveal the secrets of the townspeople he thought he knew so well. He soon discovers a centuries-old serial killer and is determined to use his powers to help put an end to the reign of terror. VERDICT Nebula and Shirley Jackson Award winner Ford (A Natural History of Hell, The Girl in the Glass) offers a short, captivating tale about strength and sacrifice. For fans of Neil Gaiman's Ocean at the End of the Lane, Samanta Schweblin's Fever Dream, and Keith Donohue's The Motion of Puppets.
Pohlig, Molly. The Unsuitable. Holt. Apr. 2020. 288p. ISBN 9781250246288. $26.99. HORROR
DEBUT Iseult has endured a painful life, both emotionally and physically, believing that she caused her mother's death in childbirth and that her mother's ghost lives inside the scar on her neck. Iseult spends many hours talking to her mother's spirit and trying to free her by repeatedly slicing at the scar. Now approaching 30—a spinster by Victorian standards—Iseult is under pressure from her father to marry. He views his awkward, difficult daughter as a burden, and he's elated to finally find a suitor who isn't scared away by her unusual behavior. The impending nuptials lead Iseult to behave in increasingly violent and unpredictable ways, as she struggles to make a last gasp at regaining her agency. VERDICT A weird and bloody ghost story combining the terror of mental illness with body horror that, while set in a gothic world, features a sensibility more at home in the 21st century. Similar in appeal to the intense psychological suspense of Sarah Waters's The Little Stranger mixed with the real-life horror of the domestic abuse and self-harm at the heart of Gillian Flynn's Sharp Objects.

Romero, George A. & Daniel Kraus.
The Living Dead.
Tor. Aug. 2020. 656p. ISBN 9781250305121. $27.99. HORROR
Horror novelist and lifelong Romero fan Kraus (with Guillermo del Toro, The Shape of Water) "collaborated" with the late, great zombie filmmaker Romero to complete this epic work that incorporates "Easter eggs"' from across Romero's oeuvre. The novel spans from a few days before the start of the zombie apocalypse through the following 15 years. Drawing from Romero's papers, interviews, films, and exhaustive research, and with his own storytelling prowess, Kraus completes a zombie tale for the ages. Written from multiple points of view and featuring a diverse cast of characters, this lengthy tome is made accessible via short chapters that keep the pace moving briskly. The zombies are terrifyingly realistic, but it is the well-developed human characters that readers will appreciate, particularly Etta Hoffmann, autistic researcher and archivist of the apocalypse. This is a rare gem of a story, one that pays homage to its varied source material across numerous films, books, comics, and more, while also standing on its own merits. Kraus's extensive author's note adds appeal. VERDICT A true gift to horror fans. Pairs well with Nights of the Living Dead, edited by Romero and others, with appeal for fans of apocalyptic epics such as Chuck Wendig's Wanderers and Emily St. John Mandel's Station Eleven.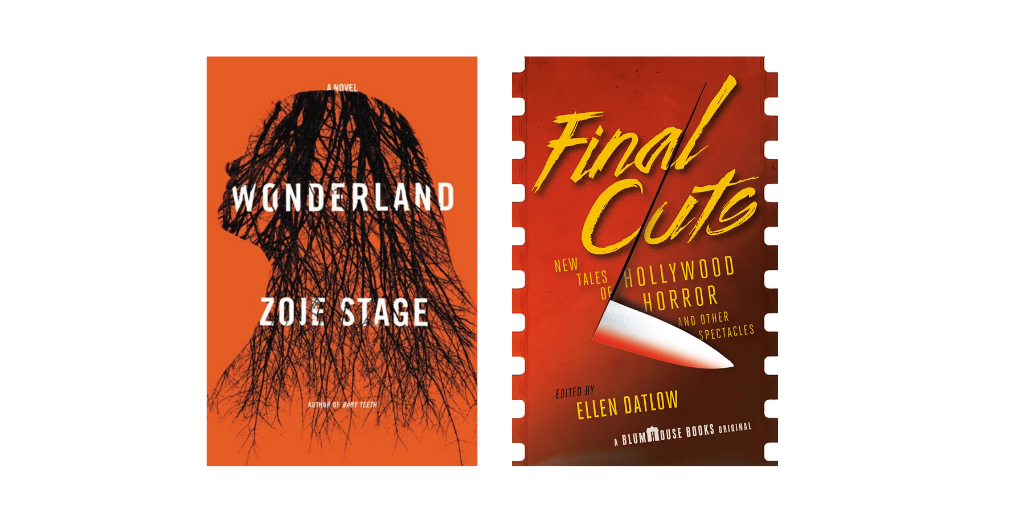 Stage, Zoje.
Wonderland.
Mulholland: Little, Brown. Jun. 2020. 368p. ISBN 9780316458498. $28. HORROR
Proving that the scares in her 2018 debut, Baby Teeth, were no accident, Stage returns with her second novel, this time ratcheting up the supernatural element. Orla, a recently retired ballerina, agrees to move with her family from Manhattan to a remote farmhouse in upstate New York so that her husband can pursue his painting career. Almost immediately upon arriving, their tween daughter senses something is very wrong; the land and trees surrounding their house teem with evil intent. The atmosphere is oppressive from page one and the tension builds steadily throughout, as the house and the land it stands on turn against the family, infiltrating their innermost thoughts, making Orla question her very sanity. VERDICT Reminiscent of the severe disorientation and trauma in Mark Z. Danielewski's House of Leaves and the nature-seeking revenge theme of Stephen Graham Jones's The Only Good Indians—with elements of and nods to Shirley Jackson's works—Stage's latest ­offers a memorable take on the haunted house trope.
Collections & Anthologies
Final Cuts: New Tales of Hollywood Horror and Other Spectacles. Anchor. Jun. 2020. 480p. ed. by Ellen Datlow. ISBN 9780525565758. pap. $16.95. HORROR
Datlow, editor of numerous horror anthologies (The Best Horror of the Year, The Green Man, Lovecraft's Monsters) returns with another excellent collection of short stories featuring some of today's best horror writers, representing the full range of diversity within the genre. Eighteen authors pen tales of terror, each with a connection to film or TV. Popular and best-selling authors including Kelley Armstrong, Josh Malerman, and Richard Kadrey are joined by promising newcomers like Cassandra Khaw and A.C. Wise. Usman T. Malik explores our obsession with reality TV, presenting a serial killer who wants his execution live-streamed; Gemma Files uses interview transcripts and emails to tell a horrifying story about a cult horror actress; and John Langan contributes a novella that begins as an innocent email conversation between two writers about their possible collaboration on a vampire tale that slowly, and satisfyingly, unravels as something far more sinister. VERDICT The unique themes and diverse array of stories make this anthology appealing to a variety of horror readers and is a great introduction to new readers looking for work by a range of authors.
---
Becky Spratford is a Readers' Advisory (RA) specialist in northern Illinois and the author of The Readers' Advisory Guide to Horror (2d ed., ALA). She runs the popular blogs raforall.blogspot.com and raforallhorror.blogspot.com. Readers can connect with her on Twitter @RAforAll