Four stories of resistance and courage.
Donner, Rebecca. All the Frequent Troubles of Our Days: The American Woman at the Heart of the German Resistance to Hitler. Little, Brown. May 2021. 336p. ISBN 9780316561693. $28. BIOGRAPHY
The only American to serve as a leader in the German Resistance, Mildred Harnack was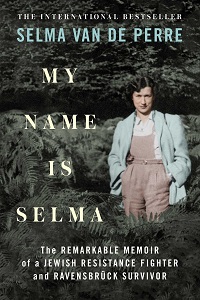 studying in a PhD program in Berlin when Hitler began his rise to power. After initiating clandestine meetings in her apartment for those in opposition, she wrote and spread leaflets and helped Jews escape and was a full-fledged spy by the time the war started. After being caught by the Gestapo as she was planning her own escape to Sweden, she was sentenced to a concentration camp. But Hitler ordered her execution. Her story is told by her great-great-niece. With a 25,000-copy first printing.
Garrett, Leah. X Troop: The Secret Jewish Commandos of World War II. Houghton Harcourt. May 2021. 384p. ISBN 9780358172031. $28. CD. HISTORY
Director of the Jewish Studies Center at Hunter College and an award-winning historian of Jewish history, Garrett recounts the little-known story of the British Army's X Troop, formed on Winston Churchill's orders and consisting entirely of German Jewish refugees who would do anything to defeat Hitler. They were trained in advanced combat as well as counterintelligence, and half would perish without a trace during the war, but Garrett has interviewed survivors. With a 40,000-copy first printing.
Strauss, Gwen. The Nine: The True Story of a Band of Women Who Survived the Worst of Nazi Germany. St. Martin's. May 2021. 336p. ISBN 9781250239297. $28.99. CD. HISTORY
Meeting in prison, in transit, or finally at Ravensbrück, the nine female resistance fighters whose story is told here joined to protect one another and survive. They had smuggled arms, sheltered Jewish children and parachuting agents, and shepherded refugees along the escape routes to Spain, and finally they managed their own escape from a death march at war's end. Among them: the author's great aunt Helene Podliasky. With a 60,000-copy first printing.
van de Perre, Selma. My Name Is Selma: The Remarkable Memoir of a Jewish Resistance Fighter and Ravensbrück Survivor. Scribner. May 2021. 256p. ISBN 9781982164676. $27. MEMOIR
Now 98 years old, van de Perre was just 17 and living with her family in the Netherlands when World War II broke out. Joining the Resistance in 1941, she traveled the country under the pseudonym Margareta van der Kuit, delivering news and boosting morale as she passed as a Gentile. Captured in 1944, she was sent to Ravensbrück as a political prisoner and survived only because she continued to use her alias; the rest of her family perished in the camps. Only after the war could she again say, "My name is Selma." With a 70,000-copy first printing.