Romantic suspense from Heather Graham, romance from Debbie Macomber, women's fiction from Nora Roberts, and historical fiction from Beatriz Williams. Plus more.
Bell, David. Layover. Berkley. Jul. 2019. 416p. ISBN 9780440000860. $26; ebk. ISBN 9780440000884. Downloadable. THRILLER
Languishing during a layover on one of his weekly business trips, Joshua Fields enjoys chatting with beautiful Morgan and gets a big good-bye kiss in return. As she walks away, he spots her face on television: she's a missing person. Following Somebody's Daughter, a LibraryReads pick.
Davis, Fiona. The Chelsea Girls. Dutton. Jul. 2019. 368p. ISBN 9781524744588. $27; ebk. ISBN 9781524744595. lrg. prnt. Downloadable. HISTORICAL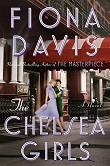 Even as playwright Hazel Riley and actress Maxine Mead settle into New York's legendary Chelsea Hotel, dreaming of artistic glory, Sen. Joseph McCarthy is seeking to run Communists to ground, and he's got folks in the entertainment industry squarely targeted. Following the attention-getting The Dollhouse and The Address.
Graham, Heather. The Seekers. Mira: Harlequin. Jul. 2019. 384p. ISBN 9780778368854. $27.99; pap. ISBN 9780778368793. $8.99; ebk. ISBN 9781488096600. ROMANTIC SUSPENSE
Crewing for a show called The Seekers that investigates paranormal phenomena, Kerri Wolf is spooked to find herself at a charming old Pennsylvania inn—not because of the ax murder that infamously took place there in the 1920s but because there's a dead body in the basement, and she sees a ghost. Joe Dunhill of the FBI's Krewe of Hunters sympathizes, as he chats up ghosts regularly. With a 300,000-copy paperback and 10,000-copy hardcover first printing.
Guillory, Jasmine. The Wedding Party. Berkley. Jul. 2019. 320p. ISBN 9781984802194. pap. $15; ebk. ISBN 9781984802200. Downloadable. ROMANCE
Maddie and Theo are best friends with Alexa, who is about to get married. As they help prep for the wedding, they try to avoid each other—especially after that ill-advised night together—because, really, they don't like each other. Except, actually, they do. Beatrice and Benedict in the 21st century; from the New York Times best-selling author of the (quite fun) The Proposal.
Kibler, Julie. Home for Erring and Outcast Girls. Crown. Jul. 2019. 368p. ISBN 9780451499332. $27; ebk. ISBN 9780451499356. CD/downloadable. HISTORICAL
In early 1900s Texas, Lizzie Bates and Mattie McBride become friends at the Berachah Home for the Redemption and Protection of Erring Girls, a place for unwed mothers progressive enough to let the residents keep their children. A century later, quiet university librarian Cate Sutton discovers their headstones and eventually their stories. At last, Kibler follows up her 2013 debut, nationally best-selling book-club favorite Calling Me Home.
Macomber, Debbie. Window on the Bay. Ballantine. Jul. 2019. 352p. $27; ebk. ISBN 9780399181344. lrg. prnt. CD/downloadable. ROMANCE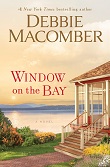 A dedicated ICU nurse and empty-nesting single mom, Jenna is being pushed by her two children and best friend Maura to start dating again. She's wary until she meets Dr. Rowan Lancaster, who's so kind when her aging mother suffers an accident at home. He's really interested, but then her children deliver some punch-gut news. From the No. 1 New York Times best-selling author.
McCall Smith, Alexander. The Second-Worst Restaurant in France. Pantheon. Jul. 2019. 256p. ISBN 9781524748296. $25.95; ebk. ISBN 9781524748302. HUMOROUS
Introduced in My Italian Bulldozer, cookbook author Paul Stuart is eager to complete his new work, The Philosophy of Food in Six Easy Chapters, but girlfriend Gloria has moved uninvited into his home and brought along two pesky Siamese cats. So he decides to visit a cousin in France, where he encounters a chef whose food is simply not up to scratch. The second title in the beloved McCall Smith's ninth series.

Roberts, Nora. Under Currents. St. Martin's. Jul. 2019. 448p. ISBN 9781250207098. $28.99; ebk. ISBN 9781250213273. CD. WOMEN'S
Zane Bigelow lives in North Carolina's Blue Ridge Mountains with his surgeon father, glamorous mother, and little sister. Despite appearances, all is not well in the Bigelow household, for Zane's father is both violent and controlling and his mother blind-eye submissive. But his story doesn't turn out as expected, for Zane learns that he can make people listen to hard truths. With a one-day national laydown on July 9.
Salazar, Noelle. The Flight Girls. Mira: Harlequin. Jul. 2019. 352p. ISBN 978077869226. $26.99; pap. ISBN 9780778369226. $16.99. WOMEN'S
Passionate about flying, a task she mastered back home in Texas, Audrey Coltrane signs up to train pilots in Hawaii when World War II breaks out in Europe and ignores her feelings for charming Lt. James Hart as entirely inconvenient. She's in the air when the Japanese bomb Pearl Harbor, and she's moved by the devastating loses to join the Women Airforce Service Pilots. A debut with a 50,000-copy paperback and 10,000-copy hardcover first printing.
Setterwall, Carolina. Let's Hope for the Best. Little, Brown. Jul. 2019. 336p. ISBN 9780316489621. $27; ebk. ISBN 9780316527378. lib. ebk. ISBN 9780316422703. Downloadable. WOMEN'S
While nursing her new child, Carolina receives a puzzling email from ever-understated partner Aksel, detailing what to do in case he dies and ending, "Let's hope for the best!" This autobiographical novel, addressed to him, chronicles their times together during the five months he had left to live. An unexpected debut with a 25,000-copy first printing.
Waxman, Abbi. The Bookish Life of Nina Hill. Berkley. Jul. 2019. 352p. ISBN 9780451491879. pap. $16; ebk. ISBN 9780451491886. Downloadable. WOMEN'S
Popular Waxman follows up The Garden of Small Beginnings and Other People's Houses, a LibraryReads pick, with the story bookstore clerk Nina Hill, who has her life blown out of the water when she learns that the father she never met has died and is bequeathing her countless siblings, cousins,
nieces, and nephews in the immediate area. And she's got a sparkling new boyfriend, so her social life is getting really complicated.
Williams, Beatriz. The Golden Hour. Morrow. Jul. 2019. 480p. ISBN 9780062834751. $26.99; ebk. ISBN 9780062834775. lrg. prnt. CD. HISTORICAL
In 1941, just-widowed Leonora "Lulu" Randolph wings her way to Nassau at the behest of a New York society magazine to check out the Duke and Duchess of Windsor following his appointment as governor of the Bahamas. Insinuating herself into their circle, Lulu finds not romance but spies, financial shenanigans, racial tension, and politically ambitious scientist Benedict Thorpe, with whom she falls in love. Then Benedict disappears. Following The Summer Wives; with a 150,000-copy first printing.