Featuring top authors like Robyn Carr, Charlaine Harris, and Danielle Steel, plus Karin Slaughter and Lee Child writing as a team.
Brown, Karma. Recipe for a Perfect Wife. Dutton. Jan. 2020. 336p. ISBN 9781524744939. $26; ebk. ISBN 9781524744946. WOMEN'S
Abandoning a career in publicity to write, Alice Hale settles into a big house in the New York suburbs with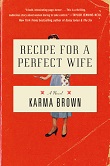 her husband, then resolves those at-loose-ends feeling by cooking recipes from a vintage cookbook she rescues from the basement. Soon she spots parallels between her life and that of the book's owner, 1950s housewife Nellie Murdoch, which get darker as the narrative unfolds. From the best-selling author of The Life Lucy Knew.
Burdick, Serena. The Girls with No Names. Park Row: Harlequin. Jan. 2020. 336p. ISBN 9780778309994. $27.99; ebk. ISBN 9781488050992. HISTORICAL
In summer 1913, audacious 16-year-old Luella and younger sister Effie, born with a heart defect, learn a terrible secret about their father, and Luella disappears after rebelling against her ballet lessons. Effie thinks their father has sent her to a workhouse for wayward girls and contrives to get herself placed there, coming to depend on a mysterious girl named Mable to survive. Burdick's debut, Girl in the Afternoon, won the 2017 International Book Award Winner in Historical Fiction; with a 100,000-copy paperback first printing and 10,000-copy hardcover first printing.
Carr, Robyn. The Country Guesthouse: A Sullivan's Crossing Novel. Mira: Harlequin. Jan. 2020. 384p. ISBN 9780778309055. $26.99; ebk. ISBN 9781488052293. WOMEN'S
In this next in the No. 1 New York Times best-selling author's thunderously popular "Sullivan's Crossing" series, a young woman suddenly tasked with raising her best friend's child and a man still struggling with grief over the long-ago loss of his young son end up finding love through their concern for an orphan. With a 300,000-copy first printing; Carr's "Virgin River" series will air on Netflix in fall 2019.
Chamberlain, Diane. Big Lies in a Small Town. St. Martin's. Jan. 2020. 400p. ISBN 9781250087331. $27.99; ebk. ISBN 9781250087355. CD. HISTORICAL
The perennially New York Times best-selling author of over two dozen novels (e.g., The Dream Daughter),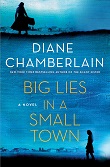 Chamberlain opens her new work in 2018 North Carolina, where aspiring artist Morgan Christopher is serving time after taking the fall for a crime she did not commit. Freedom could be hers if she accedes to a mysterious visitor's request to restore an old post office mural—never mind that she knows nothing about restoration. What Morgan finds as she scrubs away the mural's dirt is a story of violence and secret keeping in a small 1940s Southern town where New Jersey artist Anna Dale finds herself out of her depth.
Dallas, Sandra. Westering Women. St. Martin's. Jan. 2020. 336p. ISBN 9781250239662. $26.99; ebk. ISBN 9781250239679. CD. HISTORICAL
In this latest from Dallas, winner of awards like the Western Writers of America Spur Award and the Women Writing the West Willa Award, Maggie leaves Chicago in 1852 with her small daughter in tow as part of a group of over 40 women answering the call for "eligible" women to travel to goldmines out West. Chaperoned by two true-believer reverends, they encounter harsh terrain and find inner strength on a 2,000-mile trek not all will survive, even as Maggie's past gallops up behind her.
Engberg, Katrine. The Tenant. Gallery: Scout: S. & S. Jan. 2020. 368p. ISBN 9781982127572. $27; ebk. ISBN 9781982127596. THRILLER
From Danish dancer/choreographer–turned–internationally best-selling author, this debut features Copenhagen police detectives Jeppe Korner and Anette Werner struggling to solve the murder of young Julie Stender in her own apartment, a web of delicate lines carved into her face. Julie shows up as a murder victim in a half-completed mystery written by her hard-partying landlady, but is the landlady just another pawn in some crafty manipulator's game?
Harris, Charlaine. A Longer Fall. Gallery: S. & S. Jan. 2020. 320p. ISBN 9781481494953. $26.99; ebk. ISBN 9781481494977. FANTASY
In this second in a series starring young gunslinger Lizbeth (aka Gunnie) Rose, who navigates the divided remains of America after the government collapses mid-20th-century, Lizbeth hires on to help transport a crate into Dixie, the self-exiled southeast territory of the country. The crate contains something so powerful it could incite rebellion, and its theft leads to a bloodbath—and Lizbeth's decision to go undercover to find out what's going on. With a 100,000-copy first printing.
Kling, Marc-Uwe. Qualityland. Grand Central. Jan. 2020. 320p. ISBN 9781538732960. $27; ebk. ISBN 9781538732977. lib. ebk. ISBN 9781538716793. Downloadable. FANTASY
In the fabulous futuristic Qualityland, a universal ranking system decides everyone's opportunities, an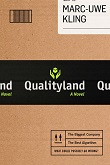 automated matchmaking service assigns everyone the best partner, and TheShop knows what people want before they do. Machine scrapper Peter Jobless, sufficiently tenderhearted to hide the imperfect machines he's supposed to destroy, receives something from TheShop he doesn't want and risks everything to return it—which is dangerous, because it suggests that declaring TheShop's algorithms wrong. A German best seller that has sold more than half a million copies internationally.
Pataki, Allison. The Queen's Fortune: A Novel of Desiree, Napoleon, and a Dynasty That Outlasted an Empire. Ballantine. Jan. 2020. 432p. ISBN 9780593128183. $28; ebk. ISBN 9780593128190. HISTORICAL
Before Napoleon Bonaparte fell passionately in love with Josephine de Beauharnais, he was equally passionate about Désirée Clary, an aristocratic woman from southern France who relied on the rising young military star to save her family as the revolution arrived. They were secretly engaged when Napoleon suddenly took Josephine as his wife, with Désirée entering into complicated relationship with the couple and finally marrying Napoleon's top general, which led to a politically fraught situation. The New York Times best-selling author of Sisi fictionalizes a colorful story.
Shalvis, Jill. Almost Just Friends. Morrow. Jan. 2020. 384p. ISBN 9780062961396. $26.99; ebk. ISBN 9780062897817. lrg. prnt. WOMEN'S
Having raised her siblings and sent them out into the world, Piper Manning is fixing up the lake house her grandparents left her so she can sell it and get on with her brave new life. But then her brother and sister moodily return home, and Piper meets Byron-broody Camden Reid during a raging storm. Yes, there are sparks between them, but some life-changing family secrets must come out before the fire can be lit. With a 200,000-copy paperback and 25,000-copy hardcover first printing.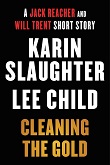 Slaughter, Karin & Lee Child. Cleaning the Gold: A Jack Reacher and Will Trent Short Story. Morrow Paperbacks. Jan. 2020. 128p. ISBN 9780062978301. pap. $7.99; ebk. ISBN 9780062970220. THRILLER
Talk about a top thriller combo. Here, Slaughter's Will Trent is working undercover at Fort Knox to investigate a two-decades-old murder, with his chief suspect Child's Jack Reacher. Reacher is there to stomp out a criminal ring festering at the heart of America's military. But there's a bigger conspiracy afoot, and the two men must join forces to defeat it. All this in 128 pages; with a 100,000-copy first printing.
Steel, Danielle. Moral Compass. Delacorte. Jan. 2020. 288p. ISBN 9780399179532. $28.99; ebk. ISBN 9780399179549. lrg. prnt. CD. WOMEN'S
Massachusetts-based Saint Ambrose Prep, where the wealthy send their children so they, too, can become Ivy League top dogs, has enrolled 140 female students for the first time. By Halloween, one of those young women lands in the hospital with life-threatening alcohol poisoning after a serious attack, and the few students who know what happened have sworn each other to secrecy. Students' lives change overnight, and rich and powerful families hire lawyers, with marriages frequently fraying as a result. The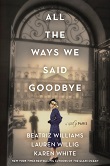 first of Steel's many 2020 titles.
Williams, Beatriz & others. All the Ways We Said Goodbye. Morrow. Jan. 2020. 368p. ISBN 9780062931092. $27.99; ebk. ISBN 9780062931115. lrg.prnt. CD. HISTORICAL
As Germans occupy her ancestral home in 1914 France, Aurelie realizes that she knows the German major's aide-de-camp from her debutante days in Paris, but their new love leads to betrayal and Aurelie's escape to the City of Light and her estranged American mother's home at the Ritz. Raised at the Ritz by her American grandmother, Daisy Villon is daringly involved in resistance activities during World War II until she learns a terrible family secret. In 1964, Barbara Langford is confronted by an American lawyer claiming that her late husband knew a Resistance fighter turned traitor called La Fleur, and the two are off to Paris (and the Ritz) to uncover more secrets. From historical fiction champs Williams, Lauren Willig, and Karen White.