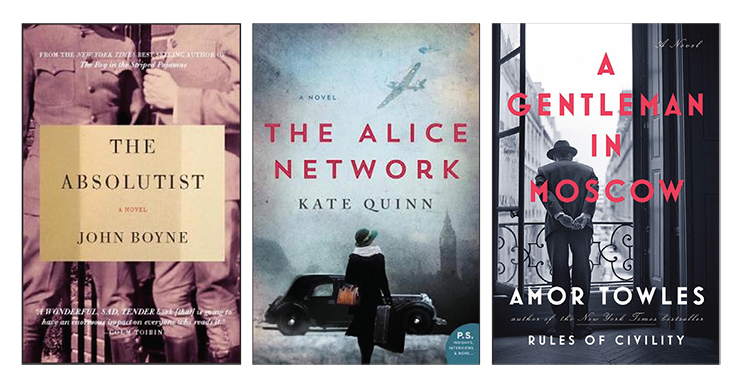 WHETHER THEY CHOOSE to visit "belowstairs," the bloody trenches of World War I, or one of Moscow's grand hotels just after the Russian Revolution, readers who pick up a historical novel set in the 20th century know that even a brief immersion in the past will give them plenty to reflect on about the world today. The most recent period that qualifies as "historical fiction" (defined here as books set 50 or more years in the past not written by an author with firsthand experience of the period), the 1900s were marked by immense scientific and technological progress and also unimaginable violence, hatred, and bloodshed. For a ­modern-day reader, titles set during this time offer some sense of escape even as they address still-relevant issues.
Despite a recent surge in World War I and World War I–adjacent fiction (thanks to the success of Downton Abbey and the centennial of the Great War), World War II continues to dominate; it is the most popular setting for historical fiction set in the 20th century. Best sellers such as Kristin Hannah's The Nightingale and Anthony Doerr's All the Light We Cannot See present stories of civilian experiences of resistance and loss in contrast to those set on the battlefield. Our continued efforts to grapple with the legacy of the Holocaust have kept concentration camp narratives popular as well. Affinity Konar's Mischling and Heather Morris's The Tattooist of ­Auschwitz are recent successful examples of this subgenre, delivering new perspectives with real-life Holocaust ­narratives as inspiration. Though not quite as popular as they once were, fast-moving suspense and tales of espionage and high-stakes diplomacy such as Robert Harris's Munich also attract many devotees.
FRESH PERSPECTIVES
One of historical fiction's strengths is its ability to allow readers to experience history through fresh eyes and provide vivid new perspectives. The 20th century's dramatic march of social change creates particularly fertile sources for works highlighting women resisting society's restrictive and stifling expectations. Novels featuring the wives and daughters of famous individuals have become an important subgenre. Paula McLain's The Paris Wife, featuring Ernest Hemingway's long-suffering first wife, Hadley, is just one example of a hugely successful novel in this vein.
Nonwhite and non-Western perspectives are crucial to a well-rounded historical fiction collection. Librarians looking for culturally diverse historical fiction titles should also be particularly careful to include a variety of "own voice" ­accounts. Any assessment of past titles for weeding must always include a critical consideration of the novels' treatment (or omission) of racial and ethnic groups.
In addition to reviews and catalogs, librarians will find websites particularly valuable in discovering new historical fiction. Though somewhat infrequently updated, ­Historicalnovels.info is a comprehensive listing of more than 5,000 titles sorted by time period and setting, very helpful when filling holes in a collection or locating intriguing backlist works. The Historical Novel Society (­historicalnovelsociety.org), which has promoted historical fiction for over 20 years, regularly lists forthcoming books along with articles and almost 18,000 reviews. This is a particularly good resource for releases from smaller publishers that might otherwise be missed; its lengthy list of reviews can be filtered by period or century.
Below is a compilation of historical novels set in the 20th century that represent some of the best the genre has to offer, with particular attention paid to including a diverse mixture of settings and protagonists.
Starred titles (
) are essential for most collections.
---
Mara Bandy Fass is a Library Associate in the Technical Services department of the Champaign Public Library. IL. She began as an LJ historical fiction reviewer in 2011 and chose the year's Best Historical Fiction for LJ from 2014 to 2017
---
World War II Fiction

Bracht, Mary Lynn. White Chrysanthemum. Putnam. 2018. 320p. ISBN 9780525497653. $26; ebk. ISBN 9780735214453.
Hana's desperate attempt to protect her sister in 1943 occupied Korea results in her being abducted to serve as a "comfort woman" to Japanese troops. Readers will be drawn in by the harrowing true history and Hana's determination to overcome horrific circumstances. (LJ 11/15/17)
Dueñas, Maria. The Time in Between. Atria. 2011. 624p. ISBN 9781451616880. $26; ebk. ISBN 9781451616903.
A best seller in Spain, Dueñas's riveting high-stakes page-turner follows a young seamstress who uses her talents to smuggle secret information past the Nazis to British intelligence. (LJ 9/1/11)
Ford, Jamie. Hotel on the Corner of Bitter and Sweet. Ballantine. 2009. 304p. ISBN 9780345505330. $26; ebk. ISBN 9780345512505.
In this moving story of innocence lost, Chinese American Henry and Japanese American Keiko form a strong friendship in 1940s Seattle but are torn apart when Keiko's family are arrested and put in an internment camp by the American government. (SLJ 5/09)
Gross, Andrew. The One Man. Minotaur: St. Martin's. 2016. 432p. ISBN 9781250079503. $26.99; ebk. ISBN 9781466892187.
The success of Gross's suspenseful novel about an elaborate plot to break an influential atomic scientist out of Auschwitz demonstrates that wartime thrillers still hold strong appeal for readers. (Xpress Reviews 7/22/16)
Hunter, Georgia. We Were the Lucky Ones. Viking. 416p. ISBN 9780399563096. pap. $16; ebk. ISBN 9780399563102.
Based on an incredible true story, this title follows a large Jewish family scattered by World War II and their amazing tale of perseverance and survival. (LJ 12/16)
Kelly, Martha Hall. Lilac Girls. Ballantine. 2016. 487p. ISBN 9781101883075. $26; ebk. ISBN 9781101883068.
This book club favorite follows the lives of three women connected to the ­Ravensbrück concentration camp: a Polish prisoner, a young Nazi doctor, and the wealthy American socialite who seeks to tell the world their story. (LJ 4/1/16)

The 20th Century

Boyden, Joseph. Three Day Road. Viking. 2005. 354p. ISBN 9780670034314. $23.95; ebk. ISBN 9781101078174.
Canadian author Boyden chronicles two Cree hunters as they become successful snipers on the battlefields of World War I. When one returns home broken in spirit and body, his aunt, a respected healer, tries to restore him while also mourning the slow decline of her people. ( LJ 5/15/05)
Boyne, John. The Absolutist. Other. 2012. 320p. ISBN 9781590515525. pap. $19.95; ebk. ISBN 9781590515532.
Tristan contacts the sister of a fellow soldier two years after the end of World War I with a heartbreaking story about his close relationship to her brother. Boyne's story succeeds not only as a window into horrific fighting conditions but also as a wrenching look at the difficulties of living as a gay man during the period. (LJ 5/15/12)
Cash, Wiley. The Last Ballad. Morrow. 2017. 384p. ISBN 9780062313119. $26.99; ebk. ISBN 9780062313133.
Ella May depends on her job at a North Carolina textile mill to support her four children, but when a union organizer approaches her, she decides to join the fight for better working conditions and better pay. Cash portrays the drama and anguish of the American labor movement through one woman's grueling fight for justice. (LJ 8/17)
Church, Elizabeth. The Atomic Weight of Love. Algonquin. 2016. 352p. ISBN 9781616204846. $25.95; ebk. ISBN 9781616206116.
Aspiring ornithologist Meridian ­Wallace is thrilled to attract the attentions of a knowledgeable older professor, but their marriage turns sour when she realizes he has no interest in encouraging her professional dreams. Church vividly captures America's shifting conceptions of gender roles over the 20th century. (LJ 6/1/16)
Corthron, Kia. The Castle Cross the Magnet Carter. Seven Stories. 2016. 800p. ISBN 9781609806576. $32; ebk. ISBN 9781609806583.
Corthron's stunning and unforgettable debut novel begins in 1941 with a pair of white brothers growing up in Alabama and a pair of African American brothers in Maryland and traces how racism affects their lives over the next 60 years. (LJ 1/16)
Darznik, Jasmin. Song of a Captive Bird. Ballantine. 2018. 416p. ISBN 9780399182310. $27; ebk. ISBN 9780399182327.
As a child growing up in 1940s Tehran, Forugh Farrokhzad is repeatedly told that she is expected to become a submissive wife who stays out of the public eye. As an adult, however, Forugh's passion for poetry calls her to a very different life. (LJ 12/17)
Dyer, David. The Midnight Watch: A Novel of the Titanic and the Californian. St. Martin's. 2016. 336p. ISBN 9781250080936. $26.99; ebk. ISBN 9781466893085.
Dyer's gripping tale of what happened on board the Californian, the ship closest to the Titanic that didn't come to her aid, asks readers to imagine the crew's crushing guilt. (LJ 2/15/16)
Lee, Min Jin. Pachinko. Grand Central. 2017. 496p. ISBN 9781455563937. $27; ebk. ISBN 9781455563913.
Lee's powerful National Book Award finalist begins with an unmarried pregnant girl in Korea and traces the effects of her choices through generations of her family while taking the reader through 70 years of Japanese and Korean history. (LJ 10/15/16)
McFadden, Bernice L. The Book of Harlan. Akashic. 2016. 352p. ISBN 9781617754456. $32.95; ebk. ISBN 9781617754548.
McFadden uses the experiences of her own ancestors as loose inspiration for the life of Harlan, whom she portrays from his childhood in Harlem through imprisonment in a Nazi concentration camp and his struggles afterward to put his life back together. (Xpress Reviews 8/19/16)
McNees, Kelly O'Connor. Undiscovered Country: A Novel Inspired by the Lives of Eleanor Roosevelt and Lorena Hickok. Pegasus. 2018. 336p. ISBN 9781681776798. $25.95; ebk. ISBN 9781681777276.
Reporter Lorena Hickok never expects her 1932 assignment to interview the First Lady to turn into a passionate love affair. McNees explores how the women's relationship may have developed against the backdrop of the Great Depression. (LJ 2/15/18)
Massey, Sujata. The Widows of Malabar Hill. Soho Crime. 2018. 400p. ISBN 9781616957780. $26.95; ebk. ISBN 9781616957797.
In 1920s Bombay, female lawyer Perveen Mistry investigates the mysterious circumstances surrounding the will of a wealthy businessman and the possible nefarious plot to rob his widows of their rightful inheritance. (LJ 9/1/17)
Mullen, Thomas. Darktown. Atria. 2016. 384p. ISBN 9781501133862. $26; ebk. ISBN 9781501133886
Lucius Bogg and Tommy Smith are among Atlanta's first black police officers, but investigating crimes isn't easy when many 1940s Atlanta whites are determined to stand in their way. A compelling mystery in which prejudice is one of the biggest obstacles to the truth. (LJ 5/15/16)
Pollock, Donald Ray. The Heavenly Table. Doubleday. 2016. 384p. ISBN 9780385541299. $27.95; ebk. ISBN 9780385541305.
After their father unexpectedly dies on their Southern farm, the three Cane brothers, inspired by reading a particularly violent dime novel, turn to a life of crime that takes them north to Ohio. Pollock's dark humor makes this gothic story a pleasure to read even at its most depraved.
Quinn, Kate. The Alice Network. Morrow. 2017. 528p. ISBN 9780062654199. pap. $16.99; ebk. ISBN 9780062654205.
Pregnant and uncertain of her future, a desperate Charlie investigates her cousin's disappearance during World War II—a probe that soon uncovers secrets about a vast network of female spies during World War I. (LJ 6/1/17)
Towles, Amor. A Gentleman in Moscow. Viking. 2016. 462p. ISBN
. $27; ebk. ISBN 9780399564048.
Readers have embraced this charming tale of a Russian count confined to one of Moscow's finest hotels after being arrested by the Bolsheviks. A gentle yet moving read with an appealing cast of quirky characters. (LJ 8/16)
Weisgarber, Ann. The Personal History of Rachel DuPree. Viking. 2010. 336p. ISBN 9780143119487. pap. $17; ebk. ISBN 9781101190364.
Rachel and her husband, Isaac, hope that claiming land in South Dakota will provide opportunities that would never have existed for African Americans back East. As the incredibly grueling conditions take their toll, however, the couple begin to disagree about what's truly best for their family. An engrossing tale of grit and ­determination. (LJ 6/15/10)
BEYOND DOWNTOWN ABBEY
The Crown: Season One. 600 min. Netflix. 2017. DVD UPC 043396507104. $30.99; Blu-ray UPC 043396507050. $40.99.
Fans of royal intrigue will devour this look behind the scenes of the early reign of Elizabeth II. Season 2 is running now, and Season 3 was just cast.
A French Village: Season 1. 700 min. Mhz Networks. 2015. UPC 815047018747. $39.95.
This engrossing World War II–set French show follows the life of one small village during German occupation. (LJ 4/15/16)
Generation War. 279 min. Music Box Films. 2014. DVD UPC 741360538368. $29.99; Blu-ray UPC 741360538443. $34.99.
This German miniseries relates the stories of five friends who find themselves torn between loyalty to their homeland and horror at the Nazis' crimes.
Peaky Blinders. 360 min. BBC Warner. 2015. DVD UPC 883929422906. $29.99.
An ambitious gangster family in 1919 Birmingham, England, try to move up in the world while evading the law.
This article was originally published in Library Journal's Winter 2018 issue