From graphic memoir and the Pioneer Woman's reflections on life, to a rescued kitten and two dogs in love, to Métis author Toni Jensen's Carry: A Memoir of Survival on Stolen Land, memoirs for everyone.
Crewes, Eleanor. The Times I Knew I Was Gay. Scribner. Oct. 2020. 320p. ISBN 9781982147105. $25. MEMOIR/GRAPHIC NOVEL
Originally self-published as a zine in 2017, then as a small book issued by Good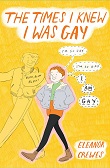 Comics and featured at various comic cons, this new and expanded graphic memoir offers a young woman's coming-of-age. Here she is, dressing in black as a youngster and mooning over Willow in Buffy the Vampire Slayer, then moving through denial and finding herself and her first girlfriend. With a 60,000-copy first printing.
Drummond, Ree. Untitled. Oct. 2020. 256p. ISBN 9780062962751. $25.99. lrg. prnt. CD. MEMOIR
A No. 1 New York Times best-selling author with a stack of Pioneer Woman cookbooks to her name, and a cooking show and magazine to boot, Drummond here chronicles life on an Oklahoma cattle ranch with her husband, children, horses, cows, and dogs. With a 250,000-copy first printing.
Parravani, Christa. Loved and Wanted: A Memoir of Choice, Children, and Womanhood. Holt. Oct. 2020. 224p. ISBN 9781250756848. $26.99. MEMOIR
Author of the best-selling memoir Her and an academic who has taught at numerous universities, Parravani recounts growing up in violence and poverty, suffering the death of an identical twin sister, and, with two young children already, finding herself pregnant again with a child she knows she cannot support. Kept from getting a safe, legal abortion in West Virginia until it was too late, she here examines the terrible choices women must face and the terrible healthcare her children (including her beautiful young son) had to endure. With a 60,000-copy first printing.
September Titles
Henry, Ed. Saving Colleen: A Memoir of the Unbreakable Bond Between a Brother and Sister. Morrow. Sept. 2020. 240p. ISBN 9780063009394. $26.99. MEMOIR
Jensen, Toni. Carry: A Memoir of Survival on Stolen Land. Ballantine. Sept. 2020.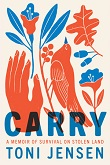 224p. ISBN 9781984821188. $26. Downloadable. MEMOIR
Moran, Caitlin. More Than a Woman. Harper. Sept. 2020. 320p. ISBN 9780063037496. $26.99; pap. ISBN 9780062893710. $16.99. MEMOIR
Nelson, Willie & others. Me and Sister Bobbie: True Tales of the Family Band. Random. Sept. 2020. 256p. ISBN 9781984854131. $28. Downloadable. MEMOIR
Nicholson, Dean & Garry Jenkins. Nala's World: One Man, His Rescue Cat, and a Bike Ride Around the Globe. Grand Central. Sept. 2020. 304p. ISBN 9781538718780. $27. MEMOIR
Sanders, Sarah Huckabee. Speaking for Myself: Faith, Freedom, and the Fight of Our Lives Inside the Trump White House. St. Martin's. Sept. 2020. 288p. ISBN 9781250271334. $29.99. CD. MEMOIR
Teichner, Martha. When Harry Met Minnie : A True Story of Love and Friendship. Celadon: Macmillan. Sept. 2020. 256p. ISBN 9781250212535. $26.99. MEMOIR
In Saving Colleen, Henry, anchor for Fox News's America's Newsroom, chronicles giving a portion of his liver to his sister to replace hers, damaged by genetic degenerative disease (75,000-copy first printing). In Carry: A Memoir of Survival on Stolen Land, a debut essay collection–cum–memoir, Métis author Jensen clarifies what it has been like to live in a body constantly under threat. In More Than a Woman, Moran, author of the internationally best-selling feminist mission statement How To Be a Woman , digs into her own life to consider feminism for the middle-aged, e.g., is Botox okay? (50,000-copy paperback and 25,000-copy hardcover first printing). In Me and Sister Bobbie, country music legend Nelson joins forces with sister Bobbie to explore their relationshiip, the single longest bond for either of them, with Nelson also proclaiming that her musicianship beats out his. In Nala's World, Instagram phenomenon @1bike1world Nicholson tells the story of the abandoned kitten he encountered while cycling around the world and took along for a much-viewed ride. Former White House press secretary Sanders takes us inside the Trump administration in Speaking for Myself (350,000-copy first printing). Finally, in When Harry Met Minnie award-winning journalist Teichner recounts agreeing to take on the bull terrier belonging to Carol, a friend's friend who is dying of cancer, and how she bonded with Carol just as her bull terrier, Minnie, and Carol's Harry entered a tail-waggingly happy relationship of their own.