Nine new films and one documentary now available on DVD and Blu-ray.
Nine new films and one documentary now available on DVD and Blu-ray.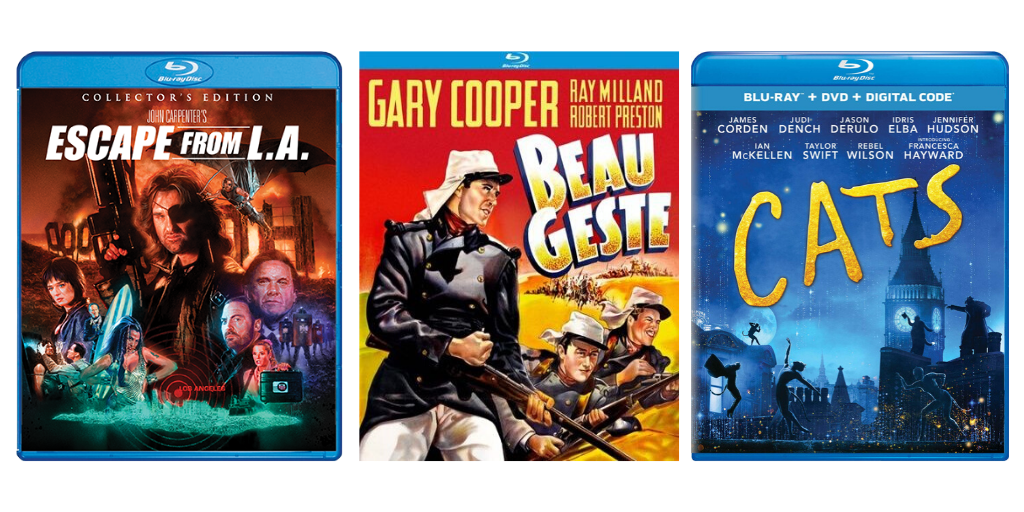 FEATURE FILMS
Beau Geste. b/w. 112 min. William Wellman, Kino Lorber. 1939. Blu-ray UPC 738329244828. $24.95. DRAMA
Gary Cooper shines in the title role as a dedicated member of the Foreign Legion along with his tight-knit brothers, John (Ray Milland) and Digby (Robert Preston), who are subject to the oppressive and sadistic Sergeant Markov (Brian Donlevy).
Cats. 120 min. Tom Hooper, Universal. 2019. DVD UPC 191329096758. $29.99; Blu-ray/DVD UPC 191329096796. $34.99. Rated: PG. MUSICAL
A critical catastrophe, the big-screen adaptation of Andrew Lloyd Webber's long-running musical based on T.S. Eliot's poetry features an all-star cast including Idris Elba, Taylor Swift, Ian McKellen, Rebel Wilson, and Judi Dench as the anthropomorphic Jellicles cat clan.
The Crucible. 119 min. Alex Segal, MVD Visual. 1967. DVD UPC 760137336198. $19.99. DRAMA
Earning three Emmy nominations, this made-for-TV adaptation of Arthur Miller's classic play stars George C. Scott, Colleen Dewhurst, and Melvyn Douglas in an allegory about Congressional communist hearings disguised as a Salem witch trial.
Destry Rides Again. b/w. 94 min. George Marshal, Criterion Collection. 1939. DVD UPC 715515244510. $29.99; Blu-ray UPC 715515244411. $39.99. WESTERN
Handy with a pistol despite his disdain for gunplay, Tom Destry (James Stewart) aims to bring law and order to a frontier town as the new deputy sheriff. Marlene Dietrich makes a career comeback as saloon singer Frenchy in this comedic oater.
Escape from L.A.: Collector's Edition. 100 min. John Carpenter, Shout Factory. 1996. Blu-ray UPC 826663207811. $34.95. Rated: R. DRAMA
The cult classic sequel to Escape from New York gets an HD and extras upgrade, with Kurt Russell reprising his role as the inimitable Snake Plissken, tasked with finding a doomsday device amidst the rubble in earthquake-ravaged La La Land.
Glengarry Glen Ross: Collector's Edition. 100 min. James Foley, Shout Factory. 1992. Blu-ray UPC 826663168143. $22.97. Rated: R. DRAMA
Adapted from David Mamet's tough-talking play, four Chicago real estate brokers (Al Pacino, Jack Lemmon, Alan Arkin, and Ed Harris) are incentivized by prizes—a Cadillac or a set of steak knives—or firings if they don't make their sales goals.
The Grand Budapest Hotel. 100+ min. Wes Anderson, Criterion Collection. 2014. DVD UPC 715515244718. $29.99; Blu-ray UPC 715515244619. $39.99. Rated: R. COMEDY
The concierge (Ralph Fiennes) at an opulent hotel in the Alps becomes embroiled in a scandal involving the theft of a priceless painting in this lavish, dryly comedic period romp offered with deluxe upgrades in a freshly spiffed-out high-def edition.
Just Mercy. 136 min. Destin Daniel Cretton, Warner Bros. 2019. DVD UPC 883929701438. $28.99; Blu-ray UPC 883929701421. $35.99. Rated: PG-13. DRAMA
Interested in fighting for justice over making money, a new Harvard law school graduate (Michael B. Jordan) passes up lucrative job offers, going to Alabama to defend a prisoner (Jamie Foxx) wrongly condemned for murdering a teenage girl.
Little Women. 135 min. Greta Gerwig, Sony. 2019. DVD UPC 043396549913. $29.99; Blu-ray/DVD UPC 043396549883. $34.99. Rated: PG. DRAMA
Growing up in an evolving post-Civil War America, the close-knit March sisters (Saoirse Ronan, Florence Pugh, Emma Watson, and Eliza Scanlen) establish their identities, contending with the vagaries of life and the sad loss of one of their own.
DOCUMENTARIES
Frontline: Amazon Empire—The Rise and Reign of Jeff Bezos. 120 min. James Jacoby, PBS. 2020. DVD UPC 841887043007. $24.99. DOCUMENTARY
The premier investigative journalism program examines the far-reaching impact of the online retail giant, focusing on Bezos, the world's richest man heading the empire, and the economic, cultural, and other consequences of the company's rapid expansion.