Lisa Gardner offers a stand-alone, Nick Petrie returns with another Peter Ash thriller, and Allie Reynolds strands readers at a ski resort in the French Alps.
Gardner, Lisa. Before She Disappeared. Dutton. Jan. 2021. 400p. ISBN 9781524745042. $27. THRILLER
The No. 1 New York Times best-selling Gardner offers her first stand-alone in some time with this story of Frankie Elkin, a middle-aged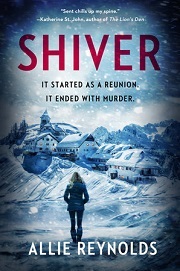 recovering alcoholic whose job is to find people after everyone else has given up. Here she's in a scruffy Boston neighborhood searching for Angelique Badeau, a Haitian teenager who vanished from her high school months ago, and a distinct lack of support from those around her signals that's she's on the right track.
Petrie, Nick. The Breaker. Putnam. Jan. 2021. 400p. ISBN 9780525535478. $27. THRILLER
Protagonist of Petrie's popular series, Peter Ash is a veteran of the Iraq and Afghanistan wars suffering from posttraumatic stress disorder. Now he's a wanted man lying low in Milwaukee with girlfriend June while renovating buildings with a good friend. Then response to June's reporting on a high-tech robbery gets nasty, and Peter must step in to protect her.
Reynolds, Allie. Shiver. Putnam. Jan. 2021. 400p. ISBN 9780593187838. $27. THRILLER
Five snowboarding friends gather off-season at a ski lodge in the French Alps and soon realize that they have been stranded there deliberately. The cable cars are shut down, their cellphones disappear, and instructions about an icebreaker game brings reminders of a mutual friend who went missing during competition. Former professional snowboarder Reynolds now surfs Australia's Gold Coast; her debut thriller was won in a 10-way auction in the UK and has been sold to 18 territories.