Big books on wildlife, childhood longevity, climate change, and the meaning of science.
Antin, Evan. World Wild Vet: Encounters in the Animal Kingdom. Holt. Oct. 2020. 256p. ISBN 9781250314482. $26.99. NATURE/WILDLIFE
Blending memoir, travelog, and activism, Antin, host of Animal Planet's Evan Goes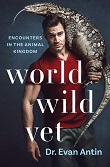 Wild and an exotic animal veterinarian associated with Conejo Valley Veterinary Hospital, CA, recalls wildlife meet-ups both funny and scary while asking us to recognize how delicate the environment really is. With a 100,000-copy first printing.
Klass, Perri. A Good Time To Be Born: How Science and Public Health Gave Children a Future. Norton. Oct. 2020. 384p. ISBN 9780393609998. $28.95. MEDICAL/PUBLIC HEALTH
An NYU professor of journalism and pediatrics, New York Times contributor, and author of fiction and nonfiction (e.g., The Mercy Rule), Klass here shows what it took—after millennia—to radically minimize early death, so that few people (at least in more developed countries) now experience the tragic loss of a child. Thank scientists, public health advocates, and a bunch of savvy women doctors.
Remnick, David & Henry Finder, eds. The Fragile Earth: Writing from The New Yorker on Climate Change. Ecco. Oct. 2020. 560p. ISBN 9780063017542. $29.99. lrg. prnt. SCIENCE/CLIMATE CHANGE
Starting with Bill McKibben's groundbreaking "The End of Nature" and spanning three decades, this volume gives us a history of climate change and the efforts to counter it through key New Yorker pieces by major writers like Elizabeth Kolbert, Ian Frazier, and Kathryn Schulz. With a 100,000-copy first printing.
Strevens, Michael. The Knowledge Machine: How Irrationality Created Modern Science. Liveright: Norton. Oct. 2020. 352p. ISBN 9781631491375. $30. SCIENCE/HISTORY
At a time when science is often defied, it's refreshing to have NYU philosopher of science professor Strevens explain what science does that philosophy and mathematics, religion and art don't: It asks for us to engage in what seems like a willfully irrational dumping of previous knowledge and thought so that it can ask laser-focused questions of the world.