Seven best-selling thriller authors help readers launch the new year.
Dorsey, Tim. Tropic of Stupid. Morrow. Jan. 2021. 336p. ISBN 9780062967503. $27.99. lrg. prnt. THRILLER
Eager to trace his Florida roots, Serge Storms takes one of those DNA tests frequently advertised on TV and heads out with friend Coleman to meet long-lost family, armed with the knowledge that he might be related to a nasty serial killer who has never been caught. Will his family help him find the culprit? And is that park ranger also looking for family connections too good to be true? With a 75,000-copy first printing.
Grippando, James. Twenty: A Jack Swyteck Novel. Harper. Jan. 2021. 400p. ISBN 9780062915085. $27.99. lrg. prnt. THRILLER
It's tragedy enough that there is another mass school shooting, but events at Riverside Day School in Florida have terrible complications for Miami attorney Jack Swyteck. His daughter attends the school; his wife, FBI agent Andie Henning, is there when the bullets start flying; and, with Al Qaeda claiming responsibility, Xavier, son of Jack and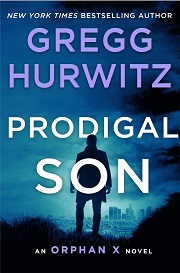 Andie's friends Amir and Lily Khoury, confesses to the crime. Now Jack is set to defend Xavier. With a 75,000-copy first printing.
Hurwitz, Gregg. Prodigal Son: An Orphan X Novel. Minotaur: St. Martin's. Jan. 2021. 432p. ISBN 9781250252289. $27.99. CD. THRILLER
Having escaped from the shadowy black box orphan program aimed at creating assassins, Evan Smoak dedicated his life to helping those with nowhere else to turn. He's agreed to cease his activities in exchange for an unofficial pardon, but then he is contacted by the last person in the world imaginable: the woman who gave him up for adoption. She wants him to help another child from the foster home where Evan was raised who's being targeted by assassins. With a 150,000-copy first printing.
Patterson, James & James O. Born. The Russian. Little, Brown. Jan. 2021. 368p. ISBN 9780316420389. $28. CD/downloadable. THRILLER
Already alarmed that young women in New York are being murdered in callously distinctive ways, Det. Michael Bennett is horrified to learn that similar cases are surfacing in Atlanta and San Francisco. And now the killer is gunning for Michael, just as he should be tying his tie in anticipation of his wedding. With a 490,000-copy first printing.
Quinn, Cate. Black Widows. Sourcebooks Landmark. Jan. 2021. 432p. ISBN 9781728220468. $26.99. THRILLER
Blake Nelson is found murdered, and figuring out the culprit will be tricky: he's gone against the Mormon church and turned back to the old ways, taking three wives and living with them in the remote reaches of Utah. It's likely that one of his wives killed him—but which one? The author is a best-selling historical thriller novelist in the UK, writing under the name C.S. Quinn; foreign rights interest and a film option.
Taylor, Brad. American Traitor. Morrow. Jan. 2021. 464p. ISBN 9780062886064. $28.99. lrg. prnt. CD. THRILLER
While enjoying a vacation in Australia, Pike Logan and Jennifer Cahill learn that friend and former Taskforce member Clifford Delmonty witnessed something not for his eyes and is being pursued by Chinese agents. The agents are part of a larger scheme to foment war between Taiwan and China, though what's really happening is more mysterious. With a 200,000-copy first printing.
Tudor, C.J. The Burning Girls. Ballantine. Jan. 2021. 304p. ISBN 9781984825025. $27. lrg. prnt. Downloadable.
Chapel Croft is one unlucky town. Five centuries ago, Protestants were burned at the stake; three decades ago, two teenage girls vanished; and recently the vicar killed himself. The troubled Rev. Jack Brooks arrives there with his 14-year-old daughter, who starts seeing odd apparitions in the church even as the townsfolk extend a chilly welcome. The award-winning author of The Hiding Place and The Chalk Man spooks us again.