Big-print, big names thrillers for September.
Burcell, Robin. Clive Cussler's The Serpent's Eye. Putnam. (Sam and Remi Fargo Adventure). Sept. 2021. 400p. ISBN 9780593419618. $29. THRILLER
Flynn, Vince & Kyle Mills. Enemy at the Gates: A Mitch Rapp Novel. Emily Bestler: Atria.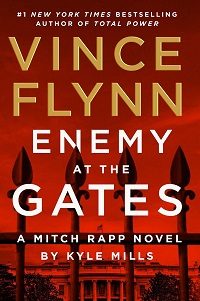 Sept. 2021. 384p. ISBN 9781982164881. $28.99. THRILLER
Kellerman, Jonathan & Jesse Kellerman. The Burning. Ballantine. Sept. 2021. 288p. ISBN 9780525620112 . $28.99. THRILLER
Lupica, Mike. Robert B. Parker's Stone's Throw: A Jesse Stone Novel. Putnam. Sept. 2021. 336p. ISBN 9780525542117. $28. THRILLER
Johansen, Iris. High Stakes. Grand Central. Sept. 2021. 400p. ISBN 9781538713105. $28. CD. THRILLER
McCreight, Kimberly. Friends Like These. Harper. Sept. 2021. 304p. ISBN 9780063061569. $34.99. THRILLER /PSYCHOLOGICAL
Having crafted two Sam and Remi Fargo adventures with the late Cussler (Pirate and The Romanov Ransom), former California law enforcement officer Burcell takes the daring duo on another far-flung adventure in Clive Cussler's The Serpent's Eye. Grabbing the tail end of 2020's Total Power and marching right along to the next adventure, Flynn/Mills's Enemy at the Gates finds Mitch Rapp protecting trillionaire Nicholas Ward, the object of a CIA mole's surreptitious search, while simultaneously using him as bait to dig up the mole (500,000-copy first printing). In The Burning, Kellerman père et fils bring back Deputy Coroner Clay Edison, dealing with the murder of a wealthy man in the midst of wildfire and blackout while anxious that his ex-con brother may be connected. In Lupica's Robert B. Parker's Stone's Throw, Paradise police chief Jesse Stone finds uncomfortable links between Paradise's acting mayor, whose death surely looked to be suicide, and the dangerous perpetrators of a suspect land deal. No plot details yet, but Johansen is clearly playing for High Stakes when she sets her latest in the gambling world. In Edgar/Anthony-nominated McCreight's Friends Like These, friends with secrets gather in the Catskills ten years after graduation, and things get bloody.