Marie Benedict, Sadeqa Johnson, and more key authors revisit the past to appreciate the present.
Ardone, Viola. The Children's Train. HarperVia. Jan. 2021. 304p. tr. from Italian by Clarissa Botsford. ISBN 9780062940506. $27.99. HISTORICAL
Italian schoolteacher/novelist Ardone draws on little-known events in post–World War II Italy, when poor children from the south were sent to the relatively prosperous north, where they could be sheltered over the bleak winters. Among them is seven-year-old Amerigo, whose story discloses not just his country's recovery but his own rise: painfully, he chooses to leave his mother altogether and remain with his adoptive family to secure a better future for himself. A Frankfurt hit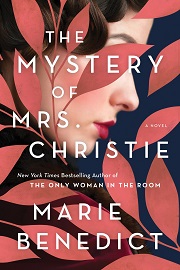 now being translated into 25 languages; with a 50,000-copy first printing.
Benedict, Marie. The Mystery of Mrs. Christie. Sourcebooks Landmark. Jan. 2021. 288p. ISBN 9781492682721. $26.99. HISTORICAL
The author of New York Times best-selling, LibraryReads picks like The Other Einstein and The Only Woman in the Room, Benedict always writes about remarkable women, and here she picks another writer: Agatha Christie, whose December 1926 disappearance launched the biggest manhunt in British history and remains a mystery to this day. But what's this about a book Christie publishes afterward with some interesting clues…?
Greeley, Molly. The Heiress: The Revelations of Anne de Bourgh. Morrow. Jan. 2021. 368p. ISBN 9780063032002. $25.99. lrg. prnt. HISTORICAL
Another Pride and Prejudice retelling? Yes, but as in her debut, The Clergyman's Wife, Greeley doesn't dwell on the big-name protagonists. Here she tells the story of Anne de Bourgh, the heiress Darcy was expected to marry, who was calmed with laudanum as a cranky baby and is now addicted to it. But when her father dies, she decides to seize the reins, dump the drugs, and head to London so that she can take over her own life. With 75,000-copy first printing.
Johnson, Sadeqa. The Yellow Wife. S. & S. Jan. 2021. 288p. ISBN 9781982149109. $26. HISTORICAL
The daughter of a Virginia plantation's medicine woman, Pheby Delores Brown is protected by her mother's status (and valued by the Master's sister) yet remains enslaved, seemingly trapped between two worlds. Her 18th birthday was to have brought her freedom and marriage to her true love, but instead she ends up in "Devil's Half-Acre," a notorious jail in Richmond meant to break the bodies and souls of the enslaved, where she must use her wits to survive. With a 60,000-copy first printing.
Robson, Jennifer. Our Darkest Night: A Novel of Italy and the Second World War. Morrow. Jan. 2021. 400p. ISBN 9780063059405. $27.99; pap. Morrow Paperbacks. ISBN 9780062674975. $17.99. lrg. prnt. HISTORICAL
In 1943, with Germans soldiers occupying much of Italy, Italian Jewish Antonina Mazin must flee Venice. But instead of risking a dangerous mountain crossing, she agrees to pose as the wife of Nico Gerardi, who cut short his seminary studies to return home to the countryside to run the family farm. Unfortunately, their arrangement does not entirely persuade either the neighbors or the local Nazi official. From the author of the internationally best-selling The Gown; with a 100,000-copy paperback and 30,000-copy hardcover first printing.
Stewart, Amy. Dear Miss Kopp. Houghton Harcourt. 320p. ISBN 9780358093107. $26; pap. ISBN 9780358093121. $15.99. HISTORICAL
Following the LJ-starred Kopp Sisters on the March, this new series entry finds the redoubtable siblings separated for the first time by World War I. As Constance hunts spies on the Continent, Fleurette sings and dances her heart out for the troops, and Norma lets her pigeon project for the Army Signal Corps go winging. Norma also steps in when a nurse is wrongly accused of stealing medical supplies from the American hospital. With a 25,000-copy paperback and 3,000-copy hardcover first printing.
Würger, Takis. Stella. Grove. Jan. 2021. 208p. tr. from German by Liesl Schillinger. ISBN 9780802149176. $25. HISTORICAL
A celebrated German journalist whose first novel, The Club, was a big hit in Europe and got respectable attention here, Würger returns with the story of naïve young Friedrich, whose ambition to study art takes him from Switzerland to Berlin in 1942 (what was he thinking?). He falls for beautiful life model Kristin, who takes him to underground jazz clubs and arrives at his room one night, bloodied and crying, to confess that she is actually Stella—a Jew passing as Aryan. And she has some troubling links to the Gestapo. Drawn partly on a real-life character and asking what it's like to confront unimaginable choices.