Literary fiction for July launches with award-winning authors.
El Akkad, Omar. What Strange Paradise. Knopf. Jul. 2021. 256p. ISBN 9780525657903. $25.95. lrg. prnt. Downloadable. LITERARY
El Akkad follows up the sharply imagined second Civil War portrayed in American War, his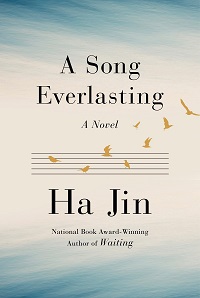 tantalizing debut novel, with an investigation of the world refugee crisis. The only survivor of his ship's Mediterranean passage, a nine-year-old Syrian boy named Amir is rescued by a homeless girl native to the island where he has landed. They don't even speak the same language, but they bond.
Ferrell, Carolyn. Dear Miss Metropolitan. Holt. Jul. ISBN 9781250793614. $27.99. CD. LITERARY
Soul Train–loving Fern is abducted as a girl and rescued as a woman, and the horror she and two other girls endured went undetected by nosy Miss Metropolitan, the advice columnist for the local weekly who lived across the street. Debut novelist Ferrell plumbs Fern's anger, pain, and efforts to heal. With a 150,000-copy first printing.
Ha Jin. A Song Everlasting. Pantheon. Jul. 2021. 320p. ISBN 9781524748791. $26.95. Downloadable. LITERARY
A popular singer in China, Yao Tian decides to earn some extra cash for his daughter's tuition by working a private gig in New York at the end of his state-supported choir's tour. Retribution is swift when he returns home—sponsors of the event support Taiwan's secession—and Yao flees for New York, determined to protect his artistic integrity but now with no way back to China. From the National Book Award winner.
Kitamura, Katie. Intimacies. Riverhead. Jul. 2021. 240p. ISBN 9780399576164. $25.95. Downloadable. LITERARY
Fleeing New York for a job as interpreter at The Hague brings little relief to the woman at the center of this new work by two-time NYPL Young Lions finalist Kitamura. Tangled up with a lover who's still tangled up with his wife, the woman has become close to the sister of a crime victim, and she finds that interpreting for a former president accused of war crimes only adds to her stress.
Spiotta, Dana. Wayward. Knopf. Jul. 2021. 388p. ISBN 9780593318737. $26.95. Downloadable. LITERARY
At midlife, Samantha Raymond is dealing with her mother's illness, her teenage daughter's swerve into independence, and the results of the 2016 election. So she does what any of us would do: she buys a house in a weathered part of Syracuse, NY, and moves in, leaving family and suburbs behind. From the perennially award-winning and -nominated author of Stone Arabia.
Statovci, Pajtim. Bolla. Pantheon. Jul. 2021. 224p. tr. from Finnish by David Hackston. ISBN 9781524749200. $25.95. Downloadable. LITERARY/GAY
An Albanian studying in Kosovo, Arsim learns that his wife is pregnant even as he launches an affair with a Serbian man named Milos he meets at a café. Their relationship is disrupted by war and recalled years later by Arsim, alone, broke, and broken after time in prison. A Finlandia Prize winner; Statovci was a National Book Award finalist for Crossing.