Award winners and best-selling authors keep mystery readers hooked.
Alexander, Tasha. The Dark Heart of Florence: A Lady Emily Mystery. Minotaur: St. Martin's. Mar. 2021. 304p. ISBN 9781250622068. $27.99. CD. MYSTERY
In 1903, Lady Emily and her husband, Colin Hargreaves, an agent of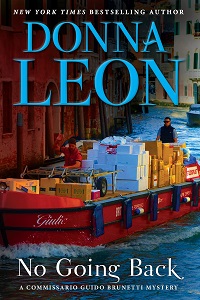 the Crown, travel to Florence to follow up burglaries at his daughter's palazzo. Upon arrival, they are greeted by a violent death—and soon dig up dark secrets dating back to the Medicis that have bearing on contemporary politics. With a 40,000-copy first printing.
Bennett, SJ. The Windsor Knot. Morrow. Mar. 2021. 288p. ISBN 9780063050006. $27.99. MYSTERY
In this first in a sprightly new series from successful British YA author Bennett, Queen Elizabeth II is appalled by the murder of a young Russian pianist at Windsor in the weeks before her 90th birthday celebrations and discreetly takes matters into her own hands when she decides that the MI5 investigation is heading in the wrong direction. She's helped by her assistant private secretary, Rozie Oshodi, a British Nigerian who recently served in the Royal Horse Artillery. Big buzz; with a 75,000-copy first printing.
Childs, Laura. Haunted Hibiscus. Berkley. Mar. 2021. 336p. ISBN 9780451489692. $26. MYSTERY/COZY
In this latest "Tea Shop Mystery," queen-of-teas Theodosia Browning and her tea sommelier Drayton are attending a fund raiser at the Bouchard Mansion—now gussied up as a literary and historically themed haunted house for Halloween—when the body of a young author signing at the event is seen dangling from a tower window. Theodosia gets involved when her detective boyfriend is shot in hot pursuit of a suspect.
Evanovich, Janet & Peter Evanovich. The Bounty. Atria. Mar. 2021. 320p. ISBN 9781982157135. $28. MYSTERY
With roots in the Vatican Bank priesthood that served Hitler during World War II, the mysterious organization known only as the Brotherhood is hunting for a lost train loaded with $30 billion in Nazi gold. And back as a team, straight-arrow FBI agent Kate O'Hare and con-man charmer Nick Fox are hunting the Brotherhood. With a 250,000-copy first printing.
Leon, Donna. No Going Back: A Commissario Guido Brunetti Mystery. Atlantic Monthly. Mar. 2021. 288p. ISBN 9780802158178. $27. MYSTERY
In his 30th outing, Commissario Guido Brunetti must go outside his jurisdiction and work with both the Carabinieri and the Guardia di Costiera after two young American women suffer injuries while joyriding in the Laguna with two Italian men. What's really at stake is the men's suspicious behavior, which leads Brunetti to a particularly gruesome crime.
Margolin, Phillip. A Matter of Life and Death: A Robin Lockwood Novel. Minotaur: St. Martin's. Mar. 2021. 320p. ISBN 9781250258427. $27.99. CD. MYSTERY
Desperate to earn money for his family, homeless Joe Lattimore enters an illegal bar fight, inadvertently kills his opponent, is blackmailed by the fight organizers into burglarizing a house, and gets framed for the murder of the victim found within. Good luck with the defense, attorney Robin Lockwood. With a 100,000-copy first printing.
Montgomery, Jess. The Stills. Minotaur: St. Martin's. Mar. 2021. 320p. ISBN 9781250623409. $27.99. CD. MYSTERY
Bronwyn County, OH, may be studded with illegal stills (it's 1927), but when 13-year-old Jebediah Ranklin nearly dies from drinking tainted moonshine, the usually tolerant Sheriff Lily Ross seeks the culprit—with the help of moonshiner Marvena Whitcomb. Third in a series; with a 50,000-copy first printing.
Munier, Paula. The Hiding Place: A Mercy Carr Mystery. Minotaur: St. Martin's. Mar. 2021. 336p. ISBN 9781250153074. $27.99. MYSTERY
Even as retired soldiers Mercy Carr and Belgian Malinois Elvis inherit a cold case from her late grandfather's dying deputy, an army vet turns up claiming Elvis as his own. What's more, the man who murdered Mercy's grandfather's has escaped from jail and is gunning for her grandmother. Third in a USA Today best-selling series; with a 30,000-copy first printing.
Raybourn, Deanna. An Unexpected Peril. Berkley. Mar. 2021. 336p. ISBN 9780593197264. $26. Downloadable. MYSTERY
Mounting a memorial exhibition for pioneering mountain climber Alice Baker Greene in 1899, Veronica Speedwell discovers that Greene may have been murdered. But after she tells the exhibit's patron, Princess Gisela of Alpenwald, the princess disappears, and lookalike Veronica must impersonate her to keep the political peace. Third in the Edgar-nominated series.
Robinson, Peter. Not Dark Yet. Morrow. Mar. 2021. 320p. ISBN 9780062994950. $28.99. lrg. prnt. MYSTERY
Property developer Connor Clive Blaydon has been murdered, and as they look at footage from the numerous spy cams Blaydon has scattered about his mansion, DCI Alan Banks and his Yorkshire team feel sure they'll spot the culprit. Instead, they witness a brutal rape that shifts the entire premise of the case. From Edgar and Dagger in the Library winner Robinson; with a 75,000-copy first printing.
Winspear, Jacqueline. The Consequences of Fear. Harper. Mar. 2021. 352p. ISBN 9780062868022. $27.99. lrg. prnt. CD.
In 1941 London, Freddie Hackett, a young message runner for the government, hides in a bombed-out house as he witnesses a murder and is then shocked to encounter the killer when he does his next delivery. The police don't believe him, so he seeks out a woman to whom he once delivered a message: Maisie Dobbs, star of Winspear's long-running, New York Times best-selling series. With a 100,000-copy first printing.