In a strong year for World War II historical fiction, a novel about the 6888th Central Postal Directory Battalion—the only all-Black battalion of the Women's Army Corps at the time—is of special interest. Plus, a book by Sarah Ferguson, Duchess of York.
Click here for additional new Prepub Alert columns
Alderson, Kaia. Sisters in Arms. Morrow Paperbacks. Aug. 2021. 400p. ISBN 9780062964588. pap. $16.99. HISTORICAL/AFRICAN AMERICAN
The only all-Black battalion of the Women's Army Corps during World War II, the 6888th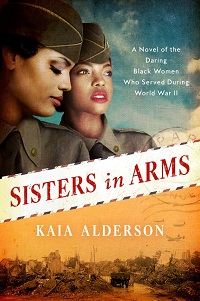 Central Postal Directory Battalion (called the Six Triple Eight) gets its due in this debut historical fiction from Alderson. At its heart are Grace Steele and Eliza Jones, among the army's first class of female officers and the first Black women allowed to serve. They are different in their own ways, but both are northern women having to deal with the segregated army. With a 150,000-copy first printing.
Blakemore, A.K. The Manningtree Witches. Catapult. Aug. 2021. NAp. ISBN 9781646220649. $26. HISTORICAL/MAGIC REALISM
In 1643 Manningtree, England, a town empty of men because of the wars, women like young Rebecca West feel increasingly restless, even sexually alive. At the same time, the foreboding Matthew Hopkins appears in town and begins challenging what he sees as outlier female behavior. Gotta love a book described (by novelist Emily Temple) as "Fleabag meets Hilary Mantel."
Ferguson, Sarah. Her Heart for a Compass. Morrow. Aug. 2021. 560p. ISBN 9780062976529. $28.99. HISTORICAL
Yes, it's the Duchess of York, Queen Elizabeth's former daughter-in-law, telling the Victorian-era story of Lady Margaret Montagu Scott. Second daughter of the Scottish Duke of Buccleuch, Lady Margaret rebels against an arranged society marriage, commits herself to charity work, and launches on a journey of self-discovery. Written with the Scottish novelist Marguerite Kaye; a 150,000-copy first printing.
Gable, Michelle. The Bookseller's Secret: A Novel of Nancy Mitford and WWII. Graydon: Harlequin. Aug. 2021. 368p. ISBN 9781525811555. $28.99; pap. ISBN 9781525806469. $16.99. HISTORICAL
Undone by a broken engagement and tripping over her considerable writer's block, best-selling American author Katie Cabot goes to stay with a friend in London and seeks the comfort of the famed Heywood Hill bookshop. Then she learns that Nancy Mitford worked there during World War II, and an intriguing story—with a link to her own life—emerges. With a 100,000-copy paperback and 10,000-copy hardcover first printing.
Harrison, Nicola. The Show Girl. St. Martin's. Aug. 2021. 400p. ISBN 9781250200150. $27.99. HISTORICAL/WOMEN'S
It's the late 1920s, and Minneapolis-born Olive McCormick has made it in New York as a showgirl at the Ziegfeld Follies. Now she's engaged to rich, handsome Archie Carmichael but having second thoughts; it's looking more and more as if he won't accept the life she leads. From the author of the LJ-starred Montauk; with a 75,000-copy first printing.
Pearce, AJ. Yours Cheerfully. Scribner. Aug. 2021. 288p. ISBN 9781501170096. $26. HISTORICAL
Seeking to recruit women workers for the war effort, the Ministry of Information puts out a call to Britain's women's magazines, and young advice columnist Emmeline Lake persuades Blitz-shocked friend Bunty that they must answer. It's not as simple as it looks. First in the Emmeline Lake series from the author of the internationally best-selling Dear Mrs. Bird. With a 150,000-copy first printing.
Slimani, Leila. In the Country of Others. Penguin. Aug. 2021. 240p. ISBN 9780143135975. $26. HISTORICAL/WOMEN'S
The author of The Perfect Nanny, a New York Times Best Book, Slimani offers the first in a trilogy about a determined young Frenchwoman named Mathilde, who marries Moroccan soldier Amine after World War II and settles in his country, with inevitable culture shock and the suspicion of those around her. With a 50,000-copy first printing.
Veletzos, Roxanne. When the Summer Was Ours. Washington Square: S. & S. Aug. 2021. 320p. ISBN 9781982152130. pap. $17. HISTORICAL
Author of the internationally best-selling The Girl They Left Behind, Romanian-born, California-raised Veletzos opens her new work in 1943 Hungary, where Eva César is summering at her family's estate before marriage to a Red Cross doctor. Passionate love with Romani fiddler Aleandro intervenes, but they are separated by class hate and war, with consequences reverberating for decades. With a 75,000-copy first printing.
Click here for additional new Prepub Alert columns