Morgan Jenkins writes a first novel, Eleanor Morse breaks out with the story of a Maine widow and her family, and Jeff VanderMeer continues crossing genres—lots happening in April.
Garcia, Gabriela. Of Women and Salt. Flatiron: Macmillan. Apr. 2021. 224p. ISBN 9781250776686. $26.99. CD. LITERARY
Longtime immigrant Carmen still feels unsettled in Miami, with her frustrations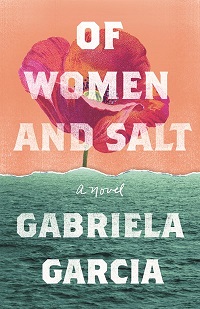 exacerbated by daughter Jeannette's addiction and her ongoing tensions with a mother who remained behind in Cuba. But it's Jeannette who returns to Cuba to sort out the family's troubled past. With a 200,000-copy first printing.
Jerkins, Morgan. Caul Baby. Harper. Apr. 2021. 352p. ISBN 9780062873088. $27.99. WOMEN'S/AFRICAN AMERICAN
In this debut, a woman desperate for a baby after a series of failed pregnancies turns to the powerful Melancons of Harlem, whose celebrated healing powers lie in their possession of a caul, the layer of skin sometimes covering the baby's head at birth. They refuse to give her a piece, resulting in tragedy, while secretly whisking away a niece's baby born with a caul and thus sure to extend their power. From the author of the New York Times best-selling Wandering in Strange Lands; with a 75,000-copy first printing.
McCracken, Elizabeth. The Souvenir Museum: Stories. Ecco. Apr. 2021. 256p. ISBN 9780062971289. $26.99. SHORT STORIES
A National Book Award finalist for The Giant's House and author most recently of the national best seller Bowlaway, McCracken also shines in short fiction; her recent collection, Thunderstruck & Other Stories, won the 2014 Story Prize and was long-listed for the National Book Award. Her subject here is the family bond, whether between a widow and her adult son looking for puffins in Scotland or the children's-show actress and washed-up brother she celebrates with on New Year's Eve. With a 75,000-copy first printing.
Morse, Eleanor. Margreete's Harbor. St. Martin's. Apr. 2021. 384p. ISBN 9781250271549. $27.99. LITERARY
Morse breaks out after White Dog Fell from the Sky and An Unexpected Forest, the winner of regional awards, with the story of thrice-widowed Margreete Bright, living alone near the Maine coast in the 1960s. When she forgets about a hot pan and nearly burns the house down, daughter Liddie and her family move from Michigan to be with her, forcing sometimes unsettling change on everyone involved. With a 60,000-copy first printing.
Oyeyemi, Helen. Peaces. Riverhead. Apr. 2021. 272p. ISBN 9780593192337. $27. Downloadable. LITERARY
Once again, the author of the Los Angeles Times Prize finalist Boy, Snow, Bird and the PEN Open Book Award–winning What Is Not Yours Is Not Yours dusts her narrative with magic. To celebrate their love, Otto and Xavier are given a trip on a sleeper train that proves to be no ordinary means of transport. Their every wish is granted, and they seem to be the only people on the train.
Ozick, Cynthia. Antiquities. Knopf. Apr. 2021. 192p. ISBN 9780593318829. $20. Downloadable. LITERARY
In this fable-like work from the celebrated Ozick, Lloyd Wilkinson Petrie is preparing to write a memoir of his school years at the Temple Academy for Boys, a long-gone institution for which he still serves as trustee. Together with a look at the school's quiet anti-Semitism, he recalls his own family heritage and his relationship with a mysterious older student who claims to come from Egypt's Elephantine Island.
Sethi, Mira. Are You Enjoying?: Stories. Knopf. Apr. 2021. 208p. ISBN 9781524732875. $24. Downloadable. SHORT STORIES
Childhood friends hide their true sexuality by marrying each other. An activist student expresses his political views by beating up his sister's fiancée. A young woman dulls her anxiety by submerging herself in an illicit affair. There's plenty of variety in Sethi's story collection, fitting for someone who was a book editor at the Wall Street Journal and now acts on Pakistani TV.
VanderMeer. Jeff. Hummingbird Salamander. MCD: Farrar. Apr. 2021. 368p. ISBN 9780374173548. $27. LITERARY
Billed alternately as literary fiction and a speculative thriller, this new work from the Nebula Award–winning VanderMeer features software manager Jane Smith, who receives a mysterious package from someone named Silvina, whom she doesn't know. The package contains a list of animals and a key to a storage unit holding a taxidermied hummingbird and salamander, which are among the world's most endangered species. Silvana, she learns, is an ecoterrorist, and suddenly Jane is in the midst of a global conspiracy. With a 100,000-copy first printing.
Vlautin. Willy. The Night Always Comes. Harper. Apr. 2021. 224p. ISBN 9780063035089. $26.99. LITERARY
PEN/Faulkner finalist Vlautin, whose books sometimes end up as films (The Motel Life, Lean on Pete), introduces us to Lynette, who's working multiple jobs to earn enough for a down payment on the house she rents with her mother and developmentally disabled brother in increasingly expensive Portland, OR. She's about to sign the loan papers when her mother reneges on a promise to contribute, which sends Lynnette scrambling dangerously for the extra funds. With a 40,000-copy first printing.