From the Colonial murder of an Indigenous hunter to Klondike gold to two views of the Cold War, from its underpinning ideas to the Cuban Missile Crisis.
Baszile, Natalie. We Are Each Other's Harvest: Celebrating African American Farmers, Land, and Legacy. Amistad. Apr. 2021. 224p. ISBN 9780062932563. $29.99. HISTORY
Novelist Baszile, whose Queen Sugar was adapted for television and seen on OWN, collects essays, poems, first-person stories, and commentary from historians and James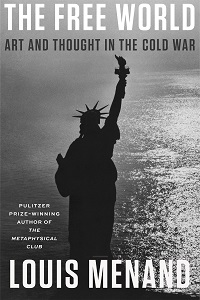 Beard award winners alike to assay the history, struggles, and current resurgence of African American farmers. With a 50,000-copy first printing; originally scheduled for November 2020.
Castner, Brian. Stampede: Gold Fever and Disaster in the Klondike. Doubleday. Apr. 2021. 336p. ISBN 9780385544504. $28.95. Downloadable. HISTORY
In his latest history, Castner (Disappointment River) shows how the Klondike Gold Rush of 1897–98 quickly turned to dross. During a terrible economic depression, tens of thousands of Americans swarmed to the Klondike River region of Canada's Yukon when they learned about the discovery of gold, landing in a harsh environment during a harsh winter and soon facing avalanches, starvation, robbery, murder, and death by frostbite.
Clavin, Tom & Bob Drury. Blood and Treasure: Daniel Boone and the Fight for America's First Frontier. St. Martin's. Apr. 2021. 400p. ISBN 9781250247131. $29.99. CD. HISTORY
No. 1 New York Times best-selling coauthors Clavin and Drury (The Heart of Everything That Is) again join forces, this time investigating the legendary Daniel Boone, who may or may not have worn a coonskin hat but was certainly there at the bloody birth of a nation and helped forge its path. With a 125,000-copy first printing.
Eustace, Nicole. Covered with Night: A Story of Murder and Indigenous Justice in Early America. Liveright: Norton. Apr. 2021. 336p. ISBN 9781631495878. $28.95. HISTORY
In 1722, just as the Five Nations of the Iroquois and British American Colonists planned to convene, two Colonial fur traders murdered an Indigenous hunter in Pennsylvania. Efforts to punish the perpetrators revealed the contrast between the Indigenous sense of reparations and the British sense of eye-for-eye execution. From NYU professor Eustace (1812); see also Tobey Pearl's forthcoming Terror to the Wicked: America's First Trial by Jury That Ended a War and Helped To Form a Nation, about the murder of a young Nipmuc man in 1638.
Levy, Jonathan. Ages of American Capitalism: A History of the United States. Random. Apr. 2021. 928p. ISBN 9780812995015. $40. Downloadable. HISTORY
From the "Age of Commerce" and the "Age of Capital" to the Age of Control" and finally the "Age of Chaos," University of Chicago professor Levy tracks the evolution of American capitalism, starting with Colonial times and moving to the crash of 2008. From the author of the multi-award-winning Freaks of Fortune ; we're in the backwash of chaos, in case you were wondering.
Menand, Louis. The Free World: Art and Thought in the Cold War. Farrar. Apr. 2021. 944p. ISBN 9780374158453. $35. HISTORY
If the Cold War was essentially a battle of ideas, just what were the ideas that flamed forth in American culture from 1945 to 1970, and how did the country move so fast from anti-Communist elitism and conformity to the freewheeling spirit exemplified by the Sixties? The Pulitzer Prize–winning author of The Metaphysical Club visits Hannah Arendt, Merce Cunningham, and the rocking Memphis studios of Sam Phillips and Elvis Presley to explain.
Plokhy, Serhii. Nuclear Folly: A History of the Cuban Missile Crisis. Norton. Apr. 2021. 464p. ISBN 9780393540819. $35. HISTORY
Mykhailo Hrushevsky Professor of Ukrainian History and director of the Ukrainian Research Institute at Harvard University, Plokhy is a leading expert of the Cold War. Here he focuses on one of its biggest moments, the Cuban Missile Crisis, as he reconstructs the decision-making processes of John Kennedy, Nikita Khrushchev, and Fidel Castro and their near-tragic misunderstanding of one another's intentions.