Great June reading, often from LJ-starred authors, with Janet Evanovich introducing her first new series on her own in a while.
Burton, Jeffrey B. The Keepers: A Mystery. Minotaur: St. Martin's. Jun. 2021. 288p. ISBN 9781250244567. $26.99. MYSTERY
At 3:00 on a windy Chicago morning, Mason "Mace" Reid heads into Washington Park with golden retriever Vira, the top cadaver dog among a pack he calls the Finders—and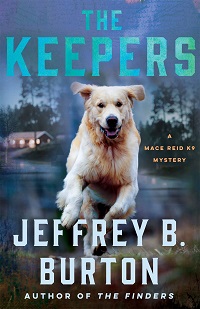 quickly heads out again. With CPD Officer Kippy Gimm, he's been following a bloody trail that leads, he now sees, straight to corruption at top levels. Second in a series begun with the LJ-starred The Finders; with a 30,000-copy first printing.
Doiron, Paul. Dead by Dawn. Minotaur: St. Martin's. Jun. 2021. 320p. ISBN 9781250235107. $27.99. CD. MYSTERY
Barry-winning, Edgar-nominated Doiron doesn't make it easy for his longtime protagonist, Maine game warden Mike Bowditch, who drives his jeep straight into an ice-cloaked river when he's ambushed by folks who clearly want him dead. Now he must get out from under the ice and survive a night in the woods with armed-to-the-teeth villains in hot pursuit. With a 75,000-copy first printing.
Evanovich, Janet. The Recovery Agent. Atria. Jun. 2021. 320p. ISBN 9781982154912. $28.99. MYSTERY
Initially seen in Fortune and Glory, a just-published Stephanie Plum escapade, Gabriella Rose gets to do her own thing in the first new series Evanovich has launched on her own in a while. Stephanie's adversary in the last book, Gabriella is a designer-clad supercook and recovery agent from Miami's Little Havana, and she's starting out big; there's a 500,000-copy first printing.
Goldberg, Leonard. The Abduction of Pretty Penny: A Daughter of Sherlock Holmes Mystery. Minotaur: St. Martin's. Jun. 2021. 352p. ISBN 9781250224224. $26.99. MYSTERY
In her latest outing, Whitechapel Playhouse asks Joanna Blalock, with husband Dr. John Watson Jr. and father-in-law John Sr., to find the mysteriously vanished actress Pretty Penny. At the same time, the threesome are also drafted by Scotland Yard to track down a vicious killer that looks to be Jack the Ripper come back after 28 years. It's bad news for Pretty Penny if these two cases cross. From USA Today best-selling author Goldberg.
Montclair, Allison. A Rogue's Company: A Sparks & Bainbridge Mystery. Minotaur: St. Martin's. Jun. 2021. 352p. ISBN 9781250750327. $26.99. MYSTERY
Founded by Miss Iris Sparks and Mrs. Gwendolyn Bainbridge, the Right Sort Marriage Bureau is thriving in 1946 London until the widowed Gwen's father-in-law and legal guardian returns from a business trip and decides to disrupt her life. In addition, a new client seems to have a not-so-right agenda, and kidnapping and murder ensue. Following A Royal Affair; with a 40,000-copy first printing.
Padura, Leonardo. The Transparency of Time. Farrar. Jun. 2021. 432p. tr. from Spanish by Anna Kushner. ISBN 9780374277956. $30. MYSTERY
Heretics author Padura, whose edgy literary thrillers inspired the 2016 Netflix miniseries Four Seasons in Havana, brings back aging and somewhat disgruntled Det. Mario Conde. Here he's engaged by a onetime Marxist currently practicing Santería to track down a stolen statue of the Virgen de Regla (a black Madonna), which leads him back to the Crusades and forward again, as Catalan peasant Antoni Barral appears throughout history in various guises. Not a huge first printing, but I am desperate to read.
Ripley, Mike. Mr Campion's Coven. Severn House. Jun. 2021. 256p. ISBN 9780727890832. $28.99. MYSTERY
Even as Harvard student Mason Clay studies a group of settlers who journeyed to America from the Essex coastal village of Wicken-juxta-Mare 300 years ago, Dame Jocasta Upcott asks Albert Campion to travel to Wicken to help recover her beloved dog, Robespierre. Alas, Dame Jocasta's yacht has been grounded in the mud near Wicken, with the captain dead, which brings these two cases intriguingly together. Ripley's 2014 completion of Margery Allingham's Mr. Campion Farewell has led to a spate of well-received Campion forays.
Steiner, Peter. The Constant Man. Severn House. Jun. 2021. 192p. ISBN 9780727890740. $28.99. MYSTERY
Former Munich detective Willi Geimeiser wrecked his career by exposing a high-ranking Nazi official as a murderer and is now hiding in the Bavarian forest. But not for long: when his friend Lola is attacked, he returns to Munich under disguise to pursue a serial killer. But can he avoid entrapment by the Gestapo? Geimeister's series launch, The Good Cop, won an LJ-starred review.
Taylor, Sarah Stewart. A Distant Grave: A Mystery. Minotaur: St. Martin's. Jun. 2021. 416p. ISBN 9781250256447. $27.99. MYSTERY
Following Taylor's LJ-starred debut, The Mountains Wild (hey, loved it!), Det. Maggie D'arcy investigates when the body of an unidentified Irish national appears in a wealthy Long Island beach community. Maggie has no way of determining who he is but for the scars on his back, and once again she must call on Ireland's Garda detectives to help her solve the case. With a 50,000-copy first printing.