Veterans from Spenser to Alex Cross, plus lots of female gumshoes (Agatha Raisin, Stephanie Plum, Lady Dunbridge).
Atkins, Ace. Robert B. Parker's Angel Eyes. Putnam. Nov. 2019. 320p. ISBN 9780525536826. $27; ebk. ISBN 9780525536840. CD/downloadable. MYSTERY
Nobody knows what happened to Ellie Sharp, who scampered from Boston to Los Angeles with glittery Hollywood dreams, then disappeared two years later from her Silver Lake apartment. Spenser is hired by her family to find her, and soon thereafter he's also confronting the disappearance of protégé Zebulon Sixkill, now an L.A. investigator. New York Times best-selling Quinn Colson author on his Robert B. Parker watch.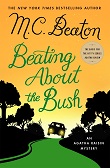 Beaton, M.C. Beating About the Bush. Minotaur: St. Martin's. Nov. 2019. 288p. ISBN 9781250157720. $26.99; ebk. ISBN 9781250157744. MYSTERY
The celebrated Queen of Crime returns with her beloved Agatha Raisin on the trail of the murderer who carted off elderly Mrs. Dunwiddy's body to the scrubby woods lining the road out of Mircester. That brings Agatha face to face with factory bosses and Russian officials (both unforthcoming) even as she broods over her growing feelings for her friend and sometime lover, Sir Charles Fraith.
Casey, Eliza. Lady Takes the Case. Berkley. (Manor Cat Mystery). Nov. 2019. 336p. ISBN 9781984803887. pap. $15; ebk. ISBN 9781984803894. MYSTERY
A pseudonymous RITA Award winner launches the "Manor Cat Mystery" series with the family of Lady Cecilia Bates fretting that they'll lose Danby Hall as agricultural depression sweeps 1912 England. Her parents hope that Cecelia's brother will marry American heiress Annabel Clarke, even arranging a splashy party upon Annabel's arrival at Danby Hall. But things look bleak when an attendee dies after drinking from a poisoned cup meant for the guest of honor. Enter Cecilia; Annabel's maid, Jane; and Jane's finicky-smart cat, Jack, to solve the crime. Pitched to Downton Abbey and feline mystery fans.
Dovalpage, Teresa. Queen of Bones. Soho Crime. Nov. 2019. 288p. ISBN 9781641290159. $26.95; ebk. ISBN 9781641290166. MYSTERY
Award-winning Cuban American Dovalpage brings back Padrino, a Cuban police detective–turned–Santería priest, from her triumphant crime-fiction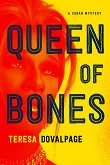 debut, Death Comes In Through the Kitchen. Here, he's pulled back to investigative mode when goddaughter Rosita, who works at the cemetery, shivers in recognition at a corpse on her embalming table. Meanwhile, Rosita's old boyfriend Juan returns with his American wife after 20 years, setting the scene for a Cuba-then, Cuba-now narrative split. To be featured at next year's ALA Midwinter.
Evanovich, Janet. Twisted Twenty-Six. Putnam. Nov. 2019. 320p. ISBN 9780399180194. $28; ebk. ISBN 9780399180200. lrg. prnt. CD/downloadable. MYSTERY
High-flying bounty hunter Stephanie Plum's Grandma Mazur is back, widowed 45 minutes after her marriage to local gangster Jimmy Rosolli. (Too bad about that heart attack.) Unfortunately, Jimmy's brothers-in-crime believe that she's holding back a set of keys they need to continue their, um, business, and Stephanie must hop to it and find the keys to keep grandma safe. A No. 1 New York Times series that just keeps giving.
Fletcher, Jessica & Jon Land. Murder, She Wrote: A Time for Murder. Berkley. Nov. 2019. 272p. ISBN 9781984804303. $26; ebk. ISBN 9781984804327. MYSTERY
Fletcher fans can celebrate: here's the 50th entry in the USA Today best-selling series, which has 4.5 million copies in print. The narrative travels back to Jessica's very first murder investigation, when she's a young high school teacher puzzled by the principal mysterious death, then veers to the present when Jessica travels to the retirement party of an old colleague—who also ends up dead.
Lehane, Con. Murder Off the Page: A 42nd Street Library Mystery. Minotaur: St. Martin's. Nov. 2019. 320p. ISBN 9781250317926. $26.99; ebk. ISBN 9781250317933. MYSTERY
In the next in this in-the-stacks mystery, librarian Raymond Ambler gets an urgent note from bartender friend Brian McNulty that leads him to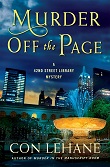 investigate the murder of one of McNulty's lady friends, with McNulty the prime suspect. It turns out that New York party girl Shannon Darling was also Dr. Sandra Dean, a dermatologist living sedately in Connecticut with her husband and daughter. Who's the victim here, Shannon or Sandra? Of course, NYPD homicide detective Mike Cosgrove joins the fray.
Noble, Shelley. Tell Me No Lies. Forge. Nov. 2019. 368p. ISBN 9780765398741. $27.99; ebk. ISBN 9780765398734. CD. MYSTERY
The New York Times best-selling Noble follows up her "Lady Dunbridge" series starter, Ask Me No Questions, with the modern merry-widow heroine ready to take on Gilded Age Manhattan. And with the stunning Plaza Hotel and The Metropolitan Museum of Art as backdrop, there's bound to be mayhem, murder, and a touch of romance.
Patterson, James. Criss Cross. Little, Brown. Nov. 2019. 400p. ISBN 9780316526883. $29; ebk. ISBN 9780316457149. lib. ebk. ISBN 9780316457125. CD/downloadable. MYSTERY
After watching the execution of a man they helped convict, Alex Cross and partner John Sampson are called to a copycat murder, where the corpse bears the mocking note, "You messed up big time, Dr. Cross." Soon Alex is racing from crime scene to crime scene, spotting familiar details linked to Cross family secrets. Now he knows his life is on the line. With an 800,000-copy first printing.
Thomas, Will. Lethal Pursuit: A Barker & Llewelyn Novel. Minotaur: St. Martin's. Nov. 2019. 320p. ISBN 978125017040. $27.99; ebk. ISBN 9781250170415. MYSTERY
In the latest in Thomas's popular series, Cyrus Barker and Thomas Llewelyn receive an unmarked key in the mail that Cyrus swiftly uses to open a barely-there door on a back alley. Soon they're in an underground tunnel ending at Downing Street. The prime minister wants the duo to track down a satchel that a foreign agent stole in Eastern Europe before he was murdered at Charing Cross. Its contents, which promise to heat up tensions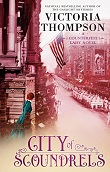 between England and Germany: an unnamed first-century gospel.
Thompson, Victoria. City of Scoundrels. Berkley. Nov. 2019. 320p. ISBN 9781984805652. $26; ebk. ISBN 9781984805676. MYSTERY
In her third outing, onetime con woman Elizabeth Miles's fiancé Gideon Bates is preparing wills for soldiers leaving to fight the Great War, among them Corp. Tom Preston. Tom has secretly married his beloved, of whom his family does not approve, and wants a new will to be sure she and their unborn child will be provided for in the event of his death. When he indeed perishes in battle, the will is nowhere to be found, and the young wife is threatened, which gets Elizabeth involved.