New York Times reporter Emma Goldberg on doctors doing their residencies during COVID-19, George Packer on the narratives that have made America lose its way, Imani Perry on how the South defines America, and Clint Smith on slavery as central to the American experience.
Goldberg, Emma. Life on the Line: Young Doctors Come of Age in a Pandemic. Harper. Jun. 2021. 320p. ISBN 9780063073388. $27.99. MEDICAL
Goldberg expands on her reporting for the New York Times to tell the story of the young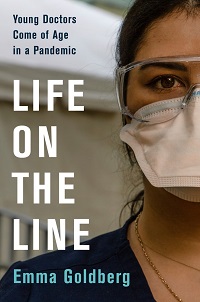 medical students in New York City whose newly assigned residencies in March 2020 put them front and center in the battle against the coronavirus. They took the Hippocratic oath via Zoom, then headed out to big New York hospitals like Bellevue and Montefiore that were under extreme stress. Drawn from interviews with the doctors, plus their notes and diaries; with a 75,000-copy first printing.
Packer, George. Last Best Hope: An Essay on the Revival of America. Farrar. Jun. 2021. 240p. ISBN 9780374603663. $27. SOCIAL SCIENCE
National Book Award winner Packer (The Unwinding) assays an America that just a few decades ago was prosperously middle class and now suffers extreme inequality at home and scorn from abroad. To correct the problem, he argues, we must get beyond four narratives that are strangling us: Libertarian America's focus on individuals determining their own fate while cozying up to corporations; Cosmopolitan America's failure to acknowledge that globalization disenfranchises many Americans; Diverse America, which sees America in terms of identity groups that have inflicted or suffered oppression; and White America, whose strident nationalism and fear of those seen as the Other pose the greatest challenge to democracy today. With a 100,000-copy first printing.
Perry, Imani. South to America: A Journey Below the Mason Dixon To Understand the Soul of a Nation. Ecco. Jun. 2021. 336p. ISBN 9780062977403. $28.99. HISTORY
Hughes-Rogers Professor of African American Studies at Princeton University and winner of PEN America's Bograd-Weld Biography Prize for Looking for Lorraine, Perry goes home to the South as a Black woman to tell us something important. When we think of the South, we think of plantations, the Ku Klux Klan, Jim Crow, an us. vs. them attitude, and especially slavery. But those defining factors say a lot about America itself. With a 150,000-copy first printing.
Smith, Clint. How the Word Is Passed: A Reckoning with the History of Slavery Across America. Little, Brown. Jun. 2021. 336p. ISBN 9780316492935. $29. HISTORY/AFRICAN AMERICAN
A staff writer for the Atlantic whose Counting Descent won the Literary Award for Best Poetry Book from the ALA's Black Caucus, Smith here travels from his native New Orleans to Monticello, where Jefferson cried out for liberty while enslaving 400 people; the Whitney Plantation, which aims to preserve the experience of those enslaved; Angola, a former plantation in Louisiana that now serves as a maximum security prison where many Black men still toil; and downtown Manhattan, where people were bought and sold. His aim: to show that slavery has been central to the making of America.