Click here for additional new Prepub Alert columns
Akpan, Uwem. New York, My Village. Norton. Nov. 2021. 400p. ISBN 9780393881424. $27.95. LITERARY
In this much-anticipated debut novel, Nigerian editor Ekong Udousoro is assembling a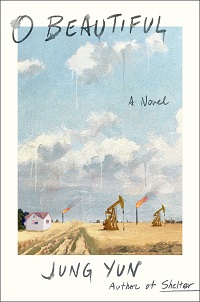 collection of stories about the Biafran War that brutally rocked his country when he wins a publishing fellowship to continue his work in New York. He learns plenty, good and bad, about publishing (often heartlessly commercial) and about America's inherent racism. From the author of the Commonwealth Prize and PEN Open Book Award winner Say You're One of Them, an Oprah Winfrey Book Club pick.
Ball, Bethany. The Pessimists. Grove. Oct. 2021. 304p. ISBN 9780802158888. $27. LITERARY
In a posh, pretty Connecticut town, longtime residents Richard and Margot look like the perfect couple but are fragile and faithless underneath, while New Yorker escapees Gunter and Rachel find themselves bored silly and the popular Tripp and Virginia are secret survivalists stockpiling guns in the basement. They are all connected by their association with prestigious Petra School, which serves as backdrop as their lives implode. From the author of What To Do About the Solomons, finalist for the Center for Fiction First Novel Prize finalist.
Bola, JJ. The Selfless Act of Breathing. Atria. Nov. 2021. 272p. ISBN 9781982175566. $27. CD. LITERARY
British-Congolese teacher Michael Kabongo is popular with his students but remains abundantly frustrated that he cannot correct the social injustices they endure—and that distorts the lives of young Black men worldwide. A terrible loss revives memories of his father's violent death and the burdens of having been a refugee, and he impulsively decides to travel to America, making friends and partying his way across the country in hopes of finding a new self disburdened of a painful past. From Kinshasa-born, London-raised poet/novelist and UNHCR Ambassador Bola; with a 60,000-copy first printing.
Johnson, Jocelyn Nicole. My Monticello. Holt. Oct. 2021. 224p. ISBN 9781250807151. $26.99. CD. LITERARY/SHORT STORIES
In Johnson's title novella, a young Black descendant of Thomas Jefferson and Sally Hemings leads a group escaping white supremacist violence in Charlottesville and taking refuge in Jefferson's plantation home. Also included: "Control Negro," about a university professor carrying out an experiment about racism with his own son as subject, which appeared in Best American Short Stories 2018 by guest editor Roxane Gay and read by LeVar Burton as part of PRI's Selected Shorts series. A major debut collection; with a 250,000-copy first printing.
Keneally, Thomas. The Dickens Boy. Atria. Nov. 2021. 416p. ISBN 9781982169145. $28. CD. LITERARY
The tenth child of world-renowned author Charles Dickens, Edward has been stumbling through life when he is sent to Australia to make something of himself. In the Outback, amid colonials and Aborigine peoples, ex-convicts, ex-soldiers, bushrangers, and stock agents, he tries to show himself—and the father whose books he has never read—that he can succeed. Once again, the author of Schindler's List aims to vivify real-life figures; with a 50,000-copy first printing.
King, Lily. Five Tuesdays in Winter. Grove. Nov. 2021. 240p. ISBN 9780802158765. $27. LITERARY
King follows up the multi-best-booked Writers & Lovers with her first-ever story collection, featuring pieces about finding love, finding oneself, and finding that sometimes you can't mend the tears in life's fabric. A neglected teenage boy is given the attention he needs from two college students hired by his parents to housesit, while a proud and stubborn nonagenarian angrily acknowledges his powerlessness in his granddaughter's hospital room. Half the stories here have been published before, while half are newly minted—and all should be great reading.
Krasznahorkai, László. Chasing Homer. New Directions. Nov. 2021. 96p. tr. from Hungarian by John Batki. ISBN 9780811227971. $19.95. LITERARY
In this latest from the challenging Krasznahorkai, winner of the 2019 National Book Award for Translated Literature for Baron Wenckheim's Homecoming and the 2015 Man Booker International Prize for his oeuvre, a hunted creature flees frantically southward through Europe, seeking to escape death. With full-color paintings by Max Neumann and a rattlingly percussive score by Szilveszter Miklós associated with each chapter and accessed via QR codes.
McCarthy, Tom. The Making of Incarnation. Knopf. Nov. 2021. 320p. ISBN 9780593319871. $27.95. Downloadable. LITERARY
Informed by the motion studies of Lillian Gilbreth (famously the mother in the memoir Cheaper by the Dozen), this novel from two-time Booker Prize short-listed, inaugural Windham-Campbell award winner McCarthy stars insomniac Anthony Garnett. His frustrated sheep-counting leads to a schematic about tracking sheep's movements as individuals within a herd, creating branching vectors of need, fear, and closeness. Soon he is inspired to form a company called Pantaray, PLC, referencing a fragment from Heraclitus, who proclaimed that we could never step into the same river twice.
Park, Sang Young. Love in the Big City. Grove. Nov. 2021. 240p. tr. from Korean by Anton Hur. ISBN 9780802158789. $25. LITERARY
An explosive best seller in South Korea, Park's first novel to appear in English features the fun-at-all-costs Young, who fits in school between his indulgent enjoyment of Seoul's nightlife and the most promising Tinder matches. Both roommate and female best friend, Jaehee joins him in his escapades, but eventually she moves on for a more settled life, and Young is left tending to his mother and pursuing a string of men—including perhaps the love of his life.
Savas, Aysegül. White on White. Riverhead. Nov. 2021. 192p. ISBN 9780593330517. $26. Downloadable. LITERARY
Moving to an unidentified city to research Gothic nudes, a young female student rents an apartment from a woman named Agnes, who soon returns from the city where she actually lives and moves into the upstairs studio. The student strikes up a friendship with Agnes, who seems eager to talk about her youth, family, and ideas of art, but soon it is evident that Agnes is actually falling apart and that the line between contentment and chaos is very thin indeed. From the author of the LJ-starred Walking on the Ceiling.
Shafak, Elif. The Island of Missing Trees. Bloomsbury. Nov. 2021. 368p. ISBN 9781635578591. $27. LITERARY
On the divided island of Cyprus, Greek Cypriot Kostas and Turkish Cypriot Defne must hide their love by meeting secretly at a taverna that has a fig tree pushing its way through the damaged roof. Separated by the 1974 war but eventually reunited, they take a clipping from the tree to London, where it blossoms into a tree of its own in their garden—a symbol to their daughter, Ada, of the homeland she is trying to understand. From the Booker Prize short-listed British-Turkish author; with a 75,000-copy first printing.
Shteyngart, Gary. Our Country Friends. Random. Nov. 2021. 336p. ISBN 9781984855121. $28. lrg. prnt. Downloadable. LITERARY
In March 2020, as pandemic descends, a group of friends bringing along their friends gathers for the duration at a country home. They range from a Russian-born novelist and his psychiatrist wife to an aspiring Indian American writer, a successful Korean American app developer, and a movie star who disrupts everything. Love and friendship flare and sputter during the six months that unfold here. Following Shteyngart's multi-best-booked Lake Success.
Vargas Llosa, Mario. Harsh Times. Farrar. Nov. 2021. 304p. tr. from Spanish by Adrian Nathan West. ISBN 9780374601232. $28. LITERARY
Nobel Prize winner Vargas Llosa uses fiction to plumb the turmoil surrounding the 1954 overthrow of democratically elected Guatemalan president Jacobo Árbenz with the support of the CIA, ostensibly because his policies would facilitate the spread of communism but in fact because he hoped to initiate agricultural reform and the taxation of the United Fruit Company. The story follows multiple characters, from Árbenz to United Fruit Company founder Sam Zemurray, and bears comparison to Vargas Llosa's The Feast of the Goat, about the fall of Dominican dictator Rafael Trujillo. With a 75,000-copy first printing.
White, Edmund. A Previous Life. Bloomsbury. Nov. 2021. 304p. ISBN 9781635577273. $26. LITERARY
Sicilian aristocrat/musician Ruggero and his younger American wife, Constance, have long refused to discuss their earlier life experiences, honesty having wrecked their previous marriages. Now, however, they are writing their Confessions, with Constance revealing multiple marriages to older men and Ruggero chronicling a lifetime's worth of affairs with women and men, including an author named Edmund White. From the winner of the 2019 Medal for Distinguished Contribution to American Letters from the National Book Foundation; with a 45,000-copy first printing.
Wideman, John Edgar. Look for Me and I'll Be Gone: Stories. Scribner. Nov. 2021. 192p. ISBN 9781982148942. $26. LITERARY/SHORT STORIES
One story here is presented as a letter to singer Freddie Jackson, whose "You Are My Lady" plays on the radio as a man drives his son to prison, while another contemplates James Baldwin's Evidence of Things Not Seen, addressing the Atlanta murders from 1979 to 1981 and opening with a "why-did-the chicken-cross-the-road" riff that turns bleak. In fact, all the pieces in MacArthur Fellow Wideman's sixth collection push the boundaries of format as they explore family, loss, and America's ongoing racial divide. With a 60,000-copy first printing.
Winman, Sarah. Still Life. Putnam. Oct. 2021. 400p. ISBN 9780593330753. $27. lrg. prnt. Downloadable. LITERARY
In 1944 Tuscany, English soldier Ulysses ducks into the wine cellar of a deserted villa, where he meets middle-aged art historian Evelyn, there to salvage paintings as the bombs fall. She's there, too, to recall E.M. Forster, who haunts a narrative that unfolds over decades as this chance encounter shapes Ulysses' life. Following the Costa short-listed Tin Man.
Yun, Jung. O Beautiful. St. Martin's. Nov. 2021. 320p. ISBN 9781250274328. $27.99. LITERARY
Korean American journalist Elinor Hanson's first big magazine assignment takes her to North Dakota's Bakken oil fields, not far from the town where she grew up. She's thus compelled to confront a troubled childhood and her place in a troubled land, assessing race and gender issues as she surveys a boomtown gone wild with outsiders, mostly men. Meanwhile, a woman's disappearance weaves its way through the narrative. An in-house favorite (for me, too) that follows Yun's debut, the perceptive Shelter, finalist for the Barnes & Noble Discover Great New Writers Award; with a 40,000-copy first printing.