Significant moments in history and literature plus a look at being a Black friend today.
Bailey, Blake. Philip Roth: The Biography. Norton. Apr. 2021. 880p. ISBN 9780393240726. $45. LITERATURE/BIOGRAPHY
Bailey comes well prepared to write the life of Philip Roth; he's already the biographer of John Cheever, Richard Yates, and Charles Jackson and winner of National Book Critics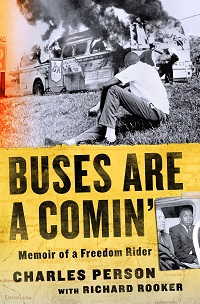 Circle and Francis Parkman honors for his efforts while also claiming Pulitzer and James Tait Black finalist status. Bailey was appointed to the task by Roth himself and spent years interviewing the author and his many associates while poring over the archives to which he was given full access.
Batalion, Judy. The Light of Days: The Untold Story of Women Resistance Fighters in Hitler's Ghettos. Morrow. Apr. 2021. 576p. ISBN 9780062874214. $28.99. lrg. prnt. CD. HISTORY
The granddaughter of Polish Holocaust survivors, Batalion tells the little-known story of women Jewish resistance fighters in Poland, who risked (and often suffered) brutal imprisonment and death as they bore arms, smuggled weapons, helped built underground bunkers, and seduced and shot German soldiers. At the center of Batalion's story is Renia Kukielka, a weapons smuggler and messenger who effected an extraordinary escape from a Gestapo prison. Originally scheduled for June 2020; with a 200,000-copy first printing and optioned by Steven Spielberg.
Manuel, Ian. My Time Will Come: A Memoir of Crime, Punishment, Hope, and Redemption. Pantheon. Apr. 2021. 192p. ISBN 9781524748524. $25.95. lrg. prnt. Downloadable. MEMOIR
A veteran car thief by age 13, Manuel shot a woman in the jaw during a failed mugging and because of his record as a juvenile delinquent was sentenced to life in prison without parole. After brutal years behind bars, including 18 years in solitary confinement, he was able to win release with the help of legal activist Bryan Stevenson—and Debbie Baigrie, the woman he shot. Reflecting America's harsh treatment of young offenders, his story was featured in Nicholas Kristof and Sheryl WuDunn's Tightrope and a segment of the Starbucks "Upstanders" digital shorts series, Extraordinary Stories of Courage and Compassion Across America, which has been seen by ten million viewers. Now Manuel is a motivational speaker.
Person, Charles & Richard Rooker. Buses Are a Comin': Memoir of a Freedom Rider. St. Martin's. Apr. 2021. 304p. ISBN 9781250274199. $26.99. MEMOIR
The last living Freedom Rider to have remained with the original ride from its start in Washington, DC, to New Orleans, Person gives us a front-row seat on a significant event in American history. The ride, meant to test whether America would obey the Supreme Court decision that segregation was unconstitutional in bus depots, waiting areas, restaurants, and restrooms, proved that the South would not: one bus was burned and the second, which Person rode, was swarmed by a mob that beat several riders nearly to death. Person does more than instruct; he also encourages young people to get involved. With a 50,000-copy first printing.
Philippe, Ben. Sure, I'll Be Your Black Friend: Notes from the Other Side of the Fist Bump. Harper. Apr. 2021. 304p. ISBN 9780063065062. $26.99; pap. ISBN 9780063026445. $16.95. HUMOR/ESSAYS
Born in Haiti and raised in Montreal, Philippe is currently a New York–based writer and screenwriter with two YA novels and a William C. Morris Award to his name. Here he turns to adult nonfiction to recount (with sharp humor) an immigrant childhood, college years under the Obama administration, and early adult years with Trump at the helm. Along the way, he explains what it's like to have been designated the new Black friend (colleague, roommate, whatever) among often clueless whites, steering his way through stereotypes, slurs, affirmative action, Black Lives Matter, and whether Beyoncé is too much Beyoncé to an understanding of his own Blackness. With a 100,000-copy paperback and 20,000-copy hardcover first printing, a smart (and unusual) hard-soft option for a nonfiction title.