For December, an accent on police procedurals, women sleuths, and historicals that take us from Tudor England to 1944 Berlin.
Three Key Titles
Fowler, Christopher. Bryant & May: Oranges and Lemons; a Peculiar Crimes Unit Mystery. Bantam. Dec. 2020. 464p. ISBN 9780525485926. $28.99. MYSTERY/TRADITIONAL
The Speaker of the House of Commons has been killed inadvertently by a van unloading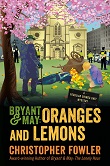 oranges and lemons on the Strand, and the government wants to know what was on his mind as death descended. Enter the Peculiar Crimes Unit, hastily reassembled because John May was undergoing surgery and Arthur Bryant had temporarily absconded, and soon our daring duo is following a case involving arson, academics, magicians, and a killer with a thing for London's churches. From a Dagger in the Library Award winner.
Frear, Caz. Shed No Tears. Harper. Dec. 2020. 368p. ISBN 9780062979858. $26.99. MYSTERY/POLICE PROCEDURAL
Returning in the third in a series that opened with the TV-optioned, Barry-nominated Sweet Little Lies, D.C. Cat Kinsella joins with partner Luigi Parnell to investigate when remains assumed to be those of convicted serial killer Christopher Masters's last victim are found. But Masters never confessed to killing Holly Kemp, and certain inconsistencies—plus indications that someone doesn't want them snooping—suggest that maybe he wasn't the perpetrator. With a 40,000-copy first printing.
Shelton, Paige. Cold Wind: A Mystery. Minotaur: St. Martin's. Dec. 2020. 288p. ISBN 9781250295316. $26.99. MYSTERY
Leaving behind her "Scottish Bookshop" and other cozy nooks, Shelton follows up the LJ-starred Thin Ice in this second in the "Alaska Wild" series. Beth Rivers is back, still hiding out in small-town Benedict, AK, from the man who kidnapped her. But then a mudslide brings forth two mute, frightened girls from a remote trapper's shed where a woman's dead body is found, and Beth's journalistic instincts are roused. With a 30,000-copy first printing.
Historical
Clare, Alys. The Outcast Girls. Severn House. Dec. 2020. (A World's End Bureau Victorian Mystery). 256p. ISBN 9780727890450. $28.99. MYSTERY/HISTORICAL
Gilbers, Harald. Germania: A Novel of Nazi Berlin. Thomas Dunne: St. Martin's. Dec. 2020. 352p. tr. from German by Alexandra Roesch. ISBN 9781250246936. $28.99. MYSTERY/HISTORICAL
Jecks, Michael. Death Comes Hot. Crème de la Crime: Severn House. (A Bloody Mary Mystery). Dec. 2020. 256p. ISBN 9781780291314. $28.99. MYSTERY/HISTORICAL
Willberg, T.A. Marion Lane and the Midnight Murder. Park Row: Harlequin. Dec. 2020. 352p. ISBN 9780778389330. $27.99. MYSTERY/HISTORICAL
In Clare's The Outcast Girls, latest in the 1880s London–set series starring private investigators Lily Raynor and Felix Wilbraham, Lily is called on to impersonate an assistant matron at the Shardlowes School in the Fens to discover what happened to several vanished pupils. Set in war-ravaged, 1944 Berlin, German debut author Gilbers's prize-winning, internationally best-selling Germania features Jewish detective Richard Oppenheimer, forced by the Gestapo to hunt for a serial killer targeting women associated with the Nazi Party (40,000-copy first printing). Cofounder of the Historical Writers' Association, Jecks ("Knights Templar" mysteries) returns with Death Comes Hot, fifth in a series set during Bloody Mary's tumultuous reign and featuring cutpurse Jack Blackjack, here tasked with finding an executioner's long-lost son—and suddenly a pawn in everyone's game. In debut author Willberg's 1950s London–set Marion Lane and the Midnight Murder, a Publisher's Lunch "Deal of the Day," the eponymous heroine hunts for the murderer of one of her colleagues at Miss Brickett's Investigations & Inquiries when another colleague is framed. Not for claustrophobes; lots of scenes in London's secret tunnels.
More Mystery
Blanchard, Alice. The Wicked Hour: A Natalie Lockhart Novel. Minotaur: St. Martin's. Dec. 2020. 320p. ISBN 9781250205735. $26.99. MYSTERY/POLICE PROCEDURAL
Cleland, Jane K. Hidden Treasure: A Josie Prescott Antiques Mystery. Minotaur: St. Martin's. Dec. 2020. 288p. ISBN 9781250242778. $26.99. MYSTERY/COZY
Tursten, Helene. Snowdrift. Soho Crime. Dec. 2020. 384p. tr. from Swedish by Marlaine Delargey. ISBN 9781641291606. $27.95. MYSTERY/SCANDINAVIAN
In PEN Award winner Blanchard's The Wicked Hour, an unidentified, oddly tattooed woman found dead in a dumpster after one of Burning Lake's infamous Halloween celebrations leads Det. Natalie Lockhart to a longtime string of deaths and disappearances (40,000-copy first printing). Following the LJ-starred Antique Blues, Cleland's Hidden Treasure gives antiques store owner Josie Prescott a New Hampshire coast–hugging Victorian, where she locates a jewel-boxed sculpture left behind by the previous owner, an elderly woman in assisted living whom Josie doesn't find when she goes visiting—but there's a dead body on the floor (20,000-copy first printing). In Tursten's Snowdrift, Swedish D.I. Embla Nyström is still reeling from an abruptly terminated phone call from friend Lollo, who disappeared years ago as a teenager, when she's called to a crime scene in rural Sweden—and recognizes the victim as a gang member hanging around Lollo when she disappeared.