Ashley Audrain, Julie Carrick Dalton, and Eley Williams offer buzzing debut novels, while Anne Youngson follows up the Costa short-listed Meet Me at the Museum with a second novel.
Audrain, Ashley. The Push. Pamela Dorman: Viking. Jan. 2021. 320p. ISBN 9781984881663. $26. WOMEN'S
Though Blythe Connor is determined to be a loving mother, she's convinced that there's something wrong with daughter Violet—a fear that her husband firmly rejects, leading Blythe to wonder whether she's losing her mind. Blythe gets a respite when their son Sam is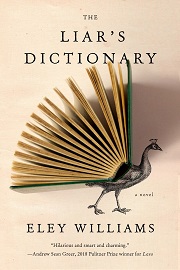 born, but a single terrible event reconfirms her fears. From a former publicity director of Penguin Books Canada, this work was bought in a heated auction and has sold to 30 territories; Heyday Productions has optioned TV rights.
Dalton, Julie Carrick. Waiting for the Night Song. Forge. Jan. 2021. 336p. ISBN 9781250269188. $26.99. CD. WOMEN'S
Returning home at the request of childhood friend Daniela, forestry researcher Cadie Kessler must face down the dark secret that split them apart one summer long ago. Meanwhile, drought, foreclosure, and wildfires rule the countryside, with tension between locals and displaced migrant farm workers resulting. Prolific award-winning journalist Dalton has won awards for early versions of this work, and the 150,000-copy first printing bespeaks publisher confidence.
Williams, Eley. The Liar's Dictionary. Doubleday. Jan. 2021. 288p. ISBN 9780385546775. $26.95. LITERARY/ABSURDIST
In the Victorian era, lexicographer Peter Winceworth is so disgruntled with his work on Swansby's multivolume Encyclopaedic Dictionary that he inserts fictitious entries, known as mountweazels. In contemporary times, intern Mallory is charged with finding and deleting them before the work is digitized while also dealing with an increasingly vitriolic anonymous caller distressed by changes in the definition of marriage. The author's short story collection Attrib. won the James Tait Black Prize and was long-listed for the Dylan Thomas Prize, which landed this debut novel on numerous "much-anticipated" lists in the UK.
Youngson, Anne. The Narrowboat Summer. Flatiron: Macmillan. Jan. 2021. 304p. ISBN 9781250764614. $26.99. CD. WOMEN'S
Youngson follows up the charming debut Meet Me at the Museum, a LibraryReads pick short-listed for the Costa First Novel Award, with the tale of three women brought together by a narrowboat—a boat specifically built to negotiate the UK's network of canals. Eve has ditched a longtime career to follow her whims, Sally has walked out on her barely-there husband and two grown children, and independent spirit Anastasia, who lives on the narrowboat, needs help as she awaits a major operation. With a 40,000-copy first printing.