Top mysteries ranging in setting from medieval England to futuristic New York, from South Central Los Angeles to Australia.
Armstrong, Kelley. A Stranger in Town. Minotaur: St. Martin's. Feb. 2021. 368p. ISBN 9781250781727. $27.99. CD. MYSTERY/POLICE PROCEDURAL
Det. Casey Duncan is alarmed that fewer and fewer people are turning up in off-the-grid Rockton, a town established deep in the Canadian wilderness to host a mix of criminals and victims starting afresh. After a bloodied hiker emerges from the woods, she learns the truth: the authorities intend to shut down Rockton. Now what? With a 50,000-copy first printing.
Cosimano, Elle. Finlay Donovan Is Killing It. Minotaur: St. Martin's. Feb. 2021. 368p. ISBN 9781250241702. $26.99. MYSTERY
An Edgar finalist and International Thriller Award winner for her YA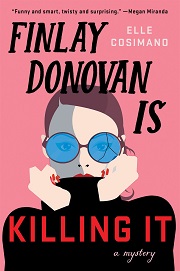 fiction, Cosimano goes adult with the story of single-mom suspense writer Finlay Donovan, more beleaguered than ever after her ex-husband fires the nanny. At lunch, Finlay is mistaken as a contract killer when she's overheard discussing her behind-schedule new novel with her agent and gets roped into disposing of a troublesome husband. With a 75,000-copy first printing.
Finch, Charles. An Extravagant Death: A Charles Lenox Mystery. Minotaur: St. Martin's. Feb. 2021. 304p. ISBN 9781250767134. $27.99. CD. MYSTERY/HISTORICAL
Business is booming after a corruption scandal at Scotland Yard, but Sir Charles Lennox cannot resist an invitation to visit Gilded Age New York. When he's there, the presumed suicide of the season's most glamorous debutante sends him to Newport, RI, to investigate. Next in the LJ best-booked series after The Last Passenger; with a 100,000-copy first printing.
Harper, Jane. The Survivors. Flatiron: Macmillan. Feb. 2021. 384p. ISBN 9781250232427. $27.99. CD. MYSTERY
Returning home with his new family to the coastal town where he grew up, Kieran Elliot is swamped with guilt over a tragedy that unfolded 12 years previously, when a towering storm took the lives of his brother and a friend—and of a teenage girl last seen as the waves advanced. Now, a dead body on the beach brings forth secrets regarding that fateful day. After the New York Times best-selling The Lost Man; with a 125,000-copy first printing.
Harrod-Eagles, Cynthia. Cruel as the Grave. (Bill Slider Mystery). Severn House. Feb. 2021. 256p. ISBN 9780727890856. $28.99. MYSTERY
In the next "Bill Slider" mystery after the LJ-starred Headlong, fitness trainer Erik Lingoss is found dead in his London flat, his head flattened by one of his dumbbells and his blood-covered former girlfriend now the prime suspect. But Slider has his doubts; Lingoss was a charmer with disgruntled friends in high places.
Ide, Joe. Smoke. Mulholland: Little, Brown. Feb. 2021. 336p. ISBN 9780316531061. $28. CD/downloadable. MYSTERY
Ide has had a passionate following since the 2016 publication of the multi-award-winning IQ, featuring Isaiah Quintabe, the Sherlock Holmes of South Central Los Angeles, who solves cases the police cannot with dagger-sharp intelligence and fierce moral conviction. No details yet on his next case; with a 40,000-copy first printing.
Mosley, Walter. Blood Grove. Mulholland: Little, Brown. Feb. 2021. 336p. ISBN 9780316491181. $27. CD/downloadable. MYSTERY
Following the Edgar Award–winning stand-alone Down the River unto the Sea and Trouble Is What I Do, starring Leonid McGill, the Mystery Writers of America Grand Master returns to give best-known protagonist Easy Rawlins another turn on the streets of Los Angeles. With a 40,000-copy first printing.
Robb, J.D. Faithless in Death: An Eve Dallas Novel. (In Death, Bk. 52). St. Martin's. Feb. 2021. 400p. ISBN 9781250272744. $28.99. CD. MYSTERY/POLICE PROCEDURAL
Who killed sculptor Ariel Byrd, found in her West Village studio with her head bashed in and two wineglasses on the bedside table? It certainly looks like the culprit is a furious lover, but Lt. Eve Dallas isn't so sure, especially when she starts catching the woman who reported the crime in bedeviling little inconsistencies. With a 750,000-copy first printing.
Todd, Charles. A Fatal Lie. Morrow. Feb. 2021. 352p. ISBN 9780062905574. $28.99. lrg. prnt. MYSTERY/HISTORICAL
In the 1920s, residents of a Welsh village cannot identify the body of a man who apparently tumbled into the river from the valley's aqueduct, so they do the obvious: they turn to Scotland Yard, which sends Inspector Ian Rutledge to investigate. To find out what happened, Rutledge must eventually relive the victim's last moments. With a 100,000-copy first printing.
Thomas, Russ. Nighthawking. (Detective Sergeant Adam Tyler Novel, Bk. 2). Putnam. Feb. 2021. 384p. ISBN 9780525542056. $26. Downloadable. MYSTERY
In this follow-up to Thomas's LJ-starred debut, Firewatching, a nighthawker—that is, a thief who works at night with a metal detector to remove artifacts from archaeological sites—crawls over the wall surrounding a botanical garden and inadvertently digs up a dead body. Enter Det. Sgt. Adam Tyler and his newly promoted sidekick, DC Amina Rabbani, who discover that the victim is a Chinese national from a prominent family, in the UK on a student visa.
Westerson, Jeri. Spiteful Bones. (Crispin Guest Mystery). Severn House. Feb. 2021. 192p. ISBN 9780727889997. $28.99. MYSTERY/HISTORICAL
Once landed aristocracy, Crispin Guest was traitor to the king and now barely survives in a grubby stretch of London, working as the Tracker—he solves cases the dim-witted sheriffs cannot. In his latest venture, he's asked to investigate when young lawyer Nigellus Cobmartin, renovating the old manor house he's just inherited, discovers a bound skeleton cradling a relic. A great series for medieval mystery fans.