Wild and wicked things for fantasy lovers.
Click here for additional new Prepub Alert columns
Akers, W.M. Westside Lights. Harper Voyager. Mar. 2022. (Gilda Carr Tiny Mystery, Bk. 3). 288p. ISBN 9780063043954. $27.99. FANTASY/HISTORICAL
In 1920s Manhattan, where a sturdy fence divides the wealthy Eastside from the criminal and sometimes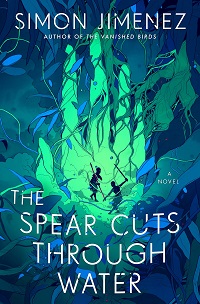 fantastical Westside, private eye Gilda Carr addresses "tiny mysteries." Now she's comfortably ensconced on a stolen yacht with former gangster Cherub Stevens, docking near the teeming-with-trouble White Lights District. When there's a bloodbath onboard (passed-out Gilda missed it all), she finds herself pursued by both the police and the mob. Next in a praised series; with a 50,000-copy first printing.
Elliott, Kate. Servant Mage. Tordotcom. Jan. 2022. 176p. ISBN 9781250769053. $19.99. FANTASY/GASLAMP
A Lamplighter who can illuminate the surroundings with a flick of her hand, Fellion is rescued from indentured servitude by rebel Monarchists who want help freeing comrades trapped underground. Along the way, they are drawn into a movement to end the monarchy, but Fellion doesn't just trudge along as the mission evolves. From "Crown of Stars" author Elliot; with a 60,000-copy first printing.
Jimenez, Simon. The Spear Cuts Through Water. Del Rey: Ballantine. Mar. 2022. 400p. ISBN 9780593156599. $28. Downloadable. FANTASY
In the Land of the Strangled Throat, ruled by a cruel emperor and his sons, the Three Terrors, a warrior standing guard encounters the Moon Goddess, who has escaped from imprisonment. He should turn her in—but maybe he'll join her efforts to bring down the government. Following Locus Award finalist The Vanished Birds.
McGuire, Seanan. Where the Drowned Girls Go. Jan. 2022. (Wayward Children, No. 7). 160p. ISBN 9781250213624. $19.99. FANTASY
Eleanor West's Home for Wayward Children serves as a sanctuary for children who have passed through portals to other worlds and can't cope with their old home upon return. Not every child fits there comfortably, however; stubborn Cora asks Eleanor to transfer her to the Whitethorn Institute, which is not warm or cuddly or particularly safe. With a 60,000-copy first printing.
May, Francesca. Wild and Wicked Things. Redhook: Hachette. Mar. 2022. 384p. ISBN 9780316287159. $28. Downloadable. FANTASY/HISTORICAL
On 1920s Crow Island, Annie Mason witnesses an unpleasant exchange and gets caught up in the world of scandalous Emmeline Delacroix and her wildly over-the-top parties. That's how Annie learns that magic really does exist on the island, as she has heard, and that blood debts might lead to death. British-based May writes psychological thrillers and gothic suspense as Fran Dorricott; with a 30,000-copy first printing.