From Raymond E. Feist new Firemane Saga to mega-award-winning Tor authors, speculative fiction for everyone.
Fan Favorites
Feist, Raymond E. Queen of Storms: Book Two of The Firemane Saga. Harper Voyager. Jul. 2020. 448p. ISBN 9780062315816. $29.99; ebk. ISBN 9780062315878. FANTASY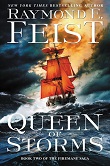 Malerman, Josh. Malorie. Random. Jul. 2020. 240p. ISBN 9780593156858. $28; ebk. ISBN 9780593156865. HORROR
Rosenbaum, Benjamin. The Unraveling. Erewhon: Workman. Jul. 2020. 320p. ISBN 9781645660019. $24.95; ebk. ISBN 9781645660064. SF
VanderMeer, Jeffrey S. & Ann VanderMeer (eds). The Big Book of Modern Fantasy. Vintage. Jul. 2020. 864p. ISBN 9780525563860. pap. $25; ebk. ISBN 9780525563877. FANTASY
Wallace, Matt. Savage Legion. Gallery: Saga. Jul. 2020. 512p. ISBN 9781534439207. $26.99; ebk. ISBN 9781534439221. FANTASY
Winter, Evan. The Fires of Vengeance. Orbit: Hachette. Jul. 2020. 544p. ISBN 9780316489805. $28; ebk. ISBN 9780316489812. lib. ebk. ISBN 9780316489782. Downloadable.
In Queen of Storms, the second in the "Firemane Saga," which introduced Feist fans to an all-new world, Hatushaly and young wife Hava restore the fire-blackened Three Stars in trade-rich Beran's Hill. But they aren't the cheerful innkeepers they appear to be (100,000-copy first printing). Originally scheduled for October 2019, Malerman's Malorie reveals what happens to the title character eight years after events in Bird Box, the basis of the Netflix mega-hit. Already nominated for Hugo, Nebula, BSFA, Sturgeon, and World Fantasy honors for his stories, debut novelist Rosenbaum (The Ant King and Other Stories ) returns with The Unraveling, which dreams up a far-future, distant-galaxy, rigidly structured society where individuals have multiple bodies and staid-gendered Fift and bail-gendered bioengineer Shria wind up in the midst of an eyebrow-raising art spectacle. Companion to The Big Book of Classic Fantasy, The Big Book of Modern Fantasy is again edited by the VanderMeers and ranges from Jorge Luis Borges to Kelly Link. Hugo Award–winning Wallace's Savage Legion stars warrior Evie, determined to expose the injustice wrought by the empire as it pulls the poor and presumably not-to-be-missed from the city streets and forces them into battle (50,000-copy first printing). Born in England to South American parents and raised in Africa near the historical territory of his Xhosa ancestors, Winter draws on his background to light The Fires of Vengeance, second in "The Burning" series, wherein a queen who has lost her throne joins with a young warrior in a battle to regain it (75,000-copy first printing).
Tor Turn
Jennings, Kathleen. Flyaway. Tor. Jul. 2020. 176p. ISBN 978125026049. $19.99; ebk. ISBN 9781250260482. FANTASY
Kowal, Mary Robinette. The Relentless Moon: A Lady Astronaut Novel. Tor. Jul. 2020. 544p. ISBN 9781250236951. $28.99; pap. 9781250236968. $17.99; ebk. ISBN 9781250236487. SF
Modesitt, L.E., Jr. Quantum Shadows. Tor. Jul. 2020. 304p. ISBN 9781250229205. $27.99; ebk. ISBN 9781250229212. SF
Walton, Jo. Or What You Will. Tor. Jul. 2020. 320p. ISBN 9781250308993. $26.99; ebk. ISBN 9781250309013. FANTASY
A young woman in small-town Queensland, Australia, undertakes a gothic journey after hearing from her long-gone brother, thus launching Hugo- and World Fantasy–nominated illustrator Jennings's buzzing debut novel, Flyaway. In The Relentless Moon, sequel to Kowal's Hugo, Locus, and Nebula-Award winning The Calculating Stars and The Fated Sky, the moon is being colonized even as a meteor strike brings climate crisis to Earth. The perennial best-selling Modesitt's Quantum Shadows is set in a place called Heaven, where humankind's major religions each have their own land and places of worship are being scarily marked with inscrutable black images. And multi-award-winning Walton's utterly intriguing-sounding Or What You Will, a character who's been a dragon, lover, scholar, warrior, and thief in the many books by Sylvia Harrison knows that the 73-year-old Sylvia won't be around much longer and is trying to figure out how the two of them can escape into immortality.