Memoirs are never just memoirs; here, Kyle Carpenter, the youngest living recipient of the Medal of Honor, offers reasons for his self-sacrifice; Sunil Dutta reflects on the different paths he and his brother took as refugees; Adam Frankel considers the long-term consequences of family trauma; and Megan Phelps-Roper explains her more inclusive attitude after breaking from the radical Westboro Baptist Church.
Carpenter, Kyle & Don Yaeger. You Are Worth It: Building a Life Worth Fighting For. Morrow. Oct. 2019. 304p. ISBN 9780062898548. $27.99; ebk. ISBN 9780062898562. lrg. prnt. MEMOIR
In this inspirational memoir, Carpenter explains why he threw himself atop a grenade to protect fellow soldiers, an act that cost him years of surgery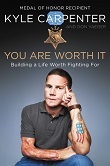 and rehabilitation and makes him the youngest living recipient of the Medal of Honor. As he says, "You are worth protecting, you are worth fighting for, you are worth time in a hospital bed and deep scars on my body because you, the people of Afghanistan, and people around the world, have inherent worth as human beings." With a 100,000-copy first printing.
Conroy, Cassandra King. Tell Me a Story: My Life with Pat Conroy. Morrow. Oct. 2019. 256p. ISBN 9780062905628. $19.99; ebk. ISBN 9780062905635. MEMOIR
When she was a divorced debut novelist teaching creative writing on the college level, Conroy met beloved author Pat Conroy and launched an uncertain, long-distance relationship that led to an 18-year marriage, ending only with her husband's death from pancreatic cancer at age 70. Here she talks about the man behind the legend and how she came to love the marshlands of the South Carolina Lowcountry as he did. With a 25,000-copy first printing.
Dutta, Sunil. Stealing Green Mangoes: Two Brothers, Two Fates, One Indian Childhood. Anthony Bourdain: Ecco. Oct. 2019. 256p. ISBN 9780062795854. $26.99; ebk. ISBN 9780062795915. MEMOIR
With brother Raju, Dutta saw his life torn apart by the bloody partition of India in 1947. They became refugees together, but their paths diverged like a forking river. While Dutta became a translator of classical Indian poetry and a University of California biologist, then a longtime member of the LAPD, also serving as a professor of homeland security, Raju became a criminal and finally a terrorist. Diagnosed with Stage IV lung cancer, Dutta has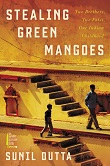 written a memoir to make sense of their disparate lives. With a 40,000-copy first printing.
Frankel, Adam. The Survivors: A Story of War, Inheritance, and Healing. Harper. Oct. 2019. 352p. ISBN 9780062258588. $27.99; ebk. ISBN 9780062258601. MEMOIR
Frankel's maternal grandparents were Holocaust survivors whose pain, though they tried to hide it, was visited upon their daughter. Trying to understand his mother's trauma, Frankel came upon another family secret: he was not, biologically, his father's son. Here he investigates the very nature of family trauma and how we can move forward so that suffering isn't carried from generation to generation. By a former speechwriter for President Barack Obama; with a 25,000-copy first printing.
Garcia, Amanda Yates. Initiated: Memoir of a Witch. Grand Central. Oct. 2019. 352p. ISBN 9781538763056. $27; ebk. ISBN 9781538763070. lib. ebk. ISBN 9781538700778. Downloadable. MEMOIR
Garcia was initiated into Wicca at age 13 by her mother, herself a witch, but truly turned to the practice as a means of empowerment after she had endured poverty, sex work, and abusive male relationships. Here she shows how Wicca helped her heal, linking Wicca and feminism and exploring key socioeconomic issues in an assuredly different context. With a 50,000-copy first printing.
Heatley, David. Qualification: A Graphic Memoir in Twelve Steps. Pantheon. (Graphic Library).Oct. 2019. 416p. ISBN 9780375425400. $28.95; ebk. ISBN 9781524747626. GRAPHIC MEMOIR
Heatley's father was a sexually repressed alcoholic and his mother a workaholic and compulsive overeater who both joined 12-step programs that afforded them comfort and community. The result? Heatley himself started attending meetings, including Alcoholics Anonymous, Narcotics Anonymous, Overeaters Anonymous, Debtors Anonymous, and other anonymouses that addressed issued he didn't even have. Talk about addicted!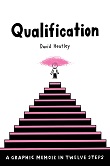 You'll know Heatley from his New Yorker covers, New York Times illustrations, and the graphic memoir My Brain Is Hanging Upside Down, published in five countries.
Korda, Michael. Passing: A Memoir of Love and Death. Liveright: Norton. Oct. 2019. 224p. ISBN 9781631494642. $24.95. MEMOIR
A best-selling author and the legendary editor who once reigned over Simon and Schuster, Korda here recalls his wife Margaret's realizing that something was seriously wrong with her; her swift diagnosis with brain cancer, which turned him into the caregiver for the once independent-minded woman; an operation that allowed her to ride her beloved horse a few more times; and the need for them both to come to terms with her impending death. A story of their love, too.
Phelps-Roper, Megan. Unfollow: A Memoir. Farrar. Oct. 2019. 304p. ISBN 9780374275839. $27; ebk. ISBN 9780374715816. MEMOIR
With her family, members of the Westboro Baptist Church, Phelps-Roper spent her childhood protesting homosexuality, picketing military funerals, and generally spewing unbelievable hate speech. As she grew to be Westboro's Twitter spokesperson, however, she heard different viewpoint and gradually rejected the teachings of the church, which she eventually left in 2012. Now she works as a writer and activist promoting not polarization but community. Quite a story; with TED speaker credentials.
Vongerichten, Jean-Georges. JGV: A Life in 12 Recipes. Norton. Oct. 2019. 224p. ISBN 9780393608489. $26.95. MEMOIR
One of the world's most recognizable chef-restauranteurs, Vongerichten was born into a coal-business family in France's Alsace region and didn't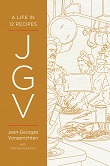 attend a topnotch culinary school, instead getting himself kicked out of school at age 15. Here, he tells how he came to his career recipe by beloved recipe, starting with his mother's goose stew (the secret ingredient is coffee slurry).
Windsor, Edie & Joshua Lyon. A Wild and Precious Life: A Memoir. St. Martin's. Oct. 2019. 288p. ISBN 9781250195135. $27.99; ebk. ISBN 9781250195142. MEMOIR
Windsor, who made news worldwide when the Supreme Court ruled in her favor in a case seeking recognition from the U.S. government for her marriage to her partner Thea Spyer, describes decades of activism and gay life in New York City. Cowriter Lyon completes a memoir Windsor began before her death in 2017.