Key nonfiction for early fall.
Berg, Elizabeth. I'll Be Seeing You: A Memoir. Random. Oct. 2020. 224p. ISBN 9780593134672. $27. MEMOIR
Beloved novelist Berg, a New York Times best-selling author whose Open House was an Oprah's Book Club Selection, turns to nonfiction to tell an affecting story. Having observed her parents' ongoing love affair for decades, she finally had to step forth and help when her father developed Alzheimer's and he and her mother had to move into a special facility.
Clark, Heather. Red Comet: The Short Life and Blazing Art of Sylvia Plath. Knopf. Oct. 2020. 1152p. ISBN 9780307961167. $40. Downloadable. LITERATURE
A former Visiting Scholar at the Oxford Centre for Life-Writing, Clark is the author of The Grief of Influence: Sylvia Plath and Ted Hughes, a highly regarded academic study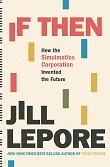 of the poet Sylvia Plath and her husband. Here she draws on new material, including unpublished letters and manuscripts; court, police, and psychiatric records; and fresh interviews, to offer an accessible reading of Plath's life and work.
Lepore, Jill. If Then: How Simulmatics Corporation Invented the Future. Liveright: Norton. Sept. 2020. 432p. ISBN 9781631496103. $28.95. HISTORY
Harvard professor, New Yorker staff writer, two-time Pulitzer Prize finalist, and author of international best sellers like This America, Lepore shows how Silicon's success—and our current obsession with data—is rooted in the work of the Simulmatics Corporation. Founded in 1959, Simulmatics sought to predict and even control human behavior via computer, mining data and manipulating news and voters for clients that ranged from JFK to the Department of Defense.
Minoui, Delphine. The Book Collectors: A Band of Syrian Rebels and the Stories That Carried Them Through a War. Farrar. Oct. 2020. 208p. tr. from French by Lara Vergnaud. ISBN 9780374115166. $25. CURRENT EVENTS
Under siege for years, with its residents eventually suffering forced displacement, the ancient Syrian city of Daraya held a remarkable secret. Residents searching for survivors after a bombing discovered a motherlode of books and began to collect more, within a month housing 15,000 volumes in a secret library where young men gathered to read, talk, and dream of a better future. In 2015, award-winning French-Iranian journalist Minoui learned of the library and interviewed one of the founders over WhatsApp and Facebook. With a 50,000-copy first printing.
Payne, Les & Tamara Payne. The Dead Are Arising: The Life of Malcolm X. Liveright: Norton. Sept. 2020. 640p. ISBN 9781631491665. $35. BIOGRAPHY
In 1990, Pulitzer Prize-winning investigative journalist Les Payne, a former editor at Newsday, began working on a biography of Malcolm X that aimed to set the record straight on a significant figure in 20th century history. To that end, he interviewed all of Malcolm X's living siblings, plus Nation of Islam figures, FBI moles and cops, and political leaders worldwide. Upon Payne's death, daughter Tamara completed the biography, which is framed by her essays.
Stanton, Brandon. Humans. St. Martin's. Oct. 2020. 432p. ISBN 9781250114297. $35. PHOTOGRAPHY
Famed for his No. 1 New York Times best-selling Humans of New York and Humans of New York: Stories, Stanton goes global with a full-color photo essay presenting original images and stories from people in 40 countries. One way to connect even if we are socially distanced. With a million-copy first printing.