Another medical thriller from Robin Cook, J.T. Ellison's study of secrets at an elite girls school, Jeff Lindsay with a new protagonist after Dexter, paranormal romancer Nalini Singh trying out thrillerdom, and more.
Cook, Robin. Genesis. Putnam. Dec. 2019. 400p. ISBN 9780525542155. $27; ebk. ISBN 9780525542162. CD/downloadable. THRILLER
First, a pregnant young social worker ends up on Chief New York City Medical Examiner Laurie Montgomery's autopsy table. Then, when Montgomery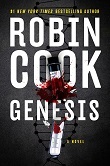 asks Dr. Tricia Albanese, a forensic pathology resident with training in genetic science, to help track the unborn baby's father, Albanese ends up dead, too. Now the chief medical examiner has two clearly linked murders to solve. Wouldn't you know that the man who has helped define the medical thriller would home in on more cutting-edge science—genealogical DNA database tracking—for his next book?
Ellison, J.T. Good Girls Lie. Mira: Harlequin. Dec. 2019. 384p. ISBN 9780778309185. $27.99; ebk. ISBN 9781488023569. THRILLER
When you hear that there's a prestigious prep school—called, nudgingly, the Goode School—that accepts only the brightest girls from the best families and steers them to the Ivies, you know there will be secrets, secret societies, and a student suicide pointing to dark and dubious behavior that everyone's let happen until now. Following the New York Times best-selling author's Tear Me Apart; with a 250,000-copy paperback and 10,000-copy hardcover first printing.
Fisher, Tarryn. The Wives. Graydon House: Harlequin. Dec. 2019. 352p. ISBN 9781525809781. pap. $16.99; ebk. ISBN 9781488054358. THRILLER
The protagonist in Fisher's latest novel puts up with something most of us couldn't stand: she gracefully accepts the fact that her husband has two other wives she doesn't know. Then she inadvertently meets and befriends one of them (revealing nothing about herself) and is shocked to notice that this wife is clearly being abused. And what about the third wife? Fisher has mostly self-published and also written a trilogy with the No. 1 New York Times best-selling Colleen Hoover; breakout time! With a 200,000-copy paperback and 10,000-copy hardcover first printing.
Lindsay, Jeff. Just Watch Me. Dutton. Dec. 2019. 320p. ISBN 9781524743949. $26; ebk. ISBN 9781524743963. Downloadable. THRILLER
Like deliciously deadly Dexter Morgan, antihero vigilante of the long-running Showtime series and the equally long-running series by Lindsay on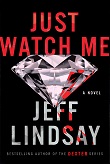 which Showtime's show was based, Riley Wolfe is a bad guy for what he sees as good reasons. Robin Hood–like, he steals only from the 0.1 percent, whom he sees as morally corrupt and gladly knocks off if necessary. Now he has his eye on a particularly well-guarded set of sparklers: the Iranian Crown Jewels. Behind him is a dogged cop, and behind the cop is a female forger who sometimes works with Riley.
Rosenstiel, Tom. Oppo. Ecco. Dec. 2019. 336p. ISBN 9780062892607. $27.99; ebk. ISBN 9780062892621. lrg. prnt. THRILLER
Partisanship never looked this bad: at a time when political differences of opinion are inspiring violence, greatly admired centrist senator Wendy Upton is offered the VP slot by the presidential candidates of both leading parties. Then she starts getting scary threats that could end more than her career and hires Peter Rena to figure out what's buried in her past that could be inspiring them. Political fixers Rena and partner Randi Brooks return after The Good Lie and the LJ-starred The Shining Sea.
Shaw, L.C. The Network: A Jack Logan Thriller. Harper. Dec. 2019. 400p. ISBN 9780062955852. $26.99; pap. Harper Paperbacks. ISBN 9780062950901. $16.99; ebk. ISBN 9780062950925. THRILLER
Shaw is the pseudonym of Lynne Constantine, who with sister Liv just about knocked our eyes out with the thrillers The Last Mrs. Parrish and The Last Time I Saw You. Here, investigative journalist Jack Logan is visited by a desperate U.S. Senator Malcolm Phillips, who believes he's targeted for murder and begs Jack to protect his wife, Taylor—Jack's one true love. With the senator soon dead (it looks like an allergy attack), Jack and Taylor follow clues to the Institute, which has been sneakily influencing political players for decades and hopes Taylor will spill a final secret needed to assure their success. With a 75,000-copy paperback and 20,000-copy hardcover first printing.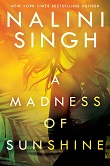 Singh, Nalini. A Madness of Sunshine. Berkley. Dec. 2019. 352p. ISBN 9780593099131. $27; ebk. ISBN 9780593099087. Downloadable. THRILLER
Having authored numerous New York Times best-selling paranormal romance series (e.g., "Psy-Changeling," "Guild Hunter"), Singh here takes the thriller trail with the story of Anahera Rawiri, who has returned to the bumptious town of Golden Cove, New Zealand, after having fled the country eight years previously. There, after abandoning an upward-looking career in Christchurch, Det. Will Gallagher deals with petty theft and the occasional unruly drunk—until a resident fails to return from a standard morning run. Now Will must rely on insider Anahera to figure out what happened. New Zealand noir, I love it!