From Pliny the Younger and God's mission in America to the sinking of the Titanic and the tragic 1983 Beirut bombing of the U.S. Marines barracks.
Dunn, Daisy. The Shadow of Vesuvius: A Life of Pliny. Liveright: Norton. Dec. 2019. 336p. ISBN 9781631496394. $29.95; ebk. ISBN 9781631496400. BIOGRAPHY
Famed throughout the Roman Empire for his 37-volume Natural History, Pliny the Elder died in 79 CE with the eruption of Mount Vesuvius, leaving all
his notebooks to his nephew Pliny the Younger, with whom he was close. Classicist Dunn (Catullus' Bedspread) offers a portrait of the younger man, who went on to become a lawyer, senator, poet, and chronicler of Roman times from Emperor Domitian to Emperor Trajan, in a book deemed "[not] merely a biography of a magistrate [but] of an entire way of life" by the Literary Review (UK).
Medved, Michael. God's Hand on America: Divine Providence in the Modern Era. Crown Forum. Nov. 2019. 400p. ISBN 9780451497413. $29; ebk. ISBN 9780451497420. Downloadable. HISTORY
A New York Times best-selling author who has a daily three-hour show reaching over 300 markets across the country, Medved follows up The American Miracle: Divine Providence in the Rise of the Republic with a work that ponders divine destiny in U.S. history from the Civil War to modern day. His five million listeners will certainly want to know.
Russell, Gareth. The Ship of Dreams: The Sinking of the Titanic and the End of the Edwardian Era. Atria. Dec. 2019. 448p. ISBN 9781501176722. $30. HISTORY
Historian/novelist Russell looks at the lives of six first-class passengers—among them Lucy Leslie, Countess of Rothes; Jewish American immigrant Ida Straus; and American model and movie star Dorothy Gibson—to tell the larger story of the sinking of Titanic. He also considers previously unpublished sources, deck plans, journal entries, and surviving artifacts to provide a you-are-there sense of the ship's sinking and argues that this tragedy ushered the world into the modern era. With a 50,000-copy first printing.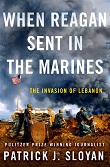 Sloyan, Patrick J. When Reagan Sent In the Marines: The Invasion of Lebanon. Thomas Dunne: St. Martin's. Dec. 2019. 240p. ISBN 9781250113917. $29.99; ebk. ISBN 9781250113924. HISTORY
Pulitzer Prize– and George Polk Award–winning journalist Sloyan, who passed away after completing this book, relied on his own reporting of the 1983 Marines barracks bombing in Beirut to explain the causes and consequences of the unprecedented terrorist attack, which cost 241 American lives. He supplemented his reporting with recently declassified documents and interviews with key players to consider the actions of former secretaries of state Henry Kissinger and Alexander Haig and the fate of Marine Colonel Timothy Geraghty, who foresaw catastrophe and was then blamed for it.