Whose child is this? Was that really my life? Dare I make a friend? Psychological suspense stays hot for summer. Plus new works from veterans Brown, Delaney, Patterson, Ryan, & more.
Anderson, Kevin J. and Doug Beason. Kill Zone. Forge. Aug. 2019. 320p. ISBN 9781250183446. $27.99; ebk. ISBN 9781250183439. THRILLER
Multi-award-winning sf novelist Anderson and Nebula finalist Beason do suspense with this story of a mountain deep in New Mexico housing a Cold War–era nuclear weapons storage facility that has surreptitiously quietly received more than 100,000 tons of nuclear waste for storage. It could blow sky-high, spewing radioactivity everywhere, which is exactly what's feared when a small plane crashes nearby.
Beck, Haylen. Lost You. Crown. Aug. 2019. 320p. ISBN 9781524759582. $26; ebk. ISBN 9781524759605. Downloadable. THRILLER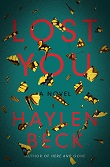 Three years after her husband left, Libby finally sells her first novel and plans to take her young son on vacation. But she's got secrets that keep her from relaxing, with justification; Ethan vanishes after darting into an elevator and is finally found in the company of a woman who seems to have some serious claims on him. From the Edgar Award–nominated Stuart Neville, writing pseudonymously.
Brown, Sandra. Untitled. Grand Central. Aug. 2019. 300p. ISBN 9781455572199. $27; ebk. ISBN 9781455572175. lib. ebk. ISBN 9781455572212. lrg. prnt CD/downloadable. THRILLER
In a Tailspin as you await Brown's next big best seller? It lands this August, though early news doesn't include any plot tips. Chills and sex promised, though.
Cavanagh, Steve. Thirteen. Flatiron: Macmillan. Aug. 2019. 336p. ISBN 9781250297600. $26.99; ebk. ISBN 9781250297617. CD. THRILLER/LEGAL
Once a conman, now a defense lawyer, Eddie Flynn passionately believes that his movie-star client is innocent of killing two people and suspects that the culprit is close at hand. But on the jury? From Steel Dagger finalist Cavanagh; look for five to seven author appearances nationwide.
Delaney, JP. The Perfect Wife. Ballantine. Aug. 2019. 432p. ISBN 9781524796747. $27; ebk. ISBN 9781524796754. lrg. prnt. CD/downloadable. THRILLER
Abbie is a talented artist, gung-ho surfer, and loving wife and mother who suffered a terrible accident five years ago and is finally returning to
consciousness with the help of new technology. Or so says the man who claims to be her husband, the billionaire founder of a robotics company. But memory-challenged Abbie is starting to wonder if that's what really happened. From a New York Times best-selling, two-time LibraryReads author.
Ephron, Hallie. Careful What You Wish For. Morrow. Aug. 2019. 304p. ISBN 9780062473653. $26.99; ebk. ISBN 9780062473677. lrg. prnt. THRILLER
Professional organizer Emily Harlow would dearly love to attack her own husband's sky-high pile, but it's against her own rules to straighten up after a spouse. Still, when she gets a client whose hoarding husband won't let her bring her own stuff into the house, she and the young woman laughingly imagine what life would be like without their obsessive husbands. Careful what you wish for, Emily. With a 40,000-copy first printing.
Goldin, Megan. The Escape Room. St. Martin's. Aug. 2019. 352p. ISBN 9781250219657. $26.99; ebk. ISBN 978125021967. CD. THRILLER
In this debut thriller, Vincent, Jules, Sylvie, and Sam are hyper-competitive Wall Streeters who wouldn't refuse a summons to a meeting at corporate headquarters on a weekend eve, where they are thrown into a team-building exercise requiring escape from a locked elevator. But the exercise isn't what it seems, and soon dark secrets—and blood—are spilling.
Gould, Howard Michael. Below the Line: A Charlie Waldo Novel. Dutton. Aug. 2019. 304p. ISBN 9781524744861. $26; ebk. ISBN 9781524744885. Downloadable. THRILLER
In Last Looks, former LAPD police detective Charlie Waldo was dragged from his forest lair, where he stringently allowed himself no more than 100 possessions, and compelled to help solve a Hollywood murder case. Now he's back for a second case with PI ex-girlfriend Lorena, as they deal with spoiled L.A. teenager Stevie Rose, whose lies about her high school teacher may have contributed to his death. And then Stevie disappears.
Griffin, W.E.B. & William E. Butterworth IV. The Attack. Putnam. Aug. 2019. 368p. ISBN 9780525541752. $28; ebk. ISBN 9780525541776. lrg. prnt. CD/downloadable. THRILLER
A suburban high school cheerleader is found floating bruised and nearly naked in the Delaware River, and Philadelphia homicide sergeant Matt Payne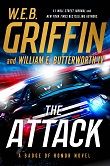 notes that the security cameras on her father's yacht seem to reveal exactly who the killer is: the self-important Middle Eastern college student the young woman had been forbidden to see. But of course things aren't always as they seem.
Herron, R.H. Stolen Things. Dutton. Aug. 2019. 368p. ISBN 9781524744908. $26; ebk. ISBN 9781524744915. lrg. prnt. Downloadable. THRILLER
When Jojo Ahmadi, daughter of 911 police dispatcher Laurie Ahmadi and her police-chief husband, is found drugged and raped at the home of pro football player Kevin Leeds, everyone assumes it's part of Leeds's anti-police stance. But then Jojo plunges into the social media account of Jojo's vanished friend Harper, who was initially with Jojo that evening, and the case is shoved in a whole new direction. From a pseudonymous author writing her first thriller.
Kendal, Claire. I Spy. Harper. Aug. 2019. 304p. ISBN 9780062914507. $26.99; pap. Harper Paperbacks. ISBN 9780062834690. $16.99. ebk. ISBN 9780062834713. PSYCHOLOGICAL THRILLER
Holly got her wish; she became a spy, though the consequences were so brutal that she lives under an assumed name and trusts no one. Now she's drawing close to a mother and her little daughter, seeking some human contact, but she keeps feeling her cover is being blown. From the author of The Book of You; with a 75,000-copy paperback and 20,000-copy hardcover first printing.
McHugh. Laura. The Wolf Wants In. Spiegel & Grau. Aug. 2019. 272p. ISBN 9780399590283. $26; ebk. ISBN 9780399590306. Downloadable. THRILLER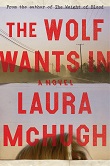 McHugh sailed out of the gate with The Weight of Blood, which won International Thriller Writers (ITW) honors for Best First Novel, among other awards; the following Arrowood was an ITW finalist for Best Book and Sunday Times best seller. Here, Sadie Keller investigates the death of her brother in rundown Blackwater, KS, even as the cops obsess over the bones piling up in the woods and young Henley Pettit knows she must get out of that town. Inspired by the sudden death of the author's brother.
Neggers, Carla. Rival's Break. Mira: Harlequin. Aug. 2019. 384p. ISBN 9780778308102. $26.99. ROMANTIC SUSPENSE
When a crime boss and his associates are sickened (in some cases fatally) aboard a yacht off the coast of Maine, undercover FBI agent Colin Donovan and wife Emma Sharpe, an FBI art crimes expert, sweep in to investigate; they'd been attending the wedding of Colin's brother in a nearby village. A rare, deadly poison has been used, and the victims were associated with a recently imprisoned Russian arms trafficker, who blames a rival. With a 50,000-copy first printing.
North, Alex. The Whisper Man. Celadon: Macmillan. Aug. 2019. 368p. ISBN 9781250317995. $26.99; ebk. ISBN 9781250317971. CD. THRILLER
After the death of his wife, Tom Kennedy relocates with young son Jake to a town called Featherbank, hoping for a fresh start. Maybe not the best move, because 15 years ago a serial killer nicknamed the Whisper Man (for the way he lured victims) murdered five Featherbank residents. Soon, Jake starts hearing whispers at his window. I'd run! A debut to be featured at BookExpo.
Overton, Hollie. The Runaway. Redhook: Hachette. Aug. 2019. 416p. ISBN 9780316482257. pap. $15.99; ebk. ISBN 9780316482233. lib. ebk. ISBN 9780316482240. Downloadable. CRIME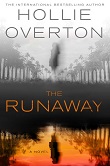 Overton launched her career with the international best seller Baby Doll, then followed with The Walls. Here's her third effort, featuring an LAPD psychologist negotiating the city's dark criminal underworld in search of her runaway foster daughter. With a 75,000-copy first printing.
Parker, T. Jefferson. The Last Good Guy. Putnam. Aug. 2019. 352p. ISBN 9780525537649. $27; ebk. ISBN 9780525537663. Downloadable. THRILLER
In this third in a new series from the three-time Edgar Award winner, private investigator Roland Ford is asked by a mysterious woman to find her younger sister. As he hunts, he finds a hush-hush charter school, American Nazis biding their time in the desert, and a celebrity evangelist with wrenchingly conservative views.
Patterson, James with Candice Fox. The Inn. Little Brown. Aug. 2019. 400p. ISBN 9780316527583. $28; ebk. ISBN 9780316528429. lib. ebk. ISBN 9780316528412. CD/downloadable. THRILLER
Former Boston police detective Bill Robinson now owns the shore-hugging Inn at Gloucester, with a dozen full-time residents who include Sheriff Clayton Spears. All's peaceful until bad-guy Mitchell Cline comes to town, running a group of locals who deal drugs and wreak violence, which compels Bill and his inn-mates to band together to defeat the evil among them. Chilly beach reading; with a 500,000-copy first printing.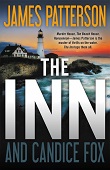 Pobi, Robert. City of Windows. Minotaur: St. Martin's. Aug. 2019. 400p. ISBN 9781250293947. $26.99; ebk. ISBN 9781250293954. THRILLER
In his first thriller, the author of Bloodman introduces us to former FBI agent Lucas Page, who's tasked with the near-impossible: find the sniper who killed an FBI agent in the midst of a horrific New York City blizzard that quickly wiped out all evidence. That Page, now a professor and best-selling author, lost a leg, an arm, and an eye in a horrific incident that compelled his departure from the bureau does set a challenge.
Ryan, Hank Phillippi. The Murder List. Forge. Aug. 2019. 304p. ISBN 9781250197214. $27.99; ebk. ISBN 9781250197238. CD. THRILLER
Law student Rachel North, married to a star of Boston's defense bar, is thrilled to be interning with the Boston DA's office. Then the trouble starts, and she's got to decide how to do what's right. A stand-alone from the multi-award-winning novelist/journalist.
Schutt, Bill & J.R. Finch. The Darwin Strain. Morrow. Aug.2019. 384p. ISBN 9780062835475. $26.99; ebk. ISBN 9780062835499. THRILLER
With the Cold War underway, crypto-zoologist R.J. MacCready and animal-behavior expert Yanni Thorne have been directed by the Pentagon to investigate a volcanic spring on a Greek island that reputedly has healing powers (and is reputedly guarded by sea monsters). In fact, the spring contains a type of microbe that transforms life at lightning speed, including a mysterious aquatic species called the Kraken floating about in the water—they've evolved into a high alien intelligence. With a 50,000-copy first printing. Originally scheduled for March 2019.
Woods, Stuart. Contraband. Putnam. Aug. 2019. 320p. ISBN 9780593083130. $28; ebk. ISBN 9780593083154. CD/downloadable. ACTION & ADVENTURE
So nice to be resting on a Florida beach, but then Stone Barrington is practically conked on the head by evidence of a crime falling from the sky. He joins with a beautiful local detective to investigate, but the evidence keeps disappearing (things are fast and loose in the Keys). In what proves to be his 50th outing, Stone finds himself tracking all over the place to solve this crime.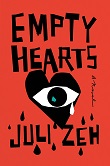 Zeh, Juli. Empty Hearts. Nan A. Talese: Doubleday. Aug. 2019. 288p. tr. from German by John Cullen. ISBN 9780385544542. $26.95; ebk. ISBN 9780385544559. Downloadable. POLITICAL THRILLER
In a near-future of armed conflict, ultrapopulist movements, and not just Brexit but Frexit, German businesswoman Britta runs a suicide prevention clinic—and, secretly, an organization that supplies terrorists with suicide bombers. She's tops in the business until a suicide attack in Leipzig is foiled and her database stolen. Smart thrills from the winner of multiple awards (e.g., the Thomas Mann Prize).