Tackling issues from contemporary media to murder at Harvard to the impact of Spiro T. Agnew's crimes.
Attkisson, Sharyl. Slanted: How the News Media Taught Us To Love Censorship and Hate Journalism. Harper. Nov. 2020. 256p. ISBN 9780062974693. $28.99. MEDIA
An Edward R. Murrow and five-time Emmy award recipient, the New York Times best-selling Attkisson (Stonewalled) looks at today's meager and manipulated media to discover what went wrong. Before fake news, she say, there was a push to call in the pundits and to create narrative news—and the question remains, Whose nar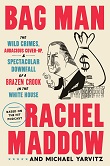 ratives? With a 100,000-copy first printing.
Cooper, Becky. We Keep the Dead Close: A Murder at Harvard and a Half Century of Silence. Grand Central. Nov. 2020. 464p. ISBN 9781538746837. $28. Downloadable. TRUE CRIME
A former New Yorker editorial staff member, now Senior Fellow at Brandeis's Schuster Institute for Investigative Reporting, Cooper was a Harvard undergrad when she first heard stories about the 1969 murder of graduate student Jane Britton, daughter of Radcliffe's vice president, four decades earlier. Here she unwinds a story that has nothing to do with the love-gone-wrong rumors and maybe nothing to do with a case-closed ruling the police made in 2018, instead focusing on Harvard's ingrained gender inequality and institutional self-regard. With a 150,000-copy first printing.
Douglas, John E. & Mark Olshaker. The Killer's Shadow: The FBI's Hunt for a White Supremacist Serial Killer. Dey Street: HarperCollins. Nov. 2020. 240p. ISBN 9780062979766. pap. $16.99. lrg. prnt. TRUE CRIME
Douglas, the FBI's first full-time criminal profiler, again joins forces with writer and documentary filmmaker Olshaker, following up on their streak of New York Times best sellers (Mindhunter) to investigate an early test case for the FBI's Behavioral Science Unit: the late 1970s rampage of Joseph Paul Franklin, a White Nationalist serial killer. With a 50,000-copy first printing; still scarily relevant.
Drew, Kimberly & Jenna Wortham, eds. Black Futures. One World: Random. Nov. 2020. 544p. ISBN 9780399181139. $40. Downloadable. SOCIAL SCIENCE/BLACK STUDIES
Writer/curator Drew and Wortham, a staff writer for the New York Times Magazine, bring together essays and images, recipes and memes, tweets and poetry to show how today's black creators are striking us straight in the hearts and minds with the materials they put out there. In the end, this collection aims to answer the question, What does it mean to be black and alive right now?
Maddow, Rachel & Michael Yarvitz. Bag Man: The Wild Crimes, Audacious Cover-Up, and Spectacular Downfall of a Brazen Crook in the White House. Crown. Nov. 2020. 240p. ISBN 9780593136683. $28. POLITICAL SCIENCE/CORRUPTION
Expanding on her Peabody Award–nominated podcast, of which Yarvitz was executive producer and cowriter, the Emmy Award–winning host of the Rachel Maddow Show looks at corruption in the Nixon administration—not Watergate but the bribery and extortion ring run by Vice President Spiro T. Agnew. Maddow considers not only what happened and the efforts at cover-up but the long-term consequences for politics and our understanding of confronting crime in high places.
Wapshott, Nicholas. Samuelson Friedman: The Battle Over the Free Market. Norton. Nov. 2020. 352p. ISBN 9780393285185. $28.95. ECONOMICS
Author of Keynes Hayek: The Clash That Defined Modern Economics, journalist Wapshott takes on another clash: the long-running in-print feud that started in 1966 when Newsweek hired high-profile Keynesian Paul Samuelson and (then) lesser known and more conservative Milton Friedman, a fan of monetarism and tight control on money in circulation.