LJ's documentary film reviewer picks four stirring new works, now available on DVD/Blu-ray.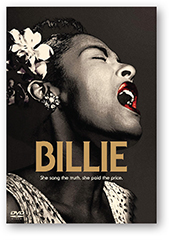 Billie. 98+ min. Greenwich Entertainment. 2020. DVD UPC 738329252755. $19.95.
Billie Holiday was one of the greatest singers in musical history, especially for her unique ability to blend styles, from jazz smoothness to rougher blues tones. Holiday died too young (at age 44 in 1959) and dealt with abuse and addiction her whole life, but her music and her voice were often transcendent. Her 1939 version of "Strange Fruit" is still perhaps the most powerful protest song recorded in any genre. Directed by James Erskine, this film uses a cache of lively, previously unheard 1970s interviews with family, friends, and former bandmates who offer an unflinching portrait of "Lady Day" and all her positives and negatives. The documentary highlights Holiday's critical impact on Black music and Black culture, and is much like Holiday herself: gritty, raw, and glamorous. VERDICT Featuring possibly the best soundtrack in a doc all year, Billie is both sad and beautiful. Essential viewing for anyone interested in music and culture.
Feels Good Man. 93+ min. Video Project. 2020. DVD UPC N/A. $89 (Includes limited PPR license).
Poor Pepe the Frog. A once-irreverent cartoon character drawn by creator Matt Furie has morphed into a meme for spewing hatred; Pepe's popularity has exploded, and the Anti-Defamation League now classifies him as a hate symbol. This documentary is a wild, entertaining, and lacerating trip chronicling Pepe's transformation, and the soft-spoken, befuddled Furie's attempts to repair the cartoon's reputation. Though the film starts out light in tone, it moves toward the angry, dark corners of the internet as director Arthur Jones examines how the visual languages of memes are used to produce and normalize racist extremism via anonymous online accounts. VERDICT The topical Feels Good Man should be of interest to people concerned about the negative impact that social media can have on society.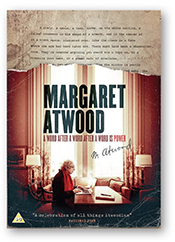 Margaret Atwood: A Word After a Word After a Word Is Power. 92+ min. White Pine Pictures. 2020. DVD UPC 00760137429395. $22.99.
Canadian writer Atwood gets an appreciative look at her storied career in codirectors Nancy Lang and Peter Raymont's loving documentary. Best known for her classic dystopian novel The Handmaid's Tale, Atwood has written across genres for nearly six decades, from her early days as a poet to her recent graphic novels. As the film chronicles her works, viewers also see other sides of Atwood, such as her passion for birding, her role as a social media powerhouse, and her world travels. Atwood talks about the nature of writing and of creativity itself, offering frank opinions on her successes and her failures. Like many bio-docs, this one includes lots of great photos and archival footage of interviews and performances. VERDICT Viewers will cherish the literary icon even more after watching A Word After a Word After a Word Is Power.
Starting from Zero: Reimagining Education in America. 64+ min. Video Project. 2020. DVD UPC N/A. $89 (Includes limited PPR license).
This film delves into issues of early childhood education and its link to improved learning later in life. Only 20 percent of children entering kindergarten have had access to quality pre-K programs, a fact that reveals serious inequities. The documentary takes an encouraging tone throughout, even when discussing topics like the social and economic injustices that prevent parents from accessing pre-K programs for their kids. VERDICT Aimed at parents and educators, Starting from Zero has a bevy of strategies and studies about early education's importance and its impact on child development.