New works from Joan Didion, George Saunders, and Simon Winchester always excite, and Ty Seidule, a Southern-raised retired brigader general, demands a reckoning with the Confederacy.
Didion, Joan. Let Me Tell You What I Mean. Knopf. Jan. 2021. 176p. ISBN 9780593318485. $23. LITERATURE
This array of uncollected pieces from Didion shows the full range of her work, ranging from six pieces written in 1968 for the "Points West" Saturday Evening Post she wrote with her husband, John Gregory Dunne, to New Yorker pieces on Hemingway and Martha Stewart, dating from 1998 and 2000, respectively. A mini-biography, then, of the author's thinking that captures her ongoing sharp view of the world.
Saunders, George. A Swim in a Pond in the Rain: In Which Four Russians Give a Master Class on Writing, Reading, and Life. Random. Jan. 2021. 384p. ISBN 9781984856029. $28. LITERATURE
Here, the New York Times best-selling, Booker Prize-winning author of Lincoln in the Bardo discusses seven classic Russian short stories by Chekhov, Turgenev, Tolstoy, and Gogol that's he's been teaching for two decades at the Syracuse University graduate MFA creative writing program. The stories (included here) are used to offer a broader understanding of how writing fiction works and what it means to us today.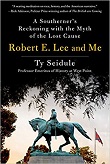 Seidule, Ty. Robert E. Lee and Me: A Southerner's Reckoning with the Myth of the Lost Cause. St. Martin's. Jan. 2021. 304p. ISBN 9781250239266. $27.99. HISTORY
Professor Emeritus of History at West Point and a retired brigadier general, Seidule was raised in the South to worship Robert E. Lee. Now, having rethought his views, he demands a reckoning with the Confederacy as built with the brutal enslavement of African Americans as its primary focus and committed to sustaining that horrendous system through treason. Weaving Seidule's own life into the discussion and looking very much like an eye-opener.
Winchester, Simon. Land: The Ownership of Everything. Harper. Jan. 2021. 416p. ISBN 9780062938336. $29.99. HISTORY
Land: whether meadow, marsh, or mountain, we live on it and are sustained by it, and we can trust the author of distinctively focused New York Times best-selling titles like The Professor and the Madman to consider how it has shaped us. Here, Winchester looks at how we buy and use land, how we spill blood over it, and, finally, whether we can really talk about who owns it.