Big print runs, big auctions, and TV rights are signs that these novels will be buzzing.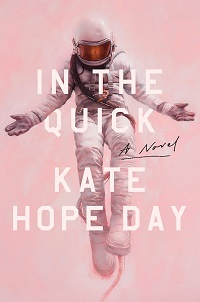 Brown, Gregory. The Lowering Days. Harper. Mar. 2021. 288p. ISBN 9780062994134. $26.99. FAMILY LIFE
Day, Kate Hope. In the Quick. Random. Mar. 2021. 272p. ISBN 9780525511250. $27. Downloadable. LITERARY
Grattan, Thomas. The Recent East. MCD: Farrar. Mar. 2021. 368p. ISBN 9780374247935. $27. LITERARY
Nolan, Megan. Acts of Desperation. Little, Brown. Mar. 2021. 288p. ISBN 9780316429856. $27. Downloadable. COMING OF AGE
Polzin, Jackie. Brood. Doubleday. Mar. 2021. 240p. ISBN 9780385546751. $24. Downloadable. WOMEN'S
Winslow, W.S. The Northern Reach. Flatiron: Macmillan. Mar. 2021. 240p. ISBN 9781250776488. $26.99. LITERARY
From Iowa Writers' Workshop grad Brown, The Lowering Days tracks what happens when an about-to-reopen paper mill collapses in flames; for many working-class people in the Penobscot Valley, the mill would have been an essential source of jobs, but for the Penobscot people, it's a source of pollution despoiling ancestral lands (50,000-copy first printing). With TV rights just sold to Heyday Films after a fierce auction, Day's In the Quick features the newly designated engineer on a space station, who believes that a spacecraft launched years ago and powered by her late uncle's supposedly failed fuel cells is still out there somewhere. From Brooklyn College MFA grad and middle school teacher Grattan, The Recent East unfolds the story of a woman who defected from East Germany and returns home after the Wall falls, leaving New York with her teenage children to reclaim her parents' mansion (50,000-copy first printing). Irish-born, London-based Nolan dreams up an unnamed narrator who launches an affair with a charismatic but unstable writer and commits numerous Acts of Desperation to hold him (35,000-copy first printing). Won in an eight-way auction, Polzin's Brood is an intimate look at a woman ushering her four chickens through Minnesota cold and heat, tornadoes and predators. In The Northern Reach, Winslow portrays a small coastal Maine village whose residents are just getting by, centering on a woman who has lost her son at sea and is puzzled by a schooner under sail yet motionless across the water (75,000-copy first printing).