For the run-up to the holidays, here are November thrillers from big-name writers to chill you to the bone.
Atkins, Ace. Robert B. Parker's Someone To Watch Over Me. Putnam. Nov. 2020. 400p. ISBN 9780525536857. $27. CD/downloadable. THRILLER
Iconic PI Spenser is back, watching over assistant Mattie Sullivan as she investigates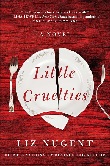 the murder of childhood chum Chloe from the South Boston projects. Soon, it's clear that Chloe is one of dozens of impoverished girls who have vanished after forging ties with a powerful billionaire on Commonwealth Avenue. Parker keeps kicking in Atkins's capable hands.
Baldacci, David. Untitled. Grand Central. Nov. 2020. 432p. ISBN 9781538761694. $29. CD/downloadable. THRILLER
In this third in a series starring FBI Agent Atlee Pine, Atlee's continuing search for abducted twin sister Mercy puts her in the path of a big-deal investigation being conducted by military detective John Puller (calling in from his own series). And that shoves them both into the arms of organized crime. With a million-copy first printing.
Bradby, Tom. Double Agent. Atlantic Monthly. Nov. 2020. 368p. ISBN 9780802157645. $26. THRILLER
In this sequel to Secret Service (which has TV executives in hot pursuit), senior MI6 agent Kate Henderson believes that she has evidence that Britain's prime minister is a Russian agent. But what are the intentions of the Russian defector who has offered her this evidence—after kidnapping her in Venice? And is there another mole in her department (she's already scotched one)? From CWA Steel Dagger and Historical Crime novelist/screenwriter Bradby.
Cameron, Marc. Untitled. Putnam. 480p. ISBN 9780593188095. $29.95. lrg. prnt. CD/downloadable. THRILLER
In the Barry-nominated Cameron's latest Tom Clancy continuation, a so-called chemical plant has blown sky high in Siberia, and the Russians claim it's just their problem. But since hundreds of square miles are roped off and folks nearby are falling fatally ill, U.S. President Jack Ryan fears a terrible contagion will soon sweep the planet. He just doesn't know what it is or how to stop it.
Clark, Mary Higgins & Alafair Burke. Piece of My Heart. S. & S. Nov. 2020. 288p. ISBN 9781982132545. $26.99. CD. THRILLER
Having again joined forces with Edgar-nominated, New York Times best-selling Burke, late Queen of Suspense Clark offers a (likely) final frisson featuring Laurie Moran, producer of the reality TV show Under Suspicion. Laurie is about to marry fiancée Alex Buckley, former host of her show, when Alex's seven-year-old nephew goes missing. And the hunt is on—even underwater, as Johnny was last seen collecting shells along the shore. With a 250,000-copy first printing.
Connelly, Michael. Untitled. Little, Brown. Nov. 2020. 400p. ISBN 9780316485623. $29. lrg. prnt. CD/downloadable. THRILLER
When police find the body of a client in the trunk of defense attorney Mickey Haller's Lincoln, Mickey knows he's been framed. Now he's coordinating his defense from a jail cell in the Twin Towers Correctional Center in Los Angeles, all the while watching his back. With a 750,000-copy first printing.
Douglas, Claire. Do Not Disturb. Harper. Nov. 2020. 400p. ISBN 9780063037410. $26.99; pap. ISBN 9780063001510. $16.99. THRILLER
Having returned with her husband and daughters to her Welsh hometown after London proved too much, Kirsty Woodhouse joins her mother in opening a guesthouse in the Brecon Beacons. Then estranged and decidedly contentious cousin Selena shows up, and Kirsty worries increasingly about the safety of her family. A UK best seller; with a 100,000-paperback and 25,000-copy hardcover first printing.
Nugent, Liz. Little Cruelties. Gallery: Scout: S. & S. Nov. 2020. 352p. ISBN 9781501189685. $28. CD. THRILLER
In this latest from the author of the LJ-starred Lying in Wait, three Irish brothers born successively a year apart compete frantically for their conniving mother's attention, with the little cruelties to which children are prone getting nastier and nastier and finally ending in blood. With a 75,000-copy first printing.